What you put on your walls can change the look and atmosphere of a room. Decorative finishes add texture and dimension to the surface of walls. Three-dimensional wall decor brings walls out of the background, adding interest with depth and form. When extra storage space is needed, walls provide a vertical solution that helps free up additional floor space. In addition to traditional framed art and photos, include a few of the following wall decor ideas to spruce up the vertical surfaces in your home.
Wall Finish Options
When remodeling or redecorating a room, decorators start with the largest surfaces: floors and walls.
Basic Paint
Change the wall color to create the mood you want.
Warm colors- reds, oranges and yellows: These colors have high energy and are very stimulating. Warm colors work well in busy workspaces like kitchens and home offices or entertainment areas like dining rooms, living rooms, family rooms and game rooms.
Cool colors- blues, greens, purples: These colors tend to be relaxing and peaceful. Cool colors are often used in bedrooms and bathrooms.
Neutral colors- white, black, gray, brown: Neutral colors create a sense of comfort and can be used anywhere in the home.
Decorative Painting Techniques and Faux Finishes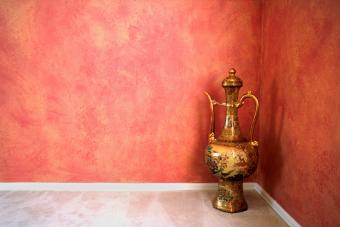 Decorative painting techniques and faux finishes add depth and texture to walls.
Color wash- Also known as glazing, a color wash involves layering darker or lighter colors over a single base color. The glaze colors are thinned out by mixing paint with a glazing medium, which also slows the paint from drying so you can work with it longer. The glaze color is wiped on in a circular motion with a rag and then a clean rag is used to remove some of the color.
Sponging- This technique also involves layering glaze colors over a base color but instead of using a rag to apply the glaze colors, a sea sponge is used. The textured result is more intense than the color wash method but both can mimic the look of aged plaster or stone.
Textured paint- Textured paint has additives in the form of tiny granules that absorb and reflect light, giving the wall an earthy appearance of sandstone or granite. Once the textured base is dry, a second base color is rolled on and then a glaze color adds a final layer of depth.
Wall Paneling
Advanced building materials allow do-it-yourselfers to create the look of stone and brick walls without needing to hire a mason or contractor. Lightweight, thin, interlocking polyurethane panels look like real fieldstone, river rock or brick. These faux panels can also give you the look of bamboo or rustic barn wood.
Use wall panels to create a textured accent wall in a foyer, living room or dining room.
Create a faux stone wall in a bathroom for a spa-like feel.
Install faux brick panels on a bedroom wall for an urban look.
Wallpaper
Use wallpaper to add new life to a room. Try it in unexpected places, such as a hallway or staircase, where it doesn't have to compete with other patterns on upholstery or accessories. Here are a few more tips for using wallpaper:
Use metallic wallpaper inside closets to help reflect light and brighten the space.
Paper one wall with a large print to make the walls appear bigger in a small room.

Save money by hanging a large mirror on the wall opposite a wall with wallpaper instead of using it on two walls.
Use an eye-catching wallpaper pattern on the wall behind the head of your bed. It will draw attention to the room's focal point without being distracting when you're at rest, as the wall will be behind you.
Three Dimensional Wall Eco
Add interest to walls with decor that really stands out - literally.
Shelves
Wall shelves add dimension to walls by allowing you to display objects at varying depths and heights. Use floating shelves, which appear to come straight out of the wall, for a clean, contemporary look.
Add interest by using shelves with varying lengths in staggered arrangements on the wall. Shadow boxes or box shelves come in square or rectangular shapes with the option of placing decor inside the frame, on top of it or both.
Hang rectangular shadow boxes both horizontally and vertically.
Use vertical shelf arrangements on narrow walls. Add interest by offsetting every other shelf.
When grouping shelves, place longer shelves over shorter shelves for a varied look.
Metal Wall Art
Metal sculptures hung on walls create instant conversation pieces. Rustic accents made from wrought iron such as wall grills, candle holders, scrolling plaques and sconces add an Old World look. Copper wall art adds warmth and shine to walls.
From scrolling floral designs depicting leaves flowers and trees to abstract and geometric motifs, metal wall sculptures fit with practically any style of decor. Use one in a grouping of wall shelves or to break up empty wall space.
Wall Planters
Vertical gardens are a wonderful space-saving idea for adding greenery anywhere in your home. Turn empty wall space in your kitchen into an herb garden. Create a living, organic accent wall in your living room. Cover the entire wall or just a portion.
Once you have the planters installed on the wall, they are self-watering by filling a reservoir tank with water. By planting bushy, leafy plants, the wall planter becomes hidden by a wall of lush greenery. Wooly Pocket classifies different plant types as Spillers, Thrillers and Fillers:
Spillers- Plants that drape over the planter's edge, such as Pothos, Heartleaf Philodendron and creeping figs
Thrillers- Plants with aesthetic qualities like Bromiliads, Orchids and Dracaena.
Fillers- Plants that fill in empty spaces like ferns, philodendron Xanadu and dumb cane.
Be sure to choose a wall that has adequate natural light, such as a wall opposite a large window. Place a few wall planters in a bathroom with a window; the plants will like the humidity.
Wall Fountains
A wall fountain is another type of organic wall decor that brings the natural world into your home with the soothing sound of running water. Picture a beautiful wall fountain surrounded by the lush greenery of a vertical garden - a little bit of Zen right there in your living room, home office or an impressive display in your foyer.
Center a wall fountain between two wrought iron wall sconce candle holders or between two identical metal wall sculptures.
Find ideas for indoor wall fountains at Kinetic Fountains.
Mirrors
Hang mirrors on a wall to brighten the room and provide a feeling of spaciousness. The key to good mirror placement is to pay attention to what the mirror is reflecting.
Hang a large mirror opposite a window to reflect light back into the room and create a double window effect.
Hang a mirror in the dining room to reflect the chandelier's light.
Place a mirror behind a foyer table with a large flower arrangement to show the back side.
Hang a grouping of mirrors with some unifying element such as the same shape, similar frames or a collection of antique or vintage mirrors.
Tapestries, Rugs and Fabric
Textiles make interesting wall decor full of color, pattern and texture. Practically any type of fabric can be made into wall decor, including rugs, blankets, quilts, wraps and of course, tapestries designed specifically as wall hangings.
You can use one of several methods to hang a textile on the wall:
Make a casing- Sew a strip of heavy fabric horizontally, along the top of the back side of the textile, running a stitch along the top side of the fabric strip and running a second stitch along the bottom edge of the strip, so that it forms a long pocket. Insert a wood dowel or rod inside the casing and attach a cord on each end to hang it.
Hook and loop tape- Sew a strip of hook and loop tape along the top of the back side of the textile. Staple or nail the other side of the tape to a small wood strip and mount it to the wall.
Frame it- Buy a frame roughly the same size as the textile. Depending on how fragile or valuable the piece is, you can stretch it over a foam board, staple to the back and place it inside a wood or metal glass frame. If the material is very delicate and fragile, carefully pin it to the board.
Nail it- Very sturdy or durable material such as an area rug can be nailed into wall studs.
Large tapestries or rugs mounted on walls also help absorb sound.
Think Outside the Box
Sometimes, the best decorating ideas are the unexpected ones. Think of other out-of-the-ordinary ways to embellish your walls. Repurpose something out of your basement or attic for wall decor that can't be found anywhere else.