Give your space a luxurious update with gold home accents. Bring gold into your current interior design style with gold decor ideas or use gold as the inspiration for your entire color palette. Use colors that complement gold in your interiors for an elegant and on-trend look.
For a Gold Color Palette, Use Gold Alongside Other Luxe Materials
Gold is associated with luxury and high-end style because it elevates everything else in the space effortlessly. Take your interiors to the next level by combining gold design details with other luxurious design elements like marble, velvet, glass, and iridescent materials.
Choose Furniture With Gold Finishes
Add a few pieces of furniture that feature a shiny or brushed gold detail. Doing so will help you step into the gold design trend in a way that feels elegant and natural. Look for gold details on night stands, coffee tables, side chairs, and ottomans.
Add Gold in Your Kitchen
Give your kitchen the luxe update you've been longing for with a few gold design details. Gold hardware on cabinets, kitchen faucets, and even small decorative elements will elevate your kitchen and instantly give the heart of your home a stylish color palette with gold at the center.
Incorporate Gold in Small Doses
If a gold color palette feels intimidating, try incorporating gold in small ways. This is a great way to gauge how you feel about the finish and see how your current interior style fits with the trend. Look for small furniture details, accent lighting fixtures, and even textile trims that sport the color for a taste of what a gold color scheme looks like.
Use Gold as an Accent Among Neutrals
If your interiors mostly contain neutral colors, you have the perfect opportunity to try out a few gold accents. Shades of gold work well with warm and cool neutrals and bring a bit of color to your space in a high-end way that doesn't feel too bright or overwhelming.
Install Gold Light Fixtures
Lighting is a great way to try new trends or add playfulness to your home. Choose gold light fixtures to bring this vogue finish into your home in a seamless way. Gold pendant lights over your island, a few sconces in your bedroom, or even the table lamps in your living room are small lighting fixtures that can introduce gold into your home.
Look for Vintage-Inspired Pieces
Gold finishes and shades of gold in design aren't new or strictly modern concepts. Gold can flow into your home's style through vintage or vintage-inspired pieces. Bring the traditional uses of this revived trend into your home with vintage mirrors, antique furniture, and thrifted decorative elements.
Let Gold Emphasize Architectural Details
To incorporate some of those vintage or traditional style choices with gold, try using the color to highlight the architectural details in your home. A bit of gold paint on panel molding or a dash of gold on picture frame trim can take a classic design detail from simple to sensational.
Mix Gold With Other Materials
Gold doesn't have to be a standalone feature in your home's interior. Blend this luxury material with similar or contrasting materials to create a unique look. Mix gold with other metals like copper, brass, bronze, or silver for a modern style. Add gold to a room with wood, stone, or bamboo for a fun fusion of nature and elegance. You can soften gold with textile details like linen, suede, or silk.
Use Gold in Unexpected Places
Maybe incorporating gold into your home doesn't involve showcasing it in an obvious way. You can always opt for the subtle and unexpected. Bring gold accents into your everyday items like details on coffee mugs, soap dispensers, and even utensils. These small and surprising uses of gold will ease you into the trend in a fun way.
Select Decorative Details With Touches of Gold
Gold is such an impactful style detail in a home that even a few gold details can elevate an entire room. Look for gold accents in ceramics for a luxurious way to bring a trending design element to your fireplace mantel, dining room table, or coffee table.
Dress Up Your Bathroom With Gold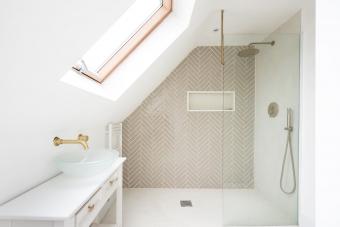 Bathrooms are a great place to experiment with new design aesthetics. Bring some shimmer to your shower with gold finishes in hardware, faucets, shower heads, and decorative details of your bathroom.
Look for Chic Gold Details
Upgrade everyday items with a gold feature. Think of a glass tray with gold trim, brushed gold drapery rods, and small details on glass. These small yet chic components will bring gold to your space in a casual way.
Don't Forget Gold Textiles
Gold isn't just reserved for metal materials. You can dress up your interior with regal gold textiles. Velvet upholstery on dining room chairs, gold trim on a throw blanket, shimmery detail on a curtain, and even gold pillows can level up your room in a soft way.
Have Fun With Gold Pieces
If you like to be adventurous and choose interior details simply because you love them, gold is a great way to embrace your fun side. If you see a gold design detail that speaks to you, give it a go. Try working the piece into your current interiors and add a few smaller gold accents to tie everything together so your new find can fit right in.
Coordinate Gold With Complementing Colors
If you want to be intentional about the use of gold in your interiors, be sure to consider the colors that will stand alongside the high-end finish. You want your space to look thoughtfully planned, and the correct color choices will help your room feel pulled together, even if guests can't quite pinpoint how.
Use gold alongside olive green for a warm and natural style.
Add even more luxury to gold by pairing it with plenty of black.
Create a simple and high-end interior by using gold and white in your color palette.
Play off the feminine qualities of gold by complementing it with plenty of pink.
Create elegant contrast by adding pops of gold to navy.
Design a rich and sophisticated space with gold and charcoal taking center stage.
Go in a neutral direction by pairing gold with beige, tan, or cream.
Add pizzazz to your home with shiny gold and vibrant emerald or kelly green.
Make Your Home Shine With Gold Accents
Using gold in your home design doesn't need to be overwhelming or feel like it's too much of a good thing. A few touches of gold can elevate any room in your home and create an effortlessly chic vibe in your space. Guests won't be able to put into words how your home can feel so welcoming and so high-end at the same time.