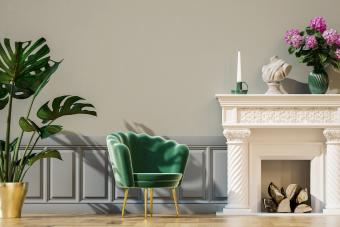 The style antithesis of the sleek and neutral trends of recent years, granny chic style draws inspiration from the details you might remember from your grandmother's home. Also called grandmillenial style, granny chic interior design is defined by frills, bold patterns, bright colors, and ornate details. Bring the granny chic trend into your own home in an updated and stylish way with designer tips for achieving the perfect grandmillenial look.
Embrace Bold Patterns
One of granny chic's most defining style qualities is patterns. On furniture, walls, and every other detail imaginable, bold patterns dominate the grandmillenial trend. There are certain patterns that best fit within the granny chic style and certain applications that suit the trend the most. In wallpaper, large and busy floral patterns instantly set your room on course for grandmillenial style. You might also see trellis patterns, geometric florals, and china prints in granny chic wallpaper.
For other textiles and upholstery prints, you will see much of the same patterns in any variety of colors. Most often, colors within granny chic patterns will contrast one another to make the pattern feel even bolder. Any wallpaper or textiles your grandmother would have loved will probably fit in just fine with grandmillenial style.
Look for Ornate Details
Granny chic falls under the style umbrella of maximalist, contrasting starkly with the minimalist styles of the past decade. To achieve the maximalist vibes of granny chic, look for ornate details in nearly every aspect of your decor. Choose furniture that showcases ornate wood details on legs and frames. Select mirrors with highly detailed frames. Ornate details on walls and in architecture also work well for a modern granny chic style. Look for ornate crown molding, panel molding with wallpaper, and other decorative trim.
Bring Back Heavy Window Treatments
One design rule your grandmother never broke was leaving her windows bare. Granny chic style follows her good example by bringing back the heavier window treatments of the 80s and 90s styles. To bring granny chic style to your windows, look for roman shades made with printed fabrics. Large pleats, bold and colorful patterns, structured styles, and ornate toppers are all perfect granny chic window treatment applications. Also look for curtain rods with large or highly detailed finials, chrome or gold finishes, and larger widths where possible.
Make It Colorful
For granny chic style, neutrals take a back seat to the bold, colorful, and exciting palettes of the trend. Walls might still feature warm neutrals, but with grandmillenial style, you can get adventurous with everything including paint colors, upholstery, and other decor details. Pastels, shades of peach, an abundance of pink, bright greens, and bold blues are all perfect primary or accent colors for a granny chic room makeover.
Choose Furniture Featuring Granny Chic Details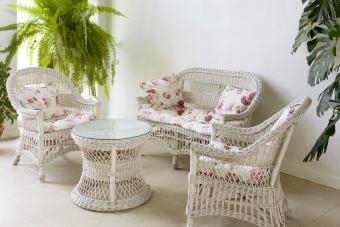 For your granny chic furniture choices, take a cue from the Golden Girls' living room. Look for furniture with lightweight and casual details like rattan and wicker. Granny chic sofas and side chairs feature bold prints, lively colors, and luxurious materials like velvet. Look for tassel details and skirted styles, as well as plenty of tufting and contrast piping. For wooden furniture, stains move aside for bold painted finishes in colors like turquoise and coral. Remember to look for those ornate furniture details that define the granny chic style.
Opt for Feminine Details
Grandmillenial style embraces all the feminine style trends that your grandmother maintained so well in her home. Look for furniture and decor details like lace, pleats, ruffles, and scalloped edges. Remember those stitched pillows on your grandmother's sofa? Yes, those are part of this trend as well. If the details of a piece of furniture or a decorative item scream feminine to you, then they will probably fit perfectly into your new granny chic style.
Add in China Prints
A trending detail in design that works perfectly with the new granny chic is china prints. Look for these hand-painted details on items like ceramic plates, vases, ginger jars, and even antique teacups. This is a great opportunity to use actual pieces from your grandmother's decor collection. Because granny chic embraces the maximalist style trend, you can mix and match prints to include all your favorites.
Include Nature-inspired Art
Grandmillenial style features ornate details, feminine styles, and plenty of art pieces that showcase a love for nature. Look for scenic paintings, photos of fruit or florals, and art that feature animals in a fun way. Photo frames should be detailed with plenty of curves. Gallery walls and large framed art pieces all work perfectly for displaying granny chic photos. Victorian style art and prints featuring people, nature, and animals are also great options for grandmillenial style.
More Is More With Decor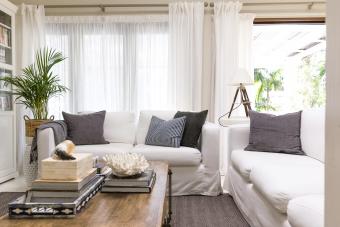 Fully embrace the maximalist motto of granny chic design and decorate with a more is more approach. Table tops, shelving, walls, and throw pillows are all decorative elements where the granny chic style applies the maximalist principle. Without crossing over to a completely cluttered decorative style, look for opportunities to use as many elements as you can in arranging your small decor. Look for clever ways to group decorative items together like small floating shelves, trays, and decorative tiers.
Keep Your Granny Chic Style Modern & Elegant
Just because granny chic style is inspired by your grandmother's living room doesn't mean it should recreate it entirely. With the application of the maximalist principle and all the ornate details, granny chic design can easily feel cluttered and dated. Keep your new grandmillenial style updated, modern, and elegant with a few style hacks.
Create a seamless look on walls by painting your trim the same color.
Create balance with furniture by mixing textures, materials, and scales.
Choose an accent color that will dominate your interiors so rooms feel intentional and coordinated.
Add new pieces alongside vintage items for a modern vintage approach to grandmillenial style.
Invest in quality custom window treatments, pillows, and upholstery for a high-end look.
Add a few modern light fixtures to keep the space updated and bright.
Look for coordinating colors in floral, striped, and geometric patterns for an uncluttered style.
Match window treatments to your wall color to create a visually pleasing look.
Use coordinating colors or metal finishes when decorating shelves and tabletops.
Create balance with decorative items by using varying heights. Avoid too many large items or too many small items in one space.
Add details that are elegant but suit the style like plenty of gold, ornate door handles, painted interior doors, and vintage sconces.
When in doubt, stick to the rule of three when decorating. To avoid an overwhelming look, choose three colors and three patterns to use throughout your home.
Use white or cream when looking for a neutral that ties everything together.
Mix round and sharp edges for a balanced look.
Replace dated florals with bold, updated versions featuring contrasting colors.
Swap shiny gold details for updated brushed brass.
If color intimidates you, use your favorite neutrals in two or more granny chic patterns.
Jump on the Granny Chic Trend
Granny chic is a relatively new trend and fully embraces the maximalist styles that are gaining popularity. Jump on the trend while it's still fresh and new. While your friends are still rocking the neutral and minimal styles, you can be the fun trendsetter with bold patterns, exciting colors, and a grandmillenial style that would make your grandmother proud.