Understanding interior design terms and concepts might help you in your decorating journey, your next remodel, or that dream house you hope to someday build. Knowing the lingo that designers use can help you communicate with contractors, vendors, and other professionals in the home design industry. Take a glance at these industry terms for interior designers so you can design, shop for, and execute your own home's design like a pro.
Common Interior Design Terms Used to Convey Design Concepts
Design pros use many phrases and words to convey various design concepts. You might see some of these phrases when browsing design finishes, working with a designer, or looking at room inspiration. Learn these interior design definitions to feel confident in your selections.
Advancing colors: This phrase is used to describe the optical illusion, often created by dark colors, of making a surface appear closer or larger than it actually is.
Balance: A sense of harmony in a space due to equal weights and heights within interior details. Balance might also refer to textures, finishes, and colors within the space.
Color Scheme: The palette or collection of colors used to design a space with an aesthetic or visual goal in mind.
Contrast: Creating contrast in a room's décor is achieved by using opposite textures (such as glass and wood), light and dark colors, solids and patterns, etc.
Curated: When a designer puts together a collection of furnishings, it is said to be curated. Curated collections often reflect the designer's personal style or have a historical connection or meaning.
Elevated: When an interior space or design detail is leveled up by the designer's expertise.
Elevation: A rendering or drawing that depicts the vertical angle of a design plan.
Faux: A finish that mimics the actual material in a more ethical, accessible, or affordable way.
Focal Point: The place within a room that draws the eye intentionally. This is often the starting point of a design and inspires many other elements of the interior.
Harmony: A sense of cohesion among style elements in a space. This can also strictly refer to the color palette of an interior.
Hue: A color in pure form.
Hygge [hue-guh]: A feeling or mood of contentment, wellness, and coziness within an interior.
Layered: The art of adding design elements to create a cohesive room is called layering. Each level of the design, such as flooring, window treatments, furniture, and accessories, adds another layer.
Monochromatic: The opposite of contrast; monochromatic is a series of colors in the same hue with varying shades.
Mood: The overall feeling and atmosphere of a space created by the interior finishes and details.
Open concept: This popular modern phrase is used to describe an open floor plan where multiple activities or tasks take place, such as kitchen, dining and living spaces occupying a large open area.
Rhythm: This type of room design has a flow that generates a rhythm within the design. The eye moves about the room, touching on one design element after another, such as patterns, colors, and textures, some contrasting and others matching.
Scale: Designers apply this term to specific objects and entire rooms. Scale refers to the size of a design element in relation to the dimensions of the space.
Shade: Refers to the depth of a color and is usually measured by the presence of more black or gray in the hue.
Textured: This term describes a room or object that has a tactile and/or visual appeal. It's often used to describe the different fabrics, colors, and patterns used in a design.
Well-appointed: A well-appointed room is one that is designed with high-end furnishings and outstanding execution of interior design principles.
Furnishings and Design Lingo
Interior designers use several terms to describe certain types and styles of furniture. These terms help identify style, age, and inspiration behind a piece. Familiarize yourself with some of the design terms used today.
Alcove: The recessed portion of a wall or room.
Antique: A furniture or decor piece dated at least 100 years old.
Barcelona chair: Every interior design student knows about the famous Barcelona chair, designed by Mies van der Rohe (Bauhuas Director) and Lilly Reich for the 1929 International Exposition. The duo based their design on Roman and Egyptian folding chairs, only theirs didn't fold. It is considered a classic icon for modern furniture.
Bauhaus: The famous pre-Nazi German school of modern design, architecture, and applied arts (1919 to 1933) is referred to as the Bauhaus movement. This style is considered the starting point of the modern movement.
Breakfront: This is a large cabinet that is like a buffet or a china cabinet. The center section protrudes, making both sides appear to be recessed. The protrusion can vary from only a few inches to being very pronounced.
Cabriole leg: This classic double curved wooden leg is used mostly for chairs and tables. The top curve is convex and bows out, while the second lower curve bows and tapers inward to a rounded wooden pad.
Chair Rail: A piece of decorative molding installed on a wall at the height of a typical chair back.
Chifferobe [shif-rohb]: Similar to an armoire used for hanging clothes, a chifferobe typically contains drawers and a spot for hanging items.
Étagère: This furniture piece can be found as a wall unit or one that sits on the floor. It features several open shelves used for displaying objects or collections.
Girandoles [jirəndōl]: Girandoles are a pair of ornamental candleholders or sconces that are permanently attached to either side of a decorative mirror.
Reclaimed: A piece or finish used in a design that served a previous purpose in another space.

Wainscoting: The term wainscoting describes materials (usually panels) applied underneath a chair rail. It typically covers the bottom third of a wall.
Design Acronyms
Professional interior designers use several acronyms for associations, certifications, and communicating design details to vendors and contractors. If you understand these terms, you'll be fully informed during your design experience.
AFF: Above finished floor. The building industry uses it to signify things like electrical outlets or to reference the height needed for a chandelier.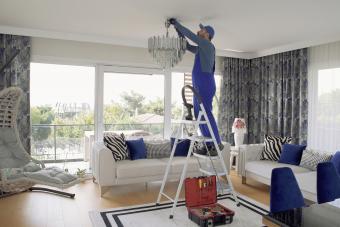 CFA: Cutting for approval is a standard request made to a vendor to get fabric samples prior to ordering. This allows the designer to check against the original fabric from which she is ordering.
COM: The phrase customer's own material (COM) is used to communicate that a client wishes to select a different fabric than what the manufacturer provides or is ordering custom-made furniture. The fabric is shipped directly to the manufacturer.
KD: The phrase knock down (KD) refers to any furniture purchased that must be assembled.
RID: This is an abbreviation for the Registered Interior Designer credential.
ASID: This is the acronym for the American Society of Interior Designers. Pro designers with this title have completed all the requirements of school and beyond to get the name.
Interior Designer Lingo and Slang
Interior designers also have a bit of their own special lingo. Commonly used slang terms include:
Case goods: This phrase refers to any furniture that isn't upholstered.
Chiner: This French expression means you're shopping for resale furniture to re-purpose or reinvent.
Decorina: This is an affectionate pet word used for a decorator.
Meanings of Industry Terminology
Just as with other industries, interior design has an abundance of nuances along with specific jargon born of the industry. Starting with a few of these words and phrases will lead you to a greater understanding, and possibly appreciation, for the processes designers go through to create great beautiful interiors.