Create Symmetry
The space above kitchen cabinets is an ideal area to further decorate to give your kitchen greater design depth.
This design takes advantages of the cabinet sections. A sign and vining plant are placed directly centered above the range hood. Placed on either side, are two vases and two covered jars. The tallest of each pair is placed on the inside with the smaller one on the outside with vining greenery flowing toward the sign. The symmetry is completed with vining greenery on each end of the cabinet top.
Patterned Vases and Urns
A large grouping of patterned vases and urns can show off a collection. This grouping of blue and white porcelain ginger jars, lidded urns, vases, bowl and teapots accentuate the subtle blue wallpaper with white accents. Some pattern designs include Holland Delft pottery (Delft Blue), Pagoda, China Blue, Blue Chinoiserie and Blue Willow.
The key to a successful grouping is to use different sizes and shapes. Work with odd numbers in groupings. Break up large groupings with a bowl or plate; add in a few single-color pieces to break up the patterns.
Add a Decorative Stencil
The space above kitchen cabinets can be accentuated with a stenciling effect. This is an ideal choice for cabinets that are flush to the wall without space to display objects. Stencil patterns should fit your kitchen style and blend into the overall décor. Use one color or several to repeat your kitchen's color scheme. A few examples of stencil options for different styles include:
French and Italian décors: Go with ivy or grape vines, or a classic fleur-de-lis.
Country traditional: Choose gingham, florals, fruits or roosters/chickens.
Off-White Decorative Animals
This kitchen takes advantage of the off-white color scheme with the decorative objects placed on top of the cabinets; the focus here is on the pair of swans backed by a wooden plaque, with numerous other off-white objects flanking them. From cows to chickens to bees, you can highlight a beloved animal.
Use other off-white objects like:
Dried floral arrangements
Lidded jar
Serving tray
Pedestal urn
Large serving bowl
Select the most prominent color in your kitchen color scheme and repeat in decorative objects.
Keep It Simple
You don't always need an elaborate or highly decorative design above kitchen cabinets. Simple can be more provocative and present a great way to display a collection, especially a family heirloom.
Keeping the theme related to the function of the kitchen is a natural decorating choice. You can use new as well as antique mixing bowls of various designs and styles to create a unique and appropriate display.
Finial Vignettes
One great design idea is to use various decorative finials in groupings and with other objects to create an interesting vignette above your kitchen cabinets. Some of the objects you might use include:
Bird perched on finial
Wood or resin plaque
Stylized wooden hand-painted chicken
Vases with dry flower arrangements
Trio of finials of varying heights
Large wooden decorative arch
Faux variegated ivy
Attractive Cubby Storage
Cubbies above cabinets provide more storage options in the kitchen. These cubbies are a continuation of the vertical ones running along the side of the kitchen cabinets.
You can recreate this look by adding cubbies and painting them in an accent color. Once completed, store cookbooks, wine bottles, vases, plants and other objects. While useful, be sure to display these stored items attractively, taking care to stack and line them nicely. The cubby walls provide a visual break between smaller groupings of items.
Artwork Centerpiece
Depending on the size of the space above your kitchen cabinets, you can highlight various pieces of your art collection. Choose pieces that go with your overall decor colors, style and theme.
For example, this art features a golden autumn landscape with dark tree trunks. The dark brown is repeated in the various boxes and wood slat towers. You might prefer a beachscape painting or two with white and blue art objects. Accent the art with:
Large painting/artwork
Greenery
Dark wooden boxes
Seasonal Decorations
The cabinet stain color here is complemented by the choice of colors used in the groupings above the cabinets. The decorative objects used are a combination of plaques, cross-stitch, word art wooden plaques, vase of wine corks and square plaque.
You can exchange some of these objects with seasonal ones to augment various holiday decorating, such as the ones in the photo. These include a wintry landscape plaque, a basket filled with greenery and red berries and a Christmas plate on a stand.
When adding seasonal objects keep style, color, and contrast in mind so they blend well with the other objects. This way, the design still flows regardless of the season.
Distressed Finish
This grouping works because most of the items have a distressed finish and offer interest in different designs, sizes and heights. The darkest objects anchor the center of the grouping.
Items to use include:
Lattice trays
Finials
Candlestick
Bistro sign
Friezes and wall reliefs plaques
Wood cutout basket
Stacked books
Small clock
Variegated ivy
Add Contrast
More Details
You can use light and dark objects to create contrast and interest. This is an especially dramatic effect for a white or light colored kitchen. Dark green, shades of brown, and deep gray vases placed above kitchen cabinets stand out against white and lighter colored cabinets.
Place various styles and sizes of vases in a grouping of different colors. Use several taupe and brown vases for a lighter contrast effect if you don't want to call too much attention to the area.
Canisters Within Reach
Some kitchen cabinets are low enough that the top can store items within easy reach. This transforms what was a decorative space into useful storage for items used when preparing meals.
Pastas and spices can be stored in attractive tall slender canisters (for pastas) and shorter ones (for spices). You can either mix up the heights or display them in descending heights. Placing a decorative vase or item that is a similar shape as the canisters adds a little interest.
Plants for Color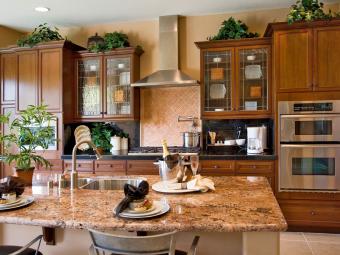 Pacing either potted houseplants or faux vines and other greenery on top of the cabinets in single sprigs or clusters can be a great way to decorate a kitchen. In addition to using greenery, you can introduce or repeat décor colors with silk floral arrangements and vines. This style is versatile enough to put in every kitchen.
Place decorative objects above kitchen cabinets to repeat your kitchen style, such as colonial, retro, or modern. Don't let the space go to waste when it could enhance your kitchen design.