The key to a functional and stylish kitchen is using the right storage hacks to keep everything in its place and tidy. Whether your kitchen offers tons of storage or you have to maximize the small amount of space you have, you're just a few steps away from having the organized kitchen you've always wanted. Make cooking and entertaining in your kitchen a joy with clever kitchen storage ideas.
Move Dry Goods to Matching Containers
An instant kitchen upgrade is as simple as swapping all of your mismatched containers and product packaging for matching sets. By placing dry goods like beans, pasta, and rice in matching storage containers, your kitchen will look more organized immediately.
Add a Storage Cubby
For a small kitchen that's low on cabinet or shelving space, a storage cubby provides plenty of extra storage opportunities. You can use this to display dishes, store food, or organize your small kitchen appliances.
Use Bins to Organize Items
Small bins are your best friend when trying to get your kitchen simplified and functional. Use them in drawers to keep utensils tidy. You can also use bins of varying sizes to organize your reusable water bottles, baking equipment, baby bottles, and your favorite snacks.
Keep Cooking Utensils Within Reach
Rather than crowding your kitchen drawers, bring your most-used cooking utensils out for display. Store them in a stylish jar, caddy, or vase for easy access and a tidy cooking space.
Place a Tray on Your Island
A kitchen island can quickly gather clutter as it acts as the drop zone in many homes. Get ahead of the decluttering game by placing a decorative tray in the center of your island counter. Fill your tray with trinkets for decorative flair or treat it as a catchall for mail, papers, recipes, and magazines.
Store Rarely Used Appliances Out of Sight
If you only use your toaster oven occasionally or your stand mixer is used to make a birthday cake once or twice a year, it might be worth storing them in another area of your home. You can tuck them into lower cabinets, slide them into your pantry, or store them in a laundry room or garage area.
Add a Freestanding Cabinet
If lack of cabinet space holds you back from having an organized kitchen, add a freestanding cabinet to create additional storage space. You can store pots and pans in a lower, freestanding cabinet or display your coffee mugs or fine china in a tall cabinet with glass doors.
Give Your Spices a Home
If you don't have a large pantry area to keep your ingredients tidy, try to store your herbs and spices in a drawer near your cooking or food prep station. Look for matching jars and add your own labels to make this small part of your kitchen feel designer.
Make Sure You Have a Place for Fruit
Even if you don't always keep fruit on hand, make sure you have a designated place for the times you have a few apples or a bunch of bananas. Whether it's a wire tier, a wooden bowl, or even a wall-mounted basket, you can keep fruit from cluttering your counter space with a bit of planning.
Hang Your Pots & Pans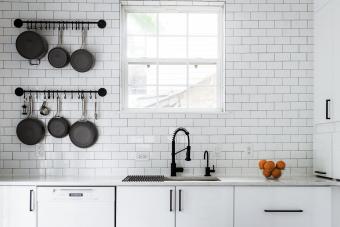 Get your cabinets decluttered once and for all by moving some of your pots and pans to a different storage location. Use your available wall space to hang a rack for your most-used cookware.
Display Your Cutting Boards
Cutting boards can take up more space inside drawers and cabinets compared to how neatly they fit against walls or on counters. Take advantage of how slim cutting boards are by displaying them in layers against your backsplash or behind your range. You can even set them on your island as risers for decorative items.
Create a Coffee Station
Storage solutions don't always involve adding new products to your home. Sometimes a storage solution looks more like rearranging what you already have. Make a small coffee bar with your existing coffee pots, mugs, and other coffee tools. You can always add small shelves or risers to make the space extra functional.
Store Snacks in Airtight Jars
For snacks that you like to keep on the counter, use airtight jars and containers to keep your kitchen stylish. Use these to keep snacks like cookies, pretzels, and fruit snacks fresh. These types of containers also work well for storing dishwasher pods or other items you want to keep away from children.
Make Use of Open Shelving
Though you want the open shelving in your kitchen to look styled and uncluttered, you also want to ensure that you are making the most of the extra space. Style your open shelves with items of the same category, or look for small baskets or jars that you can use for storing loose or miscellaneous items.
Rearrange Your China Cabinet
Though your china cabinet might hold some items you use less often, it might be a good idea to declutter any items you find you don't use nearly enough to make room for some of the cookware or server ware in your kitchen. Donate items you never use and move some of the extra pieces from your kitchen to your china cabinet to free up space.
Use Clever Hanging Organization
Keep your daily kitchen tools within reach without sacrificing all your counter space. Hanging organizational products will help you save on counter and cabinet storage while making sure you still have everything you need when it's time to prepare a meal.
Opt for Stylish Soap Dispensers
An organized and beautiful kitchen starts with the details. Swapping your bottle of dish soap and generic hand soap packaging for a stylish duo of soap dispensers will instantly elevate your sink area.
Declutter Your Drinkware
Cabinets get untidy quickly when there is an abundance of drinking vessels. Try to simplify your collection and only keep your matching sets or the cups you use the most. Avoid stacking too many cups and add a riser to keep coffee mugs organized.
Designate Your Drawers
When all of your drawers serve a purpose, your kitchen will be much easier to work in. Evaluate all the items you have and decide on how many drawers you need to get everything organized. Declutter and downsize as much as possible and designate at least one drawer for miscellaneous items. Any drawers with extra space can hold items that are cluttering other spaces in your kitchen.
Display Your Cookbooks
Don't let your cookbooks go unused because they're lost in the back of a cabinet. Showcase your collection on a set of shelves instead. This will give your kitchen a beautiful and functional focal point and help you try those recipes you've had marked for so long.
Use Tools to Keep Your Cabinets Tidy
Consistent decluttering is a great way to keep your kitchen cabinets organized. But, a few tools might help your efforts as well. Try adding sliding drawers inside your cabinets, using Lazy Susans to keep tall items tidy, or adding bins to separate cookware and other kitchen tools.
Place Canisters on Your Counters
If you like to have coffee, sugar, or even your morning supplement regime within reach, a collection of canisters can keep your counters looking stylish. You can use metal, ceramic, or glass canisters to store all the things you like to keep easily accessible in your kitchen. You can even store your favorite protein powder with decorative flair.
Add a Shelf With Hooks
Some wall storage solutions can provide multiple benefits to your kitchen. A wall shelf with hooks below offers a space for your mixing bowls or spices to rest while providing hooks for your oven mitts or coffee mugs.
Store Items Over Your Island
A kitchen island provides tons of storage space on its own, but don't overlook the possibilities that hang overhead. A large rack mounted to the ceiling over your island can give you hanging space for pots and pans or shelving space for items you don't use very often.
Bring in Baskets
Use baskets in any room of your home to maximize your storage space. You can use small baskets in drawers to catch miscellaneous items, baskets on shelves to store dry or paper goods, and even baskets to keep your kitchen linens organized and fresh.
Make Use of Tall Cabinets
The highest portions of your cabinets may not be convenient to reach, but they can provide storage space for the items in your kitchen that you only use occasionally. Store your rarely used small appliances in the cabinet above your refrigerator and keep your nice champagne flutes on the highest shelf of your cabinets. Mini upper cabinets with glass panels are great for displaying antique tea cups or one-of-a-kind pottery.
Take Advantage of Island Drawers
A kitchen island with drawers could double your storage space. If you're remodeling or building, try to include this helpful feature in your plans. Use these drawers for food storage, baking equipment, cookware, and items you want kids to have access to with little to no help.
Be Wise With Island Shelving
Your instinct might be to use the shelving on your island for decorative items only, or it might tempt you to stack frying pans or casserole dishes there. Instead, find a balance between decorative and functional. Use baskets to sort items, display cookbooks, show off beautiful mixing bowls, or arrange your spices.
Reserve Glass Cabinets for Items You Want to Display
No one has a perfectly pristine kitchen all the time. Clutter is going to happen in a kitchen that's used regularly. You can keep that clutter hidden from guests by using your everyday cabinets for cookware and reserving cabinets with glass doors for only your best items or your matching sets of glassware.
Add a Few Wall Hooks
Even if you can't think of a use for wall hooks right off the bat, they will probably prove to be useful at some point. A collection of wall hooks in your kitchen is great for hanging aprons, oven mitts, and even your toddler's bibs. You can also use this space to hang mesh bags of onions or garlic and store your reusable grocery bags.
Keep Cooking Oils Nearby
Don't go to the pantry every time you need the olive oil. Transfer your cooking oils or vinegars to stylish glass bottles with pour spouts and store them next to your cooktop. Use a tray to keep your entire collection tidy or just choose your two favorites for a functional cooking area.
Hang Extra Storage for Dishes
If your cabinets are getting crowded or you just need a place to keep your dishware, wall storage options can help. Keep your bowls, plates, and saucers on display for easy access that looks like an intentional design focus.
Storage Hacks Make Your Kitchen Welcoming
A kitchen that is tidy, organized, and arranged with efficiency in mind will become a kitchen you not only love to spend time in, but a kitchen you love to invite guests into. Once your kitchen cabinets, shelves, and counters are free of clutter and full of functional storage hacks, you might entertain far more often.