Kitchens big and small can benefit from the right colors. Choosing the best colors for a small kitchen isn't always about trying to make it appear larger, it can also mean choosing your favorite colors. With the right color and decorating tips, you can confidently choose the colors you love without sacrificing the appearance of space in your small kitchen.
10 Best Colors for Your Small Kitchen
With so many fixed or hard-to-change elements in your kitchen, color will always be the easiest way to make a big impact. By taking your installed finishes and fixtures into account, you can transform even the tiniest kitchen into a gorgeous space that's big on style.
White
White as a kitchen color will always be a top trend, and it's easy to see why. As more homeowners are venturing into new cabinet colors and finishes, they still want the open appeal of white in their kitchen. White walls, counters, and sinks create a visual break from other colors in a small kitchen. The visual break of white allows you to add strong accent colors like black, and speciality cabinets in unexpected colors, while maximizing the appearance of space. Modern farmhouse style, with its white and black color palette, is perfect for a small kitchen. Accent your modern farmhouse kitchen with medium to light wood cabinets and flooring for a comfortable and expansive look.
Yellow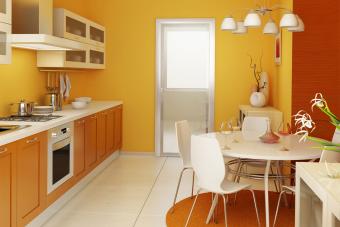 Cheerful and sunny, yellow always tops the list of kitchen colors home buyers prefer the most. The appeal of enjoying your morning coffee in a bright and warm kitchen makes yellow an appealing choice. For a small kitchen, using wall color to illuminate dark corners and too-few windows is a simple fix. When you are choosing yellow for your walls, be mindful of the wood tones in your kitchen. Oak and maple cabinets are common in kitchens, and they can have a yellow or orange undertone. The best yellow wall color with oak and maple cabinets allows their undertone to blend, making the wall look larger. Be sure to sample your paint colors next to your cabinets before committing.
Sage Green
Sage green is back as a must-have kitchen color, and it was missed. Green can be a tricky color for a kitchen, and it can be easy to stumble into the wrong color. The softly muted sage green is as close to be considered neutral as any green color can be. Green is a unique color, as it can often be considered as a cool or warm color, depending on the undertone. The gray tone of sage green moves it into the cool category, but it's soft enough to be paired with warm accents like any wood tones around your small kitchen. The accent colors that work well with sage green are both warm and cool colors. Yellow cuts the softness of sage green's muted tone and provides a crisp accent. Pale blue plays off the subtle blue undertones of sage green for a soothing color palette.
Gray
Light gray, medium gray, or even charcoal gray can be the perfect color for your small kitchen. Gray is a neutral color that has so many variations, making it suitable for a variety of decorating styles and color palettes. Even though it's considered a dark color, charcoal gray paired with soft white and soft brass hardware can make your small kitchen feel larger as the color recedes visually. Pale gray colors have the same appeal as light blue, evoking high clouds and a soft sky. You'll want to sample your possible gray choices with your wood cabinets and flooring, as the warmth of wood can often bring out unexpected blue undertones in gray paint colors.
Teal
If you love blue and green, teal is the best of both worlds. If you're not ready to paint your walls in such a vibrant color, a pop of teal as a kitchen island, counter stools, or a backsplash, can still bring a fun energy to your space. When you bring a rich cool color like teal into your small kitchen, you'll want to keep your accent colors simple--avoiding warm neutrals, and bright colors. Teal works very well with dark woods, light counters, and shiny metal finishes.
Red
A red kitchen may seem a bit daring, but it can be the dynamic look your small kitchen needs. There is more to adding red to your kitchen than painting your walls in ruby red, so you'll want to explore the welcoming shades of toned down reds with their neutral appeal. Many toned-down red colors can have names like russet, brick, and redwood. Your kitchen can still have the benefit of red's appeal, even with just a few pops of color. Stores are filled with red kitchen decor accents and even small appliances, so you're sure to find a lot of inspiration. Traditional red colors look best with light wood cabinets and flooring, while dark wood is best with burgundy tones.
Neutrals
Encompassing many shades, neutral colors are a simple option for creating big appeal in your small kitchen. Choosing neutral colors gives you more decorating options and allows you to create a color palette that is filled with your favorite accents. Your neutral color may come from existing cabinetry and flooring, which is often the case with wood finishes. Neutral paint colors can give a small kitchen an expansive look when matched to the cabinets, even if the paint is slightly darker or lighter. The undertone of neutral colors becomes more apparent when they're near other neutrals, so sampling colors in your kitchen is essential. The benefit of neutral color in your kitchen is the almost unlimited choice of accent colors available to you.
Light Blue
Light blue may not be the first color that comes to mind for your small kitchen, but the charms of this color should not be overlooked. Pastels, including light blue, bring soft and positive energy into small spaces. Light blue evokes the openness of the sky, giving a kitchen an airy vibe. Light blue ceilings have become a popular way of opening up a tiny space by recreating the feeling of sky overhead. For accents, pairing light blue walls or cabinets with black and white instantly elevates a small kitchen into a classic beauty.
Mint Green
Fresh and fun, mint green continues to be a kitchen-color favorite. With just the right amount of blue and yellow undertone, mint green brightens up a small kitchen without being "too green." White cabinets and light wood tones soften the energy of mint green, while dark wood cabinets and floors create a playful mint chocolate chip color palette.
Off-White
A small kitchen can be transformed into an elegant space with off-white wall color. This soft color is the perfect choice for your kitchen, if you like white but want more warmth. Paired with white cabinets and trim, off-white wall color creates a subtle contrast that shows off the other finishes in your kitchen. Light solid-surface counters and rich wood cabinets and floors become rich accents when paired with warm white walls or backsplashes.
Choosing the Right Paint Sheen for Your Kitchen Walls
For decades, semi-gloss paint sheen was the standard for kitchens and bathrooms. The idea behind using a semi-gloss, or even a high gloss paint was for ease of cleaning and protecting against moisture damage. In the years since glossy paint was the default for kitchen walls, paint formulations have evolved into better products. Semi-gloss is still popular for trim and painted cabinets, but eggshell, satin, and even washable-flat, paint sheens are the top choices for kitchen walls. When choosing your paint, it's helpful to know that each brand has its own formula for sheen. What is eggshell for one brand can appear as satin to another--so it's important to understand paint sheen and to compare samples when you're deciding.
Enhancing Your Small Kitchen's Color Palette
Once you've chosen a new color palette for your kitchen, you can bring out the best of your new look by incorporating it into your adjacent rooms. Your kitchen color doesn't have to stop at the kitchen walls. Maximize your small kitchen's appeal with matching decor accents in any nearby space.