Drawers often serve as a catch-all for everything you want out of sight, which can lead to clutter and disorganization. Decluttering doesn't have to feel overwhelming, and organizing your drawers not only creates a more attractive space, but it also gives everything a place. Create organized drawer layouts that help your home function at its best with a few practical drawer organization ideas.
Clever Drawer Organizing Ideas
Give your untidy drawers an organized makeover with clever ideas that help keep the clutter away for good. Try a few pro-tips for organizing drawers in a way that's functional and aesthetically pleasing.
Store Long Items on a Diagonal
Save space and give drawers a beautiful layout with dividers placed on a diagonal. Long items like rolling pins, knives, serving utensils, curling irons, and large bottles of lotion or shampoo might fit in shallow drawers better if set at a diagonal angle.
Color Code Drawers
Use colorful trays, shelf liner, or labels to separate drawer contents into categories. This is great for large families to designate toiletries, clothing in shared rooms, or snack items that are kid or allergy friendly.
Create Drawer Dividers With PVC
PVC pipes are an affordable DIY for drawer organization. Use 3-inch PVC and paint the pipe pieces in colors you love or shades that help your family find the items they're looking for. Place them in drawers to organize delicates, accessories, socks, craft items, snacks, or baby clothing.
Make Fun Labels
Labels made with a Cricut can add a fun flair to your organized drawer and help you and your family keep everything tidy. Apply these types of labels to plastic and acrylic trays or drawer dividers for a helpful and beautiful detail.
Make Your Own Drawer Divider for Deep Drawers
Create your own horizontal drawer divider with cardboard, wood, or plastic cut to fit your drawer exactly. Be sure to leave a small cut to help you lift the divider. Use vertical dividers in any material to create your the structural base. Store small items in the dividers that you use less often, then place the horizontal divider on top. Now you can add lightweight, thin items like paperwork, folders, or commonly used office supplies. This is also a great way to hide things you don't want to be found easily. The drawer will appear shallow to anyone at first glance.
How to Start the Process
Getting drawers organized can be a refreshing and easy process as long as you go into it with a plan. Follow a few simple steps to set yourself up for organizational success.
Evaluate What You Have
Determine which drawers need to be organized and figure out the overarching category of each drawer's contents. Knowing what items need to be organized and which drawers should house them will help you approach the rest of the process with a small goal in place for each drawer.
Estimate What You Need
Once you determine the contents and categories of each drawer, it's time to figure out what organizational items you might need. Determine if drawers need organizational products, systems, or additional items to be fully stocked.
Empty Your Drawers
The first step to creating an organized space is to make a huge mess. Really! The best way to start organizing your drawers is to empty them out and declutter. Get rid of anything you truly don't need, place every item into a proper category so you know which drawer it will belong to, and make sure to thoroughly clean the inside of the drawers before putting items back.
Drawer Organization Ideas
When it's time to start placing items back in drawers, the key to getting everything in its rightful place is to implement a few organizational ideas that work for your budget, home, and drawer contents. Consider making each drawer as beautiful as possible so you're more likely to keep things tidy.
Tackle the Junk Drawer
The drawer in every home that likely needs the most attention and care is the dreaded junk drawer. Give this landing place for random items some sort of organization by using bins, dividers, or small trays to catch all the chargers, spare birthday candles, coins, and paper clips floating around your home.
Organize Office Supplies
Give extra attention to your office desk drawers so you can work or learn more efficiently. If working with multiple drawers, designate one for documents, stationary, and notebooks while the other drawer houses the stapler, pens, and other small office supplies. If you have a drawer without a designated purpose in your office space, use that to hold extra stock of supplies so you never run out in the middle of a workday.
Create a Fun Craft Drawer
If crafts are something you or your children regularly enjoy, consider creating an organized craft drawer for easy access to all your supplies. Use clear bins and trays so you can easily see items when working on a craft, and keep most commonly used items like scissors, glue, or stencils toward the front of the drawer so you can reach them quickly.
Gather Gift Wrap Supplies
If you take gift wrap seriously all year long, designate a spare drawer to all your gift wrapping tools. If you have a deep, long drawer, you can even include the gift wrap itself. Otherwise, try adding tools and accessories like scissors, twine, tape, bows, and ribbon to small baskets or bags so you can easily bring them to your designated gift wrapping area.
Keep Your Kitchen Organized
It may feel like a large task, but try to create organization in every drawer of your kitchen so you can cook, bake, and entertain with ease. Kitchen drawers to include for an organized heart of the home are:
Beautifully organized baking items
A tidy drawer for flatware
Neatly organized drawers for serving utensils
A safely organized drawer for knives
A spice drawer that's tidy, cohesive, and accurately labeled
A drawer for neatly organized teas
An organized drawer designated for kid or baby feeding items
A fully stocked snack drawer for the family to access easily
An organized drawer for all of your dish towels and tea towels
Tupperware that's neatly placed in a designated drawer
Neatly organized paper or plastic goods like paper towels, plastic wrap, freezer bags, parchment paper, and foil.
Beautify Your Bathroom Drawers
Create an oasis in your bathroom with organized drawers for all your cleaning and pampering needs. Use acrylic or white organizational items to keep drawers looking clean and refreshed. Be sure to include every drawer in your bathroom.
Designate a drawer for toiletries like lotion, soap, and shampoos.
Have an overflow drawer for extra toilet paper, toothbrushes, and toiletries.
Give makeup and skincare drawers a face lift with organizational bins, trays, and bags.
Designate a drawer for first aid items and regularly used ointments or medications.
Organize hair care and styling products with a combination of bins and trays.
Use small trays to store cotton balls, cotton swabs, and washcloths.
Create a Neat and Tidy Nursery Drawer
For the first two to three years of a baby's life, you'll find yourself daily reaching for diapers, wipes, ointments, and other small necessities. Choose a drawer closest to the diaper changing station and organize everything you need for those countless diaper changes. Be sure to include a tray with small toys to keep baby happy when needed.
Pack Party Supplies Neatly Away
If you're a regular host or party planner, have a designated party drawer so you can easily reach your favorite decorations, cutlery, serving platters, and cake toppers. Make this drawer fun with colorful bins or trays.
Bring Organization to Your Bedside
Second only to the general junk drawer, nightstand drawers tend to get the messiest. With all the things you might like to keep nearby for easy access in the middle of the night, it makes sense that this area gets untidy almost instantly. Try using small zipper bags for small items like pens and hair ties. Store larger items like phone chargers, books, and remotes in trays or bins.
Create Organized Clothing Storage
For clothing items stored in drawers, you may want to forego the added bulk of trays, bins, and bags. Rather, focus on learning to fold clothing in specific ways so they're easily tucked away but visible when you open the drawer to make your selections. Try the KonMari method or similar folding techniques to achieve this level of organization.
Choosing Your Organizational Products
Broadly speaking, there are two types of organizational products: manufactured and DIY or repurposed. While one saves money and provides the opportunity to use that curated craft drawer, the other might be more convenient and streamlined. The choice really comes down to preference and finding the products that work best for you.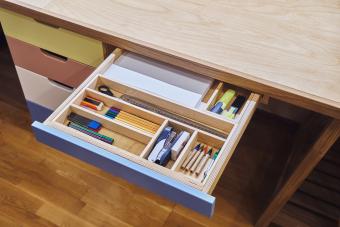 DIY Drawer Organizational Products
DIY organizational products are great for working on a budget and can likely be made with items already in your home. Get creative and make these items beautiful so they can inspire you every time you open that neatly organized drawer. A few DIY ideas for drawer organization include:
Foam board dividers
Cardboard trays covered with washi tape
Cardboard dividers wrapped with craft paper
Dividers made with paint sticks and wood glue
Small plastic tupperware used as bins and trays
Drawer Organizational Products You Can Purchase
If DIY isn't your thing, look for organizational products you can purchase. This gives you the opportunity to make sure everything is cohesive and fits your style. Try one of the most commonly available organizational products:
Small woven baskets
Plastic dividers, trays, and bins
Acrylic dividers, trays, and bins
Felt dividers and small felt trays
Wooden dividers, dowels, and trays
Wire baskets and bins
Make Your Drawers Beautiful
Organization is only part of the journey. You'll want to make sure your drawers are also aesthetically pleasing. Try some additional ideas to make the drawers you use every day feel extra special:
Use wallpaper or craft paper to create a beautiful backdrop for your organized drawer.
Use foam, paper, plastic, or bamboo shelf liner to add texture and keep organizational products in place.
Use a label maker to create a cohesive look for spice drawers, first aid products, snack items, and toiletries.
Make sure organizational products fit snugly and aren't overflowing with items for a tidy appearance.
Color code items or use one overarching color scheme for a cohesive look.
Get Organized for Good
Stay on top of every drawer in your home with the right organizational products and a simple approach. Make sure the way you choose to organize each drawer is a style that is sustainable for you. The trick to consistent organization is to always be organizing, so make sure you designate time for maintenance and decluttering, and always keep your eye open for new organizational ideas to implement.