Top Tips for Cleaning Grills and Grates
Not everyone cleans their grills the same way. It depends on what part of the grill you're cleaning and the type of grill you have. But, there are lots of different ways you can clean grills in a snap. Get a few simple tips for cleaning grill grates along with deep cleaning gas, pellet, and charcoal grills. It takes the work out of getting your meal going.
Cleaning Your Porcelain Grill With Steam
When it comes to the best way to clean a grill, just add a little water. No literally, all you need is a bit of steam. This works for all kinds of grills, including porcelain grates.
Fill a metal tin with water.
Allow it to boil on the grill and shut the lid for about 15 or so minutes.
Remove the tin using an oven mitt.
Run grill brush over grates.
Allow the grill to cool to warm.
Wipe everything down with a microfiber cloth.
Onion for a Gleaming Grill
Cleaning your grill doesn't take toxic chemicals. In fact, you can clean it with food. And this works for all different types of grates from cast iron to porcelain.
Cut an onion in half.
Heat up the grill to burn off most food particles.
Put the onion on a grill fork.
Rub it all over the grates.
Squeeze a lemon over extra gunk.
Cool and wipe down.
Create a Coffee Soak for Stainless Steel Grates
When you are cleaning your stainless steel grill grates, you need to be sure you're using the right tools. To create a great soak, grab the coffee.
Pull off the grill grates.
Put them in a large container with coffee.
Allow them to soak for a few hours.
Rinse and wipe down with a cloth.
Baking Soda and Vinegar Paste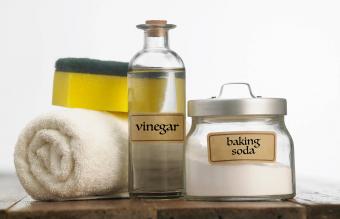 Vinegar and baking soda are great cleaners for your grill grates. They cut through the hard-to-clean grime.
Mix 2 cups of baking soda, ⅓ cup of Dawn, and ⅓ cup of white vinegar in a container.
Remove the grates, and add the mixture all over them.
Paint the paste onto all areas of the grill with gunk.
Replace the grates.
Close the lid and let sit overnight.
Grab a moist sponge and wipe away the grime from the entire grill.
Use a bristled brush for hard-to-remove areas.
Aluminum Foil for Grill Grate Cleaning
Don't have a grill brush? Don't worry about it. Grab a little bit of aluminum foil and give 'er a scrub.
While the grates are still hot from grilling, crumple a ball of aluminum foil.
Grab it with your tongs.
Run it over the hot grates.
Enjoy the clean.
Apple Cider Vinegar Spritz
Another easy way to clean your grill is to give it an apple cider vinegar spritz. The acid in the vinegar removes most debris.
Mix apple cider vinegar or cleaning vinegar and water equally in a spray bottle.
Spritz the grates.
Close the lid and allow it to stew for 20 or so minutes.
Use a grill brush or aluminum foil to remove gunk.
Rinse with water.
If you don't have ACV or cleaning vinegar, grab good ol' white vinegar.
Baking Soda for Cleaning Charcoal Grill
When you need to give your charcoal BBQ grill a deep cleaning, baking soda can be your best friend.
On a cooled grill, remove ash.
Create a paste with a cup of baking soda, a bit of water, and a few drops of Dawn.
Dip a ball of aluminum foil in the paste and scrub the grates.
Pull off the grates and use a bit of Dawn and water to wipe out the inside.
Rinse and wipe down.
Add a bit of oil to the clean grates.
Heat to Deep Clean Gas Grill
When it comes to cleaning a gas grill, you don't want to get anything on the burners. So, you need to stick to heat and elbow grease.
Fire up the grill and burn off all the crude on the grates you can.
Turn off the gas.
Dip your grill brush in a bit of soapy water and scrub.
Once cooled, pull off the parts and wipe everything down with soapy water.
Wipe out the inside of the grill with soapy water and a scrub pad.
Wipe out the lid and outside.
Oil the grates.
You are all set.
Soapy Water for Pellet Grill Cleaning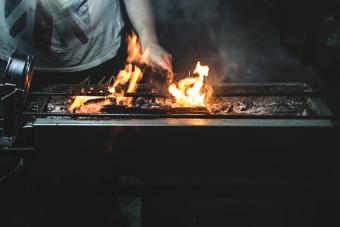 Pellet stoves don't get as hot as a gas grill. Therefore, you just need to remove the crude from the grates and grease pan after cooking.
Soak the grates in soapy water for at least 20 minutes.
Scrub them with a scouring pad.
Scrub the grease pan with the soapy scouring pad while it's still a bit warm.
Enjoy!
Quick Tips for Getting Your Grills Clean
No matter what type of grill you have, there is an easy way to clean the grill. Most of the time, you just need a bit of soap and water, but adding white vinegar and baking soda to the mix can help with that stuck-on grease.