Small rooms can look like a total disaster. Why? Because there is a lot of stuff to cram into a small space. Learn a few creative room organization tips for small rooms. These work for small bedrooms, sewing rooms, offices, and even dens. Make your space cozy, comfy, and clutter-free.
How to Organize a Small Bedroom on a Budget
Small bedrooms can get cluttered fast. Beyond just using under your bed as storage, you can find other functional tips and hacks to declutter your small room. Try out a few of these bedroom organizational hacks.
1. Create a Functional Closet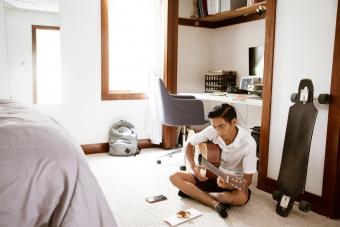 A closet can be more than just a place to store your clothing and shoes. If you use the space correctly, it can be a functional workspace in addition to storing your clothes. Add a small desk to the closet and put shelving around it to store clothing and supplies.
2. Shower Curtain Rings to Condense
Clothing can take up a lot of space in your bedroom. How you store it can make a difference. With a few shower curtain rings, you can get more clothing on one hanger. For your short-sleeved shirts and tanks, put the ring through the sleeves. You can also use these to hang jeans by using the belt loops. Using this way, you can hang more than one item per hanger.
3. Rolling Cart Nightstand
A rolling cart has a lot of different storage areas that are easy to grab from. You can also add additional organizers to the sides of the cart to get extra storage space. To make things super easy, you can use small decorative baskets to throw your stuff into quickly. It's furniture for space-saving.
4. Decorative Baskets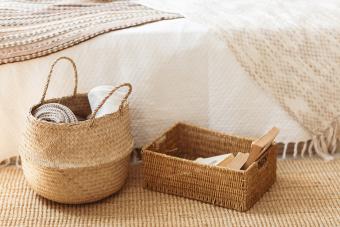 Baskets can hold stuff on the floor. From clothing to odds and ends, you can use baskets for overflow storage on your floor. You can have one next to your bed to hold extra blankets or books. They also work great to keep glasses and other odds in check.
5. Stacked Shelves
You can also organize your small room through stacked shelves. These make use of the vertical space within your room. You can stack these up the wall over an area like your bed or desk that doesn't get much use. This makes use of the wall space.
6. Corner Shelving Units
Another wasted space in your small room is the corners. Adding corner shelves can add much-needed storage space up to the ceiling. You can use this for pictures or to store shoes. It gets them out of your closet and makes them easy to access.
7. Hooks to Hang Shoes
Using hooks to hang things up provides storage for your shoes. Place the hooks up the wall in a discrete area of the room. You can use these to hang your shoes, purses, scarves, and more. The great thing about the hooks is that they aren't permanent. So, you can move them around the room as you need to.
Small Room Organization Hacks
While small bedrooms are one area to organize, hacks work for all types of small rooms. These include sewing rooms, offices, and dens. Check out a few additional hacks you might take out of the bedroom.
8. Use a Fold Up Desk
Small rooms typically don't have space for a desk, but it's needed. In that case, you can use a fold-up or pull-out desk for when you need it. But you can fold it away when you don't need to use it. This saves you space, but makes sure the room is still functional.
9. Pegboard to Organize
Pegboards aren't just for your garage. They can be used in a small room to provide hanging storage. This is great for hanging scarves, jewelry, desk supplies, and pictures. You can also add small shelves to the pegboard. This allows you to add small stuff that can't be hung, like books and clocks.
10. Use Door Storage
Every room has a door, and it's space that is wasted. Adding hooks to doors or even several shelves can make your door into the perfect place for organizing your jackets, writing supplies, buttons, thread, and more. With these bedroom organizers, you'll utilize all the available space in your room.
11. High Shelves for Storage
In an office or sewing room, the area near the ceiling is typically wasted. But not if you are a space-saver. Adding a high shelf opens up all different types of storage opportunities. You can add all your overflow materials or paperwork you don't need regularly. And it's entirely out of the way.
12. Mason Jar Organizations
A fun way to organize your stuff in a small craft room or bathroom is by adding mason jar organizers. These organizers are easy to use and give your room a rustic feel. Depending on your needs, you can use multiple sizes of mason jars and even label them. You can just use mason jars on some shelves. You can also create a mason jar shelf.
The Perfect Room Organization Ideas
If you have a small room, organize it to make it both beautiful and efficient. Organization takes some planning, but nearly anyone can create a relaxing space to get rid of the clutter. Whether you are downsizing to a smaller house or apartment or just coping with a small-sized room, an organized space is relaxing and comforting.