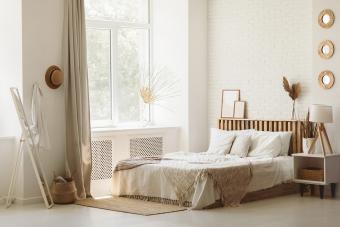 Shades of cool gray became the trendiest colors in interior design and have continued to be go-to neutrals for many people. However, the classic warm shades of tan and beige are far from being out. In fact, they have gained momentum in the design world in recent years, and it looks like everyone is ready to warm up their living spaces with these timeless neutrals.
Understanding Beige And Tan
Beige and tan are interchangeable terms often used to describe a warm and light neutral color. But the two colors have some minor differences that set them apart. Understanding these differences will help you determine if tan is the warm neutral of your dream home or if beige is the classic choice for you.
Tan
Tan is defined by the presence of brown or gold in the undertone. When compared to a similar shade of gray, you'll notice a tan appears yellower. Tan paint colors would include:
Beige
Beige is defined by the subtle presence of gray in the midst of its warmer tones. This is not enough gray to cause it to appear cool. It's just enough gray to tone down the yellow and muddy the color so it appears more muted than a traditional tan. Beige may also appear to have a slight pink undertone when compared to a true tan. Beige paint colors would include:
Interior Tan And Beige Color Palettes
Interior colors palettes for tans and beiges are timeless and easily adjusted as trends change and your home's style evolves. These colors work well in strictly neutral color palettes, but they also fit perfectly into darker or more colorful color schemes.
Complementing Colors
Because tan has the presence of a yellow undertone and can even have a green cast itself, olive is a great choice for a complementing color scheme. Use these two shades interchangeably in your decor with accents of warm cream or matte black. If you prefer lighter interiors, opt for more tan and use olive as an accent.
Harmonious Contrast
Tan's subtle yellow cast and the hint of blue we see in slate create a harmonious and contrasting palette. Let slate bring depth to this neutral palette while tan keeps things warm and light. Mix materials like tile, rattan, wood, and concrete to help this palette feel cohesive.
Warm & Light
A warm and light color palette, the combination of beige and cream, is a classic choice. These two colors never truly go out of style. Because beige works well alongside warm and cool colors, you can choose nearly any shade to accent with.
Rich Warmth
Add extra warmth and richness to a beige palette with plenty of camel brown. The golden-brown undertones in the camel will play well with the warmth of beige while providing plenty of dimension to the space. Use beige on walls and textiles and let camel shine in wood furniture, leather accents, and ceramics.
Monochromatic Warmth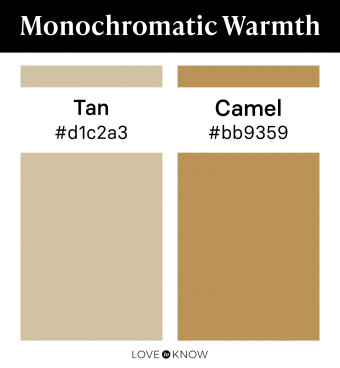 Much like the beige and camel palette, the colors in this palette will complement each other in the best way, while also taking on a more monochromatic look. A shade of camel or a muted gold will draw out the yellow tones in tan and make your space warm and inviting. Use gold in hardware and light finishes, but don't be afraid to try it on the walls, in wood stains, and even in textiles.
Beige & Terracotta
If you're looking for a subtle way to introduce color to your neutral palette, try combining your trusty beige with a muted shade of terracotta. This muddy orange shade is warm and inviting and is easily worked into your decor as an accent or wall color. Use plenty of beige to keep things light and grounded.
Exterior Tan & Beige Color Palettes
Shades of tan and beige have always worked well for home exteriors. Try updating these traditional colors with deep neutrals and cool tones on your trim and doors.
Classic Neutral
This color combo is a classic for a reason. Tan and white have always had great curb appeal, work with nearly all shutter and door colors, and look beautiful with brown or black accents. If you're looking for a way to update this timeless palette, add a punchy door color like coral or add in tons of wood accents in a medium to deep shade.
A modern take on two classic neutrals, beige and black are a sleek and sophisticated combination. Let black stand out as your accent in metal, doors, and trim while beige takes center stage on siding.
Modern Blend
If black feels too dark for your exterior, charcoal may feel like a safer choice. This deep shade of gray is muted, so it blends more than a typical black. Use it in small amounts or let it co-lead in this palette to balance out the warm and light beige.
Warm Neutral
If wood tones are present in your exterior, tan is a great choice for siding. It's neutral enough to let the beauty of wood step into the spotlight. The yellow warmth of tan complements multiple wood tones, but it specifically helps highlight the beauty of walnut stains.
Beige & Gray
Looking for a cooler approach? Add gray alongside your warm beige. These two neutrals are similar in shade but differ in hue, making them a beautiful combination for your curbside appeal. Use them interchangeably or choose one as your primary color and use the other for accents and trim.
Deep Contrast
A dark sage creates modern depth on a tan home. Use this sage on trim, doors, and shutters to contrast the light tan base color of your home. Deep sage works similarly to a charcoal, but it adds a hint of color. Your home will stand out, but passersby will find it difficult to pinpoint why.
Create a Timeless Look With Tan and Beige
These classic colors have been trusted interior and exterior choices for quite some time and, because of their versatility, they aren't expected to lose momentum any time soon. Whether you're looking to keep things timeless or create a space that can transition between styles easily, tan and beige are reliable classics you can turn to time and time again.