Your bedroom is the most important personal space in your home, so choosing the best bedroom color means finding the right one to reflect your own style and needs. Though creating a relaxing retreat vibe for your bedroom is a popular goal, you may prefer a more dynamic or eclectic style. Color is quite simply the easiest and most effective way to express your personal style in any space.
Choosing the Best Bedroom Colors
Before you start collecting paint chips or fabric swatches, you'll want to define how you'll be using the space, and what vibe you're hoping to create. If your bedroom doubles as a home office, your color palette choice will be different from a palette used for a day sleeper who needs a dark and quiet space. If you're an early riser who loves to wake up to a light and bright room, it will definitely be a different color scheme from someone who likes to hit the snooze button several times and needs to ease into their day.
Bedroom Color Inspiration
Now that you've asked yourself the important questions about how your bedroom color will enhance your lifestyle and activities, it's time to find inspiration. Pinterest and other clipping boards are a great way to start collecting inspiring bedroom color ideas, and can also be great for organizing them. If you're a paper and scissors type, having a separate folder for each color you are considering can help you see everything in one place. Searching for inspiration can lead you to new bedroom color ideas, and the discovery of color combinations you may not have considered before.
Navy Blue
When you think of navy blue, it might not be the first color you'd think of for a bedroom, but it is a surprisingly versatile color. Though navy blue isn't a neutral color, it's got many of the same qualities that neutral colors have - it plays well with others. Whether your color palette includes pastels, grays and beiges, or white, this color adds sophistication and depth. Navy blue makes an excellent accent wall color, but is also stunning as bedding or velvet accent furniture.
Blue + Beige
When you pair blue and beige together, you're combining a cool color (blue) and a warm color (beige.) This mix can create a soothing color palette, or an energetic one, and that all comes down to your choice of blue. If you love a vibrant blue color in your bedroom, beige and other neutrals can balance it out to calm the energy. Using blue color accents in a beige bedroom room is perfect for keeping the look relaxing, but still having a pop of color.
Sky Blue
For a bedroom, there are so many blue colors to choose from, from sophisticated to vibrant. Sky blue is an ethereal color that delivers relaxation and romance. When choosing a sky or powder blue, look for a touch of green in the undertones--this will present itself as a slight aqua shade that is almost imperceptible at first. This little detail can keep your light blue bedroom from looking like a kid's room or nursery, while still giving you the dreamy benefits of sky blue.
Soft Aqua
Are you looking for a beach-inspired bedroom? Choosing soft aqua should be your first decision in creating your color palette. Also called spa blue or spa green, soft aqua is both calming and refreshing. Brighter shades of aqua can be used in a bedroom color scheme, but they are more energetic (which is great for a beach home or short-term rental.) White, cream, and natural beige accents create a relaxing color palette.
Natural Green
Defining the color natural green is simple when you walk outside your home or apartment. Natural greens are those luscious colors that capture the vibrance of the plants and trees in the environment. Organic colors have surged in popularity, as many people look for a return to nature as a way to relax. Choosing the right green paint color for your bedroom can be tricky, as it can definitely take on a vibrance that wasn't visible on a small paint chip. Green is always a color that needs to be sampled before committing to it.
Soft Red
Red can be a bit much for a bedroom, unless it's used as accents with colors like white and blue. The secret to using red as a wall color or on other large surfaces is to choose a shade of red that softens its boldness. Soft red is a gorgeous choice for an accent wall or bedding. You can identify toned-down red when you see color names like pomegranate, brick, or terra cotta. Soft reds have either gray or brown undertones that make them a comfortable choice for bedrooms.
Pink + White
No longer a color palette limited to kid's rooms and princess themes, pink and white can be the basis for a very grown-up bedroom. While pink is popular in glam style decorating, it's also a beautiful addition to boho and modern farmhouse color palettes. The secret to using pink with white is to bring soft pink in as an accent color in upholstered furniture, bed linens, and artwork. To create a calming bedroom color scheme, add decor accents in light natural colors and materials.
Peach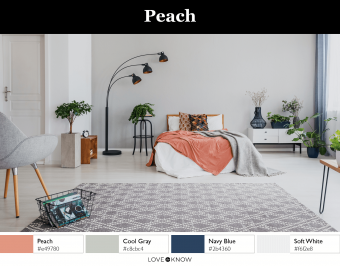 Soft and romantic, peach has steadily gained popularity in decorating again since its shining moment in the 1980s. Today's peach bedroom decor is updated with softer tones and without the teal accents of the past. Because pink and peach have a similar look, peach can also be paired with white and neutral colors for a relaxed bedroom color palette. If you prefer dark peach colors, they can be a stunning addition to a bedroom with dark wood flooring or trim. It's important to test any color you're considering, but it's especially important here because peach can surprise you by looking pink on your wall.
Beige
Beige is possibly the best color backdrop a bedroom could hope for. With such a wide range of colors calling themselves beige, it's easy to find the perfect one for your color scheme. Because beige is the result of mixing primary colors, plus white to lighten it up, it will have some undertones that you might not recognize at first. Neutral colors like beige are more complex than they seem, so be sure to take your time choosing the perfect one for your space.
Greige
Gray + Beige = Greige. By combining these two neutral power colors, a third color was born. Greige is more than a mashup of two neutrals though; it captures the best of both colors. For a bedroom color palette, greige allows you to mix warm and cool accent colors with ease. A greige bedroom works well if you're unable to change a surface or fixture in your room, as it serves as a bridge between a warm wood floor and a cool scheme, or a light fixture with a bright finish. Greige is the perfect basis for a monochromatic color scheme, which is considered the most relaxing bedroom palette.
White + Brown
When you're faced with dark wood furniture or surfaces in your bedroom that you can't change, creating a beautiful color palette can seem difficult. Choosing colors around permanent features means getting creative with accent colors once you choose a main color. White or off-white paired with brown offers you unlimited flexibility in choosing accent colors. White and brown with earth-toned accent colors is soothing and makes it easy to incorporate fun bedroom decor like macramè and plants. Brass and gold metal finishes can warm up the white colors and bridge the visual distance from dark brown.
Wood Tones
Love wood accents? For a rustic or boho bedroom, bold wood features can be a stunning focal point. Used as an accent wall, wood and wood tones create an intimate space for a large bedroom, or a focal point for a room lacking architectural details. Pair your wood tone features with soft white colors and warm accents in gold and orange for a cozy retro bedroom style.
White
White is back as the go-to bedroom color. No longer considered a default color in decorating, the abundance of rich warm white colors has fueled the resurgence of this decorating rockstar. While you can find a pure white color for your bedroom color palette, there are more soothing versions available that can provide the crispness of white but with a warmth of cream. A white color scheme for your bedroom is the easiest to create, as every color looks good with white -- so consider it your personal blank canvas.
Cream
If you love a white bedroom color but your room is already too bright, cream can be the answer. Cream and off-white are not only considered classic beauties, they can also be paired with bright white which can create an elegant color scheme for your bedroom. Cream is a soothing and sophisticated choice for your bedroom wall color, and also as bedding and draperies to soften a large space to bring an intimate setting.
Gray
Gray is a relaxing neutral bedroom wall color that gives off dreamy vibes. A pale or silver gray color scheme is perfect for early risers, and for bedrooms that don't get a lot of natural light. It's important to note that medium and dark gray colors may not work for spaces without a lot of natural light, and are better used as accents with a white color scheme. Pastel colors and natural materials look gorgeous with gray, making it a beautiful color palette for rustic and eclectic decorating styles.
Gray + Pink
A gray and pink bedroom color palette is adorable for a bedroom. The gray colors keep the pink from looking too precious, and the pink keeps gray from being too serious -- it's a win-win situation. When you add white and pastel pink to your bedroom, your gray colors can be dark and rich. The key is to balance not only the colors of your bedroom, but the number of accessories and accents you bring into your space. Your bedroom decor should look effortless, so varying the shade of your gray colors is essential.
Gray + Yellow
At first glance, you wouldn't assume gray and yellow would be such great companions in decorating. With the coolness of gray and the vibrance of yellow, they're decorating's odd couple -- yet they make it work. The stability of gray as a neutral allows yellow to shine and doesn't compete with yellow the way warm neutrals can. When putting together a bedroom color palette of gray and yellow, the secret is to choose the yellow color you love first. Yellow is a popular color, but it can be very particular to someone's taste. Once you have your favorite yellow chosen, you'll find there are a number of shades of gray available to complete your palette.
Charcoal Gray
Are you hoping to create some drama in your bedroom color scheme? Charcoal gray is dramatic and romantic, yet it can also be the perfect choice for a modern or minimalistic bedroom. Because charcoal gray has a touch of softness, it's a wonderful alternative to black. It makes a stunning accent wall or can be paired with white in bedding for an upscale hotel style. Charcoal gray can be deceptively dark when looking at color chips, so it's a must-sample color in your bedroom before you commit to it.
Black
Black used in a bedroom color palette is a daring and stylish choice as a wall color. Bedrooms featuring high ceilings, generous lighting, and white trim are best-suited for the drama of black paint. A black accent wall can create a sultry contemporary bedroom style, or a fairy tale romantic look when paired with billowy white linens.
Black + White
A black and white color scheme doesn't have to mean stark contrast. By including soft neutrals and natural decor, black and white can be just as relaxing as a neutral palette for your bedroom. Starting with a cream or off-white wall color, adding in accents of black and white creates a classic color palette. Accessories and furniture in materials like rattan and light wood give your bedroom an updated style.
Take the Guesswork Out of Choosing Bedroom Colors
It's easy to fall in love with an image of a bedroom color palette, but how do you know if it will work in your own space? Investing a little extra time and effort during your search can save you from the regret of choosing the wrong colors for your bedroom. The best way to improve the success of your color choices is to sample paint colors and bring fabric swatches home. Though an online or magazine photo may look similar to your space, these images are created with special lighting and retouching. You'll want to try your bedroom colors out at home, just to be sure they're exactly what you want.