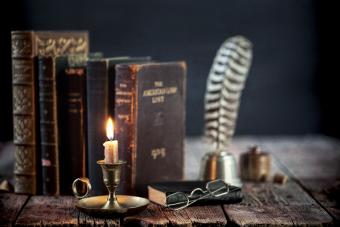 If Beauty and the Beast's anthropomorphized candelabra character, Lumière, is what immediately comes to mind when you think about vintage candlesticks, then chances are you're probably a millennial, and you're definitely not alone. The iconic character sparked life into the antique candle holders that were once an important tool for everyday life and gave kids around the world a fondness for something from the past. With a few simple steps, you can reignite that childhood fondness by finding for yourself a pair of vintage candlesticks or an antique candelabra.
Different Types of Vintage and Antique Candle Holders
While fire has been an invaluable tool for thousands of years, candle holder designs differ from century to century. Some of these pieces are more desirable than others. Here are just a few of the more recent antique and vintage candlesticks that you can find in antique stores around the world.
Chambersticks
When you think of Ebeneezer Scrooge making his way in the dark by candlelight, you probably envision a chamberstick with its round pan and teeny circular ring that lets you carry a candle on it. These are one of the oldest candle holder styles, and you can find examples from all around the world.
Taper Candlestick Holders
Typically made out of metal and featuring a bubbling or vortex design along its vertical surface, the most common antique candlestick holders out there are easily identifiable. Essentially, they look exactly like how every Hollywood film depicting a Victorian woman walking around by candlelight looks. Granted, these aren't made for their mobility, but they sure can set an eerie mood. While silver was one of the main materials used to make them in the distant past, by the 20th century, it was far more common for these holders to be made out of cheaper materials like plastics, ceramics, and brass.
Candelabras
Candelabras take the taper candlestick holder and multiply it. Each candelabra can have anywhere between four to twelve individual spots for taper candles to fit, and these are often featured in formal settings. For instance, the menorah - a version of the candelabra - is an integral part of Jewish celebrations.
Fairy Lamps
A common vintage candle holder is the fairy lamp, a cheaply-made glassware container that's slightly egg shaped. This two-piece holder once decorated homes around the country, particularly during the post-war period and the mid-century. Immediately identifiable thanks to their shape and their rainbow of colors, many of these holders were made or included in Depression glass manufacturers' catalogs, so they often don't have any makers' marks to identify them.
Antique and Vintage Candle Holder Value
Candle holders and all their various permutations have been around for so long that there are plenty to choose from. Generally, they're a relatively inexpensive collectible and are easy to find in antique stores and thrift shops in your local area. When browsing for old candle holders in person, you should look them over for a few characteristics to see if they match their proposed price tag.
The main determining factors for antique and vintage candle holder values are:
Material - If you've come across any metal candle holders, then look for silver hallmarks to see if they've been made out of silver or a lesser metal like bronze, brass, or tin.
Manufacturer/maker - Look for maker's marks, typically underneath the candlestick, to see if a known craftsman or manufacturer produced the piece. If they're marked, you can better estimate their values based on what similar items are selling for.
Novelty - In terms of buyer interest, people really like candle holders that're more novel than the traditional metal ones, so there's a huge market for vintage candle holders in interesting colors, shapes, and materials.
Age - Really old candle holders can be worth a good bit of money on their own because not as many examples of them have survived as vintage candlesticks.
Conversion - Some people are more attracted to old candle holders, such as candlesticks, that've been converted into electric lights. This doesn't necessarily jump values ahead, but it doesn't immediately detract from them either. So, you can still find a buyer for a converted antique candle holder if you're looking in the right places.
When you take all of these factors into consideration, you can see how candlesticks can sell for a wide variety of ranges, anywhere between a couple of bucks at a local consignment store to a few thousand with the right audience. If you're not looking to shop for any specialty item, and you're just interested in finding the right looking one (as most people are), you'll have no trouble finding them for around $100.
Take these old candle holders that recently came to auction, for example:
Best Places to Buy and Sell Antique Candle Holders
Antique and vintage candle holders are a rather easy thing to find in person; granted, you're not guaranteed to find exactly what you had in mind, but if you like the hunt of coming across something that speaks to you, then these small collectibles are the way to go. Similarly, you're much more likely to find them for cheaper in person than you will online, particularly if they're vintage since people tend to donate their old glass/metal/porcelain collectibles to consignment stores that don't know how valuable they are.
However, if you're looking for something in particular, or you're trying to make a quick buck off of one in your possession, these are a few places online that you can head to and explore:
Create the Perfect Retro Lighting Using These Decorative Tips
Antique and vintage candlesticks, candelabras, wall sconces, and the like can add the perfect touch of the past to your home. Whether you're a strictly no-flame household because your cats have wandering paws or you revel in Bath & Body Works' annual candle sales, there are ways for you to spruce up mundane decor with a bit of historic pizazz using these interior design ideas.
Create a mosaic - All that glitters can be gold with a contemporary mosaic centerpiece. Using cut glass, fish tank marbles, sequins, or other small reflective goods, you can hot glue yourself a sparkly artwork across your plain, old candlesticks. This is a great idea for people who aren't comfortable lighting a flame in their house but still want to break out their DIY skills.
Stagger the sizes - One cool way to play with visual form is to stagger the sizes of the candlesticks or candle holders that you have. Displaying three or four different sized candle holders together can create a truly historic vibe.
Plant succulents inside - Another way to incorporate an old candle holder without lighting anything up is by planting a small succulent inside the hole and adding a few natural stones or mosses around it to create a breathing botanical decoration.
Turn them into bookends - If you find a matching pair (or near matching), you can set them up on either side of a shelf full of books to instantly upgrade your literature's look.
Candlesticks and Stones Will Never Hurt You
Since candlesticks and stones can never hurt you, that makes all of the candle holding accoutrements up for grabs. Perfect for small apartments, studio bedrooms, and sprawling estates, these antique candle holders will light a fire you'll find yourself getting lost in.