Vintage Holiday Decorations for a Special Touch
If you love the charm of vintage holiday decorations, you're in luck. These festive classics are perfect for adding a beautiful nostalgic touch to your celebrations this year. Find out where to find them, what they are worth, and how to make them work in today's home.
Beautiful Vintage Artificial Christmas Trees
Today's artificial trees often look very much like their real counterparts, but that wasn't always true. Vintage fake trees came in beautiful shades of pink, silver, lime, green, baby blue, and more. These can add a fun pop of color to your holiday decor. You can find artificial trees from the 1950s and 1960s on eBay and in vintage shops. Vintage artificial Christmas trees can be worth $1,000 or more for full-sized models, but smaller examples can be more affordable.
Classic Car Ornaments for a Retro Christmas Tree
If you love classic cars, you can bring the fun of vintage cars into your holiday decorations. Look on sites like Etsy and eBay for vintage car ornaments, or you can buy modern reproductions. Either way, you'll love this look. A vintage car Christmas ornament is usually worth around $25, but it can be more if it's a special model or made by a noted designer.
Handmade Vintage Christmas Ornaments From Kits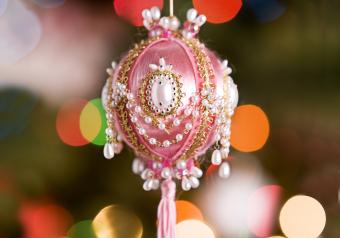 In the 1960s and 1970s, making your own beaded Christmas ornaments from a kit was a fun and creative way to celebrate. You can buy a vintage ornament kit on eBay or at a thrift store, where they often sell for about $15. Alternatively, you can find completed ornaments from the era at many second-hand stores during the holidays.
Collectible Santa Mugs
If you love hot cocoa or want to display some festive mugs on a kitchen shelf or sideboard, vintage Santa mugs are a great option. These were made by the thousands in the 1950s - 1980s, so they are easy to find on auction sites and in shops. They're affordable too, often selling for under $10 each. Look for the charming "winking Santa," who has one eye closed!
Antique Holiday Cookie Cutters
You can find adorable, vintage cookie cutters at any antique shop. For a unique and playful holiday decoration, string them up with red ribbon to make a garland. You can put it on the tree, hang it in the kitchen window, or use it to add vintage charm anywhere else in your home. Most vintage holiday cookie cutters sell for only a few dollars each, but special ones or very old examples can sell for $20 or more.
Vintage Plastic Elf Ornaments and Figurines
Plastic elf ornaments were all the rage in the 1960s, and these little guys peered out from Christmas trees in nearly every home. Some of these plastic creations were designed to sit on a shelf as well. You can find these elves on eBay and at vintage shops, and if you have one sitting in a box, it may be worth some holiday cash. Examples in good condition can fetch $50 or more.
Plastic Santas From the 1950s and 1960s
At the same time plastic elves were popular, plastic Santas were even more of a trend. If you peruse the shelves in the vintage section of an antique shop or thrift store, you'll almost definitely see some fantastic plastic Santas. Examples in good condition that aren't faded or cracked are worth the most, especially if they are large or unusual. Life-sized plastic Santas or those with pink or other pastel clothing can sell for hundreds of dollars. Most small vintage Santas are worth $20 or less.
Retro Bottle Brush Trees
Make a forest of 1950s-era bottle brush trees for a charming centerpiece or tabletop decoration. Add in figurines like elves, reindeer, and Santa to make the collection even more festive. You can find these little trees at flea markets, antique stores, and more. They usually sell for only a few dollars, but especially nice examples or groupings of trees can be worth much more.
Antique Christmas Villages and Houses
You can also decorate with tiny houses, churches, and village scenes, all featuring lots of beautiful holiday touches. These vintage buildings, often known as Putz houses, are adorable and sometimes valuable. Especially detailed examples can sell for hundreds of dollars, but you can also find simple vintage village houses for around $30. They look beautiful displayed on a shelf or mantel.
Pink Vintage Ornaments
Pink was a popular ornament color during the 1950s and 1960s. You can find these pretty ornaments in vintage shops and online, often for only a few dollars apiece. The tree isn't the only place you can hang ornaments. Suspend beautiful vintage pink examples from white ribbons in your kitchen window or over a mantel. This is a great way to display your grandmother's beautiful treasures or the ones you picked up at the antique store.
Advent Calendars From the Past
Vintage Advent calendars are a wonderful, interactive way to show off your holiday spirit. Hang them on the wall, use them as a centerpiece, or display them on the mantel. These aren't as easy to find as other holiday collectibles, but you'll see them if you keep an eye out at your favorite vintage store. Especially beautiful or ornate examples sell for hundreds of dollars, but many are under $50.
Antique Nutcrackers as Holiday Decorations
Vintage or antique nutcrackers can also make beautiful Christmas decorations. You can find these in a wide range of sizes and styles, and they make wonderful centerpieces or displays for tables. Life-sized vintage nutcrackers sell for around $500, but smaller ones are in the $30-$100 range unless they have some special features.
Vintage Stuffed Christmas Toys and Dolls
Stuffed Christmas toys can also make a charming vintage holiday decoration. Display stuffed reindeer and other animals and dolls atop a table or on your mantel. In the 1950s and 1960s, sawdust-stuffed reindeer were a popular holiday item. Today, you can find these in vintage shops, and they sell for about $25 apiece if they are in excellent condition.
Antique Sleds as Vintage Christmas Decorations
Pick up a vintage or antique sled to use as an outdoor decoration this year. It doesn't matter if it's in rough shape; just attach some evergreen boughs and ribbons, and you'll have a vintage outdoor statement piece. Most sell for under $200.
Vintage Nativity Sets and Christmas Displays
Vintage Nativity sets, featuring figures of the Holy Family, shepherds, farm animals, and more, were once a common way to decorate for the holidays. Today, you can find these sets in second hand stores. Even if they are in rough condition, they make a charming decoration on any surface. In perfect shape, a set from the 1940s or 1950s can sell for hundreds of dollars, but chips and repairs can decrease the value of vintage Nativity sets.
Antique Snowglobes for Classic Christmas Beauty
Snowglobes have been around since the end of the 19th century, and there are lots of these treasures in antique shops and secondhand stores. Most can be had for $20 and under, but some especially large vintage snowglobes sell for over $100. You can display these delicate treasures anywhere in your home, but they make very pretty holiday mantel displays.
Old-Fashioned Bubble Lights and C9 Bulbs
Run a strand of traditional electric Christmas lights in addition to energy-saving LEDs. Then you can use vintage C9 bulbs with glitter and pretty designs, as well as beautiful bubble lights. You'll love the warm glow! Just keep safety in mind and remember to unplug the lights when you aren't home.
Holiday Embroidered Decorations From the Past
Making holiday decorations and textiles has long been a fun Christmas pastime, and there are lots of vintage embroidered decorations in second hand stores. You can frame these for display on the wall, make them into pillows, or show them off in other ways. The value of Christmas textiles can vary, but most of these decorations are worth around $20 to $50.
Vintage Winter Sports Gear
Put old skis, snowshoes, and skates to good use by turning them into a door decoration. Look for inexpensive gear that may be worn or no longer useable, and transform it into a vintage decoration by adding pine boughs, ribbons, glitter, pinecones, and other decorations. Worn winter sports gear sells for about $25 and up.
Antique Christmas Cards as Decorations
Old Christmas cards can be incredibly beautiful, and they can also double as holiday decorations. Simply clip several pretty antique cards to a ribbon to hang them in a window or frame them for display on a wall. These are affordable vintage holiday decorations to collect too, since many cards sell for under $10.
Vintage Christmas Dishes as Holiday Decor
With their funky and festive style, vintage Christmas dishes from the 1970s and 1980s can make great decorations. You can use holiday dishes from any era; simply place them on a table in a display. Serve candy or cookies in them for added sweetness. Holiday pieces sell for a few dollars at thrift stores.
Treasures of the Past
Vintage holiday decorations are more than just a pretty way to adorn your house during the Christmas season. They're also a lovely method of incorporating the past and its traditions into your modern celebrations. Enjoy these nostalgic treasures!