If you want to add a sense of history to your dining room, there are several antique china cabinet styles that work beautifully. You may already have a china cabinet from your mother or grandmother, and knowing its style can help you understand a bit more about its history and place in your home. Learn how to style a china cabinet to show off your china collection too.
How Do I Know if I Have an Antique China Cabinet?
If you have a china cabinet and are wondering if it's an antique, take some time to look it over carefully. Identifying antique furniture takes a bit of detective work. Look for the following:
Can you find a label or identifying mark? Many antique furniture makers marked their wares.
Does the cabinet look handmade or hand finished? Look for variations in the cuts and finishes used in construction.
Is the hardware antique? Antique furniture hardware is a great way to date an older piece.
Does the china cabinet fit a specific decorating style from a previous era? Each decade had a specific look.
Is the glass wavy? Many very old china cabinets will have wavy glass.
Antique China Cabinet Styles
China cabinets come in an almost infinite number of styles and configurations, but the following are some of the most common. As you shop in antique stores, you're likely to encounter one or all of these styles.
Step Back China Cabinet
One of the most common styles of china cabinet is the step back cupboard. Popular in the 1800s and early 1900s, this type of china cabinet features an enclosed cupboard topped by a slightly shallower glass cabinet. The enclosed bottom portion can include drawers or doors, and the top usually features two or more glass doors for display. There may or may not be space between the top section and the bottom section.
Breakfront China Cabinet
A breakfront is a china cabinet style that involves a center section that projects out beyond shallower sections on either side. The deeper middle section may have one or two doors, and the outer sections can have one or more doors as well. The "break" between the center section and flanking outer section can be very obvious, or it can be a gentle curve. This type of cabinet may be all glass, or it may have some sections that are closed with wood doors or drawers.
Hutch-Style China Cabinet
An antique hutch is a china cabinet that comes apart in a top and bottom section. Often, there will be space between the sections that serves as a kind of counter or display area. The top section in a hutch frequently has glass doors, but it can also be open display. The bottom section usually consists of doors and drawers for closed storage.
Corner China Cabinets
Some china cabinets are designed to be placed in the corner of a dining room. This china cabinet styles is triangular, allowing it to fit snuggly in the corner. The front is usually glass, although it can also be open or a solid door. This type of cabinet generally has two doors that open at the top and two at the bottom.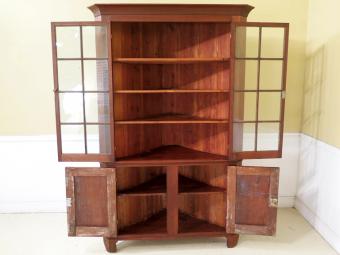 Curved Glass China Cabinets
Also called a bow-front cabinet, a curved glass china cabinet has panels of glass that curve out into the room. This is a beautiful style that can be somewhat rare to find in good shape. Generally, the curved glass doors go the entire length of the cabinet. In many cases, only one center door opens. Any other sections are closed and are accessed through the center door.
Curio Cabinets
While not always used to display china, a curio cabinet is another style of china cabinet you might encounter. This type of display case has glass sides, as well as a glass front. Often, the back is mirrored. It allows viewers to look at the china and collectibles inside the cabinet from three sides. You'll see this on feet or legs in most cases.
Materials Used in Antique China Cabinets
Antique china cabinets come in a variety of materials, and these can affect their value and how they work in your decor. Some cabinets are painted or enameled, but many are made of glass and one or more of the following woods or wood veneers:
Oak - A very common hardwood used for antique furniture, oak has a prominent grain.
Mahogany - This wood is warm-toned, often reddish, and has a smooth, close grain.
Maple - A lighter-toned wood, maple sometimes has a figured grain, such as birdseye maple.
Cherry - Warmer in tone with a close grain, cherry is used in some American furniture.
Walnut - A darker-toned wood with a close grain, walnut is often used in china cabinets.
Understanding Antique China Cabinet Values
Antique china cabinet values depend on the style of cabinet, the age of the piece, and its condition, as well as any special features or touches. Cabinets with hand carving or original hand painting are generally worth more. Older cabinets tend to be worth more than their newer counterparts, all things being equal. Solid wood cabinets are almost always more valuable than those that use veneers. It's also important that a china cabinet be of a style that works in today's homes.
Step Back and Breakfront China Cabinet Values
Most breakfront or step back china cabinets and hutches sell in the range of $500 to $2,500, depending on their condition and age. Vintage cabinets do not fetch as much as antiques that are at least 100 years old. Here are some recently sold examples to give you an idea of pricing:
Antique Curved Glass China Cabinet Values
Because they are so fragile and difficult to construct, curved glass china cabinets are sometimes more valuable than those with flat glass. There are a number of factors involved, including the materials used, the condition, and whether the cabinet has elaborate carvings. These sample values can give you an idea:
Corner and Curio Cabinet Values
Corner and curio cabinets tend to be a bit less valuable than their curved-glass counterparts. Here are some samples:
How Do You Style a China Cabinet in Your Home?
You can use an antique china cabinet in a variety of ways to add a sense of history and beauty to your home. These tips can help you style an antique china cabinet perfectly:
Don't overcrowd your china. Store infrequently used items some place else and use the china cabinet for beautiful pieces you use regularly.
Vary your placement of items. Stack some items neatly and lean some against the back of the cabinet. Intersperse taller items with shorter pieces.
Leave space for statement-making extras. Add in some fun items to show your personality. These could include family photographs, silhouettes, bouquets of dried flowers, or small paintings.
Unless you have some very special antique teacups which could be damaged by hanging, consider hanging cups from hooks. This frees up real estate on the cabinet shelves.
Don't limit yourself to using a china cabinet in the dining room. You can also use an antique china cabinet to display books in the living room, folded towels in the bathroom, or fabric in your craft room.
Make a Beautiful Statement With Your China Cabinet
A china cabinet is a great way to store your china, but it's not the only option. Read up on simple tips to store china safely so you can reserve valuable china cabinet space for the items you really want to display. That way, your china cabinet can make a beautiful statement in your home.