From classic Blue Willow china to motifs on textiles and furniture, chinoiserie is an important design element in many antiques. These Asian-inspired designs look beautiful in modern homes, and pieces featuring chinoiserie motifs can be quite valuable. Learn about the story of chinoiserie, its importance in antiques, and how to tell if you have a treasure.
What Is Chinoiserie?
The word chinoiserie comes from the French term Chinois, which translates as Chinese. However, it's important to note that chinoiserie means something is a Western interpretation of an Asian style, not an necessarily an actual Asian design. Think of it as "Chinese-like." Chinoiserie is any design that is inspired by Asian art.
History of Chinoiserie
Back in the 1600s and 1700s, as European countries began to trade with China, Asian-inspired art and culture became wildly popular. Everyone from aristocrats to the middle class was captivated by the designs. The popularity continued well into the 19th century. Chinoiserie designs were especially popular with royalty, who requested chinoiserie tea sets, furnishings with Asian decorative elements, and textiles painted with these motifs.
Classic Chinoiserie Design Elements
This is a figural or pictorial style, meaning that instead of a geometric or abstract pattern, it includes recognizable scenes, creatures, and even people. Chinoiserie commonly includes the following motifs:
Asian nature scenes - Willow trees, waterfalls, and rolling hills abound in chinoiserie pieces.
Foo dogs and dragons - Mythical creatures like Chinese dragons and foo dogs also appear on chinoiserie antiques and vintage items.
Bridges and pagodas - Distinctly Asian pagodas and picturesque bridges decorate the landscape on these items.
Birds - While other animals are less common, you'll see exotic birds on many chinoiserie pieces.
Examples of Chinoiserie in Antiques
You'll find chinoiserie designs on everything from mirrors to wallpaper. There are many ways to incorporate these popular designs into your home, but these are some of the most notable antique options.
Chinoiserie Mirrors
Antique mirrors are a great way to subtly incorporate this style into your decor; however, high quality examples can be very valuable. Often, the mirrors feature black or dark-colored lacquered frames with hand-painted chinoiserie elements. The value of chinoiserie mirrors ranges from under $500 to thousands. One beautiful red and gold lacquered mirror from the late 18th century sold for about $2,200.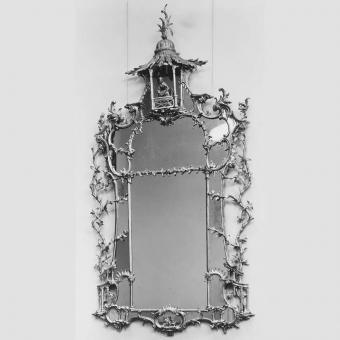 Chinoiserie Furniture
You can also find antique and vintage furniture with chinoiserie designs. From hand-painted tables and Asian-inspired bookcases to chinoiserie cabinets, there are lots of options. Many are crafted from wood, featuring raised carvings and many layers of lacquer. Vintage pieced tend to be less expensive than older antiques, but they can still be quite valuable. For instance, a vintage black lacquer chinoiserie secretary desk sold for about $2,775 on eBay.
Accessories With Chinoiserie Motifs
Trays, trinket boxes, folding screens, and other accessories also feature chinoiserie motifs. Antique boxes can be useful for storing jewelry, sewing, silverware, and other items. These smaller pieces can be an affordable way to add this style to your home. For example, a 19th century black lacquered chinoiserie sewing box sold for about $350.
China and Porcelain With Chinoiserie Designs
Another easy way to add chinoiserie style to your home is to use porcelain and china. Classic patterns like Blue Willow offer a beautiful glimpse at the popular chinoiserie motifs of bridges, landscapes scenes, and more. You can find Blue Willow pieces for under $100, and other pieces of antique transferware can be even more affordable. Displaying several plates or platters on a wall makes a strong style statement.
A Beautiful and Classic Style
Chinoiserie furniture and porcelain are beautiful, but you can also add a gorgeous Asian-inspired element to your decor with antique figurines. These pieces feature similar motifs cast in three-dimensional form, and they look lovely in any room. No matter how you choose to incorporate chinoiserie into your decor, it's a classic that's as beautiful today as it was several hundred years ago.