Your front porch is the first thing people see as they walk up to your house, so it's the perfect place to show autumn a little love. These fall porch decor ideas are cozy and completely awesome for welcoming guests and showing off your personal decorating style as the weather turns colder.
Mums the Word
Chrysanthemums are the perfect fall flower for pots by the front door. They can handle the colder temps and reduced light of autumn, and they bring color and beauty when a lot of other flowers have already stopped blooming.
Hanging Color
You aren't limited to a pot of chrysanthemums on the porch floor next to your front door. These fall beauties work well in hanging pots too, so you can decorate the eaves of your porch with autumn color.
Cozy Rocking Chairs
Rocking chairs are the ultimate in down-home porch decor, and you can give them a fall spin with the perfect throw pillow. Go for something orange or rust-colored to pick up the colors of the foliage all around.
Comfy Blankets and Throws
Pillows add a ton of fall coziness, and a blanket can take that one step further. Toss a plaid wool blanket or an old quilt with fall colors over a rocking chair or bench by your front door. Your whole front porch will feel super welcoming and warm.
Wool for the Win
Up your cozy porch game with wool. Any blanket is nice, but a wool blanket has instant warmth. That's what you want with your fall front porch decorating.
Pops of Orange
The soft surfaces aren't the only thing you can switch out in your front porch decorations when autumn rolls around. If you have vintage lawn furniture or wicker in fall colors, this is the time to bring it out. A single vintage chair in warm orange can make your entire front porch look like a celebration of the season.
Quick Tip
Don't have a vintage orange chair in your shed? Don't worry. Just pick one up from a thrift store and use orange spray paint to transform it.
Rustic and Antique Fall Porch Decor
Another way to use a vintage chair in your fall porch decorating is to make it the centerpiece of a display. This can be any antique chair, but you get bonus points for a chippy finish. Flank it with a bouquet of grasses, some pumpkins, an old churn or crock in a pretty fall color, or anything else that says autumn to you.
Hanging Autumn Hammock
Hang a lacy hammock on your porch for a laid-back autumn vibe. Add in fall pillows, pumpkins, chrysanthemums, and anything else that makes you feel cozy.
Fall Sunflower Wreath
The perfect wreath on the front door can set the stage for your porch decorating. A sunflower wreath channels cheerful autumn afternoons and instantly gives your porch a sunny fall look.
Gold Balls and Pumpkins
Combine a simple wreath made of gold balls with a pair of pumpkins, and you have the perfect fall front porch decorating scheme. You can add in other copper or gold metallic accents if you want to make an even bigger impact.
Leaf Wreath for the Win
Nothing says fall like autumn leaves, and you can give your whole porch that feeling with an autumn leaf wreath. Scatter more leaves around the porch if you like or make a leaf garland for the railing.
Quick Tip
This can be a fun way to display those leaves that your kids bring home from walks. Rather than taking them inside where they will turn brown and make a giant mess, let kids show them off by the front door.
Grapevine Wreath With Autumn Accents
It's super easy to add autumn accents to a grapevine wreath to give your fall front porch decorating an instant head start. Just pick up a grapevine wreath at the craft store and add artificial sunflowers, leaves, and even mini pumpkins. Bonus points if you extend the look with pots of flowers nearby.
Red Berry Wreath
You might think of a red berry wreath as a Christmas decoration, but it can actually also have gorgeous and surprising autumn vibes. The key is making sure you have other fall porch decor nearby, such as autumn grasses or cornstalks in a floor vase.
Gourd and Pinecone Wreath
Those little gourds that look like mini pumpkins are the ultimate fall decoration, and you can work them into a wreath. Mix in some same-sized pinecones for texture and scatter more gourds on windowsills or near the door.
Oak and Grape Fall Front Door Wreath
Even though a lot of front door wreaths feature bright fall leaves, you can go a different route with an understated wreath made of oak leaves and frosted grapes. Pick up artificial grapes at your local craft store and spray them with flocking to give them a muted, frosted look. Create a matching bouquet to place on a table on the front porch for a coordinated feel.
Fall Welcome Sign
A wreath isn't the only way to decorate your front porch. You can use a sign on the door that has a distinctly fall feel. Make your own or pick one up from a craft fair.
Encourage Everyone to Gather
You aren't limited to the door for your sign. Stack a bunch of pumpkins on the steps or near the door and prop a simple "gather" sign on top of them. You can buy a lettered sign or use a chalkboard and write your own.
Paint a Pumpkin to Welcome Guests
A wonderful fall front porch decorating idea is also super easy and fun, even if you're not a crafty person. Just paint a pumpkin with a welcome message and display it on a small table or chair by your front door. Add fall flowers or leaves for even more beauty.
Pumpkin Pile
Pumpkins are the ultimate fall decoration, and they aren't just for Halloween. You can put them out long before the holiday and enjoy them through Thanksgiving (as long as you don't get a hard freeze). Pile up interesting-looking pumpkins on either side of your door to welcome guests in style.
Pumpkin Bench Decoration
If you have a bench or chair on your front porch, it can be the perfect place to display some pumpkins. Pile different shapes, sizes, and colors together to create a super cool and cozy autumn focal point.
Pumpkin Centerpiece
You might think of a fall centerpiece as something for the Thanksgiving table, but you can use one on the front porch too. If you have a side table or coffee table on the porch, add some pumpkins to it. Use berries and leaves from the craft store and wire these to the stems.
Basket of Gourds
Fill a pretty basket with lots of gourds and show it off on a table or near your front door. You can add pumpkins, too, if you want to play with scale and have more impact.
Rustic Autumn Farmhouse Vibes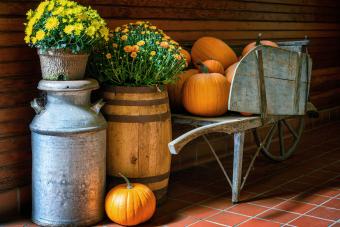 If you love that rustic farmhouse look, autumn is the perfect time to explore it in your front porch decor. Bring in primitive wooden crates, wheelbarrows, farm tools, and other items and decorate them with pumpkins and fall flowers.
Front Porch Scarecrow
Like pumpkins, a scarecrow isn't just for Halloween. You can go from late September through November with a scarecrow on your front porch, and everyone will be charmed. Add extra decorations with straw colors for a cohesive look.
Potted Plants With Autumn Foliage
Flowers are one thing, but you can also have potted plants that show gorgeous autumn colors. Pick something that turns super pretty as the temps drop and display it on your front porch.
Complementary Colors for Fall
If you're lucky enough to have fall foliage already growing by your front porch, play it up with porch decorations in complementary colors. For instance, if you have yellow trees, use a bouquet of purple flowers or purple cushions on your chairs.
Creative Placement of Fall Porch Decor
The door, a stand next to it, and the floor on either side are all classic places to display your decorations, but you're not limited to those spots. Get creative by making a display of pumpkins and leaves on a wide, sheltered railing.
Whimsical Window Boxes
Window boxes are another creative place to put fall porch decorations. The flowers they once held are probably long gone, but you can fill the boxes with gourds and dried flowers.
Apples for the Taking
Your fall front porch decor can also be edible! If you visit an orchard this fall, put a couple of baskets of apples near the front door. You can add a sign encouraging people to take one. The apples will double as a porch decoration and a tasty snack.
Fall-Themed Welcome Mat
Your porch is all about rolling out the welcome mat, so make sure yours has a fall theme. You can go for something with leaves or pumpkins, but a classic fall-colored stripe is always nice, too.
Add Coziness and Color When the Wind Grows Cold
As the wind gets a little chill in it and the leaves start to carpet the ground, there are so many fall front porch decor ideas to try. No matter which ones you use, you'll be offering the warmest of welcomes to friends and family who stop by during this colorful but chilly time of year.