Chrysanthemums might be silent, but those little flowers speak volumes. Their blooms aren't fleeting, either. With some chrysanthemum flowers lasting nearly two months, the message will linger for a long time. Adorn your own garden with a whisper of meaning thanks to the colors of your mums and their symbolism. Or pass along some good vibes with these mum color meanings. However, those mums would look better in some water.
Chrysanthemum Symbolism and Meaning
Throughout different cultures, chrysanthemums have different meanings. In the United States, you'll find that mums are a sign of happiness and friendship, perfect for giving to a new neighbor. For others, mums are a sign of overcoming struggle, much like those precious blooms survive milder winters. The Chinese culture views mums as a symbol for a long life. But halfway around the world, Belgians and Austrians use mums in memory of those lost. And with so many chrysanthemum varieties to choose from, you can just about form whole sentences with their symbolism.
The Symbolism of Chrysanthemum Colors
Like lucky numbers, color meanings will change from culture to culture. However, these are the most common readings of different colors of mums. But, in general, mums are a sign of love, joy, loyalty, and happiness.
Red Chrysanthemum Symbolism
Like the color of burning love, red chrysanthemums symbolize romance, love, lust, and passion. And red mums don't do so subtly. These red mums pop in your garden, as a potted plant gift, or arranged into a beautiful bouquet. Skip the red roses and give your special someone, old or new, some red mums.
Orange Chrysanthemum Symbolism
These orange blossoms mean happy feelings, passion, enthusiasm, and overflowing - dare we say bubbly - excitement, and good vibes. Whenever you feel like poppin' bottles, pop to the store from some orange chrysanthemums too.
Yellow Chrysanthemum Symbolism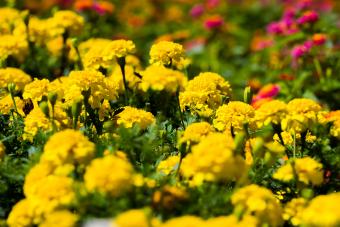 In the Victorian Era, a gift of yellow chrysanthemums wasn't a great choice, as they meant neglected love and sorrow. Sorry, Mr. Rochester. Thankfully, that's no longer the case. Phewww. The way you think of the beloved smiley emoji, you can think of yellow chrysanthemums. Now, these sunny mums are a sign of joy, celebration, and happiness.
Helpful Hack
If you're stumped about what to give a recovering friend, the best congratulatory gift, or even a lovely birthday present, yellow chrysanthemums will do quite nicely.
Pink Chrysanthemum Symbolism
When you're not quite ready for a red chrysanthemum proclamation of love, or you want a friend to know they're a little extra special, pink chrysanthemums are your best bet. A symbol of affection and friendship, they'll brighten anyone's day. For those in a new relationship or on the cusp of falling in love, pink mums also double as a sign of longevity. Hand them some pink chrysanthemums. Better yet, plant 'em in a pot so they last even longer.
Quick Tip
First date and want to bring flowers? Skip the roses. Bring pink chrysanthemums instead.
Violet and Purple Chrysanthemum Symbolism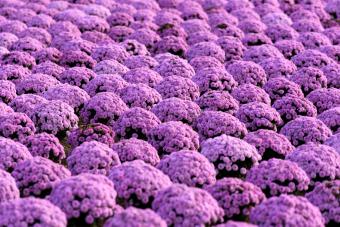 It can be quite a challenge to find violet-colored chrysanthemums, but these are some stunning flowers. They're a bright message for the recipient to get well. But they're also a symbol of care and understanding. They're perfect for when words are hard to find, and you want someone to know you're by their side.
White Chrysanthemum Symbolism
Like much symbolism surrounding the color white, white chrysanthemums stand for pure love, innocence, loyalty, and honesty. In other circumstances, these white mums also convey spirituality. Other cultures, such as those in Japan or Western Europe, reserve them only for sympathy or grief. So it's certainly best to know your audience.
Don't Stay Mum, Send a Message With Colorful Chrysanthemums
When you can't find the right words, let a bouquet or pot of chrysanthemums do the talking for you. With stunning symbolic chrysanthemums blossoms, you can easily deliver layers of meaning (such as red mums for passionate love and pink chrysanthemums to remind them you're still falling in love), and you don't need to worry about picking out the right card. Let these chrysanthemums and their symbolism do all the talking for you.