The chrysanthemum is a mainstay of the late summer and fall garden. The bright, showy flowers are traditionally used in floral displays and arrangements. And if you think they only come in one type and four basic colors, read on--there's more to the mum than red, orange, and yellow.
Types of Mums
Chrysanthemums, or mums, are available with many variations in growth habit, color, and flower form. Bloom types range from large, billowing spider mums to small, tidy button mums. Mums flower in shades of white, yellow, red, and purple, which are the colors typically seen in nurseries, but there is so much more available, including deep purples, delicate apricots, and showy pinks.
Mums bloom from mid-summer to late fall, depending on the variety. The very late-blooming mums are commonly treated as annuals for temporary, late-season color.
Mums can be tall and upright-growing or compact plants under 18 inches. While they're commonly used for temporary color in pots, mums are also excellent perennials to grow in your garden.
Candid
'Candid' has large, deep red blooms with golden edges and tips on the petals. It can be somewhat difficult to find, but 'Candid' is a wonderful option for both adding beauty to the garden and for cut flower arranging.
Clara Curtis
'Clara Curtis' is a favorite old-fashioned chrysanthemum. It is compact -- just 18-24 inches tall-and flowers very early. Its warm pink, daisy-flowers with raised yellow centers are fragrant, which is somewhat rare for a mum.
Domingo
'Domingo' is a dramatic, colorful mum that has deep, rich crimson petals and a vibrant yellow center. In colder areas, the petals curl downward, but in warmer regions, they remain more upright.
Emperor of China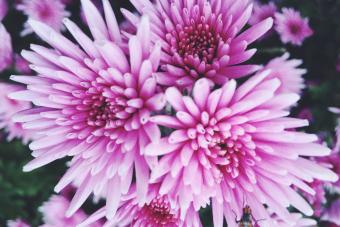 'Emperor of China' is a good mum if you're looking for something a bit taller, growing to 40 inches, and blooms later. It is a cushion-type mum with pink-white flowers. The foliage is marked with red.
Miss Edith
'Miss Edith' has large, bright yellow flowers on 18-inch tall plants. It blooms in late summer to early fall and is very hardy.
Grandchild
'Grandchild' has lavender pompom flowers with red-violet centers. It blooms early to mid-season on compact, sturdy, 18-inch tall plants.
Honeyglow
'Honeyglow' pretty much screams "fall!" If you're looking for a vibrant, warm orange mum, this is a great option. It blooms in early fall and lasts for quite a long time as a cut flower.
Kimie
If you're looking for a unique mum to add to your fall garden, 'Kimie' might be just what you're looking for. Bright, lemon-yellow flowers with long, spooned petals make this a standout. 'Kimie' is also very hardy, growing well to zone three.
Maroon Pride
Maroon Pride was introduced by the University of Minnesota in 1991. It has rich, dark red flowers in late August. It is very hardy.
Pompon
Pompon mums are available in many colors, and form small, tight, round blooms that set it apart from most fall mums. It's also an excellent cut flower, so Pompon is a good mum to grow if you enjoy flower arranging.
Rose Blush
'Rose Blush' has large, mauve flowers. It blooms mid-season, grows to 16 inches, and is very hardy.
Sarah
Sarah has large, quilled, golden butterscotch flowers on sturdy plants. It blooms late, so if you're looking for something that might still be blooming into November, this is a good option.
Sunny Morning
Sunny Morning has large clear yellow flowers on bushy, 14-inch plants. It blooms mid-season, bridging the gap nicely between the early fall varieties and those that bloom in late fall.
Symphony
'Symphony' is a spider mum, which means the petals are long, delicate, almost feathery tendrils. 'Symphony' has an orange, daisy-like center and orangey-pink petals, making this a unique addition to the garden.
Whiteout
The huge blooms of 'Whiteout' mums rival the size of dinner plate dahlias. The blooms are large and fluffy-looking, with an almost cushiony appearance. This mum grows well in the garden but also grows beautifully in containers and makes a wonderful cut flower.
Endless Variety of Fall Blooms
If you're used to seeing the same four or five colors (all of the same type) of mum at the garden centers, the variety of colors, forms, and sizes of mums available is truly staggering. No matter what style of garden you have, you're sure to be able to find a few mums that will fit in perfectly.