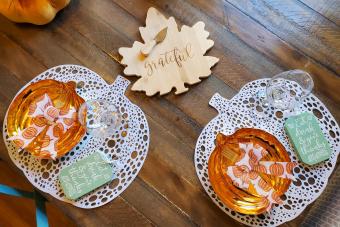 I've spent tons of time and money on expensive holiday decor as an interior designer. But for my Thanksgiving gatherings this year, I wanted cheap Dollar Tree DIY Thanksgiving decor to help me save money and time. A little creativity and fun Dollar Tree fall decor helped me create these stunning table settings.
How to Style a Dollar Tree Harvest-Themed Table Setting
I'm all about fancy table settings, but I'm not all about spending a fortune to get them. I also prefer easy cleanup when I'm hosting a large gathering, like a Friendsgiving feast. So, I set my sights on an affordable table setting (less than $25 dollars, to be precise) for this year's dinner. But I didn't want to compromise on style, so I returned to my trusty Dollar Tree holiday decor section.
Decor Supplies
4 sunflower placemats ($1.25 each)
4 harvest-themed plates ($1.25 each)
1 pack plaid napkins ($1.25)
1 pack gold plastic cutlery ($1.25)
4 pumpkin drinking glasses ($1.25 each)
4 acorn candles ($1.25 each)
Total Cost: $22.50
Styling
I went for simple with these place settings because the pretty plates and cute placemats offered so much to look at.
I started with the placemats and layered the plates right over the center.
Next, I wrapped one of each cutlery piece in a cute napkin and popped it next to the plate.
Finally, the cute glass went to the right of the plate and the acorn candle (which I'm using as a party favor) went right in the middle of the plate.
Fast Fact
If I were serving a full, traditional Thanksgiving meal, I would have layered a plain white plate beneath the smaller harvest plate and added a wine glass to each setting. 
Dollar Tree Thanksgiving Tablescape for Two
While I was shopping for my harvest-themed Friendsgiving gathering, I saw a few more pieces from Dollar Tree that inspired a different take on the traditional tablescape. I decided to grab a few extra pieces to make a special little table setting for two so I could enjoy a bit of fall charcuterie and a glass of wine with my husband before the craziness of Thanksgiving sets in.
Decor Supplies
2 wine glasses ($1.25 each)
1 bottle gold acrylic paint ($1.25)
1 pack glitter ($1.25)
2 pumpkin placemats ($1.25 each)
2 pumpkin plates ($1.25 each)
2 decorative plaques ($1.25 each)
1 pack pumpkin bows ($1.25)
1 "gather" cheese board ($5)
Total Cost: $18.75
Styling
This tablescape required some beginner-level craft skills, since I had to add the paint and glitter to the wine glasses.
I started by painting the gold directly onto the stems of the glasses, holding them by the rim.
Then I sprinkled on the glitter before the paint dried.
Once the glasses were dry (about 2 hours later), I started layering the table setting.
The placemats are actually silver, but I used the back of the placemats, because I felt the white fit the tablescape better. I'm giving myself extra points for resourcefulness here. 
I loved that the plates feature the trending chrome look of the moment. I layered those to the left on the placemats.
Next came the plaques, which I used on the opposite side from the plates.
I used the bows to add something special to the cutlery by just fastening them around the handles.
The glittering DIY wine glasses finished the table settings.
I completed this intimate Thanksgiving tablescape with the cheeseboard.
Need to Know
Since I used acrylic pain on the wine glasses, it all washed right off with soap and warm water. Now I can use them in the future for another tablescape! 
Tips for Holiday Tablescapes From Dollar Tree
This was my first attempt at decorating an entire table for a dinner gathering using only items from Dollar Tree. During my affordable style quest, I picked up a couple of tips for shopping at Dollar Tree when you're looking to curate a cute tablescape.
Check Every Aisle
You might think shopping only the seasonal decor or the dinnerware is the way to go, but you might find some treasures in the other departments. Check out candles, party supplies, and home decor departments for fun additions to your table or cute party favors for your guests.
Take Your Time
You might not find everything you need during your first shopping trip and you might have to come back later or shop an additional location. Don't give up and don't wait until the last minute to get started. 
Get Creative
When I couldn't find the pretty wine glasses I wanted, I wandered over to the crafting aisle to get some inspiration for a DIY. When I saw those pumpkin-printed bows, I knew I had to use them in some way, so I started brainstorming how to incorporate them in the tablescape. Creativity is your best friend when you're shopping on a budget.
Do a Test Run of the Tablescape
The picture you have in your mind might not play out the way you expect. Do a trial run of the tablescape and play around with placement. If you do this ahead of time, you'll know if you need to run back out for an additional piece or two.
Don't Overlook the Pricier Items
It's so tempting to only shop the $1 or $1.25 items. But the $3-5 items are often a bit nicer and still won't break your budget. Just look at that adorable cheese board I was able to snag!
Just Get a Shopping Cart
I started this Dollar Tree shopping trip with a basket, and I learned pretty quickly that it wasn't going to hold everything. Shopping for tablescapes means you're grabbing multiples of everything, and some of it might be breakable. So, do as I say and not as I do, and reach for a shopping cart the second you walk inside the store.
Don't Get Stuck on a Theme or Color Palette 
I went into this shopping trip hoping for dark, moody table decor, and I walked out with a bright and sunny tablescape (and I'm not mad about it). If you're determined to have a very specific look, you might want to check out another department store. Your Dollar Tree may have a limited selection, and you may need to mix and match styles. The good news is, mixing and matching often produces a beautiful and unique look.
Dress Your Table With Dollar Tree Decor
Tablescapes are so fun to put together, and you can lift a large amount of the stress when you know you're sticking to your budget. Dollar Tree decor makes it easy to DIY your way to elegant table settings for all your holiday decorating.