A formal dining room, a breakfast nook, a small apartment bistro table, and an informal kitchen table are all places where family and friends gather for memories and meals. No matter the size of your space or the type of dining table you have, you can create a stunning and inviting dining experience for family and guests alike.
You can easily achieve beautiful dining decor and tablescapes in both modern and traditional spaces. Learning how to decorate a dining room table is as simple as reaching for a few go-to styling methods and combining them with new, creative ideas so every meal feels special. You may want a simple centerpiece or a full tablescape, but either way, you can decorate a dining room table that wows.
Fancify Your Formal Dining Table
If you're a fan of a formal dining table, having a handful of classic tips will make the process easy. Use these ideas to take your formal dining area from just another place in your home to the space you love most.
Create Interest With Mixed Materials
Texture is just as important as color when it comes to decor and style. Combine smooth ceramic and metal with textured glass and plenty of textiles for a dining table that is visually exciting.
Go Bold With an Oversized Centerpiece
Every formal dining room needs a centerpiece, but some dining tables are the perfect backdrop to an over-the-top arrangement that commands the attention of the room. Choose bold colors, a tall vase, and lengthy stems for an unforgettable dining table design.
Style Stems in Bud Vases
If large centerpieces aren't suitable for your formal dining area, try a few colorful stems in a collection of bud vases to create a memorable centerpiece that still allows the beauty of your room and table to be the center of attention.
Use Simplicity to Direct Attention
If you want to keep all eyes on your centerpiece during a dinner party, keep your table settings simple. Include only the necessities and be sure everything is the same neutral color so all eyes can be on your carefully selected centerpiece.
Curate a Classic Setting With Candles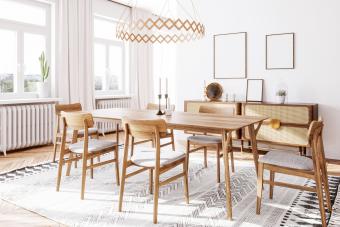 Bring traditional style into your modern formal dining room with a classic candle arrangement. Choose two or three simple taper candles or a mix of modern and vintage candlesticks for an updated look. Gather them all closely together on your table for a timeless vignette.
Bring Balance to the Room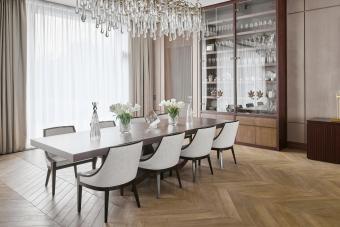 Symmetry is important to any design, especially a long, formal dining table. Balance things out by using vases and flower arrangements that match, and place them in a symmetrical line. For extra cohesiveness, use similar flowers or vase materials.
Go Rustic With Wildflowers
Even a formal dining room can embrace the charm of rustic decor. Choose a raw wood table top and decorate with a simple vase full of wildflowers. Gather a few vases together for a collection or apply the "less is more" philosophy with one beautiful vase in the middle.
Make a Monochromatic Scheme With Florals
It's likely flowers are going to be present on your dining table at some point. If you want to keep things simple and minimalistic, choose floral arrangements that are the same color. Level up this modern monochrome look by choosing table settings, vases, and candles that are also in the same color family.
Consider the Shape of Your Table
Believe it or not, the shape of your dining room table plays an important role in determining how you'll style it. Round, oval, square, and rectangle tables all have different aspects to consider when decorating. You may want to complement your round table with circular table settings and a rounded centerpiece, or you might find you love the contrast of a long rectangular centerpiece on an oval table. Also consider the shape of lighting, mirrors, and seating in the room.
Layer Linens for a Formal Setting
Add texture and layers to a formal dining table by using a tablecloth and table runner together. Try mixing materials like linen and burlap to play up the texture. Use contrasting colors, whether in shade or hue, to add even more interest. With plenty of visual interest in the table linens, you can opt for a simple and small centerpiece arrangement.
Elevate Your Informal Dining Table
You may not have an entire room dedicated to your dining table, but you can still decorate with intention and stylish details. Whether your dining table sits in the center of a great room or it's situated in your kitchen area, you can still decorate it beautifully in a way that serves your family and guests.
Use What You Have
Decorating your dining room table doesn't have to mean purchasing all new decor items. You can use many of the things already in your home to create a stylish vignette. Grab books, trays, potted plants, and ceramics from other rooms of your home and use them to build up a collected centerpiece that costs you nothing more than a little time.
Try Neutral Florals
Florals and greenery are the go-to for filling vases and creating centerpieces, but you may find that a modern and neutral palette suits your dining table better. Try filling your vase with green-free florals and sprigs like warm shades of eucalyptus, bare branches, or pine cones.
Group Collections of Items Together
If you have a collection of candlesticks, tea pots, apothecary bottles, or anything else, you can group them all together for a unique centerpiece that displays some of your favorite things. This works well for modern and traditional dining tables.
Keep Things Organized With a Tray
If you're decorating your dining table with collected items or smaller trinkets and vases, try containing them all in a decorative tray to keep things organized. The shape of the tray you choose may depend on the shape of your table - round, rectangular, or square. Try using a finish that complements your other decor items whether it's wood, metal, marble, or acrylic.
Create Variation With Shapes and Color
A modern or traditional dining table is a perfect place to create points of interest with varying colors, shapes, and heights when it comes to your ceramics. Try mixing bold colors with neutrals or use varying shapes like soft curves and sharp edges to add to the visual interest of your table.
Choose Bold Prints and Patterns
Vases and ceramics can bring your table to life if you choose bold colors and interesting patterns. Chances are your dining table is fairly neutral, so it's a great place to add some unexpected flare. Try using metallics, contrasting colors, and bold prints on vases to draw the eye. Add even more flare with ostentatious and oversized florals and greenery.
Implement the Power of Three
Three is a favorite number among designers because it's pleasing to the eye and feels complete. The power of three is a great trick for decorating a dining table when you don't want an over-the-top centerpiece. Group three items right in the center of the table and consider using a riser or placemat to ground them. Opt for purely decorative items or mix in a couple of practical items you reach for daily.
Create Interest With Layers
Layers are the secret to a visually interesting dining table. For a traditional look, try layering linens, placemats, and garlands. For a more modern or minimalist style, layer trays, cutting boards, and ceramics.
Let Food Take Center Stage
A perfect dining table decor option for a dinner party or gathering is to let the food presentation be the centerpiece. It is a dining table, after all. So, use beautiful desserts on cake plates, charcuterie boards displayed on the table, and unique serving bowls to draw the eyes and appetites of your guests.
Present a Printed Tablecloth
For traditional dining tables, both formal and informal, a tablecloth with a classic print is the perfect backdrop to your place settings and centerpieces. Make sure the length of the tablecloth hits right above the seat of your chairs and consider a color that ties in other decor elements in the room.
Create Asymmetry With Height
Asymmetry can be visually pleasing when executed well. Place a lightweight item, like a glass vase, at one end of the table and complement that with a shorter, heavy item on the other side. The height variation makes for an unexpected but elegant arrangement.
Use Lightweight Items for Small Tables
If your dining area is small, like a kitchen island or a bistro table, keep decor lightweight. Use glass, acrylic, and wicker when choosing vases and containers. If you want to add formal or elegant details, choose items with small amounts of high-end materials like metal or leather.
Embrace Color
The easiest way to add instant visual interest to your dining table is to utilize plenty of eye-catching colors. Try mixing colorful glassware, whimsical florals, unique flatware, and printed ceramics for a vibrant tablescape.
Use Mirrors to Give the Illusion of More Space
If your space is small or part of your table rests against a wall, try hanging a mirror on the wall near your table. This will give the illusion of a larger room and add visual detail to your dining area. Choose a mirror with a finish similar to your drawer pulls and light fixtures for a cohesive look.
Combine Vintage and Modern Elements
A marriage of styles creates a dining table unlike any other. Combine vintage candlesticks with modern vases for your tablescape, and surround your table with mismatched chairs of varying styles to greet your guests with plenty of options.
Make Your Dining Table a Space for Creating Memories
The dining area of your home, no matter the style, location, or size, is where memories and important conversations will take place. Make sure this space stays true to your style, creates a welcoming atmosphere for guests, and gives your family a beautiful gathering place that will hold all of their most cherished memories.