Gratitude is a funny thing — the more attention you pay to it, the more it grows. Encourage that attention (and growth) by using a gratitude tree to track and display all the best things in your life. This is an awesome creative project for families with kids, but it's fun to do on your own, too. We even like adding it to our Thanksgiving celebrations to get everyone involved.
These simple gratitude tree activities work for all ages, and they don't take a ton of time or materials. You might even want to try more than one.
Black Gratitude Branch With Cut-Out Leaves
This project starts with a walk in the woods (or even your own backyard). Snag a dead branch and bring it home. Then grab some black spray paint, glue, a simple wood vase, and some paper leaves with ribbon to hang them.
Start by gluing the branch into the vase. We like to use hot glue for this, since it's super easy to apply it to the branch and stick the branch in the vase.
When the glue is dry, spray paint the branch and the vase black. Work outside or in a well-ventilated spot. Let the paint dry.
Grab some markers and ask everyone to write things they're grateful for on the paper leaves. Each person can hang their leaves on the tree.
Quick Tip
One of the things we like about this gratitude tree project is that you can put the tree base away at the end of the season. Next year, get it out and make new leaves.
Mini Gratitude Pine Tree
Let your gratitude tree double as a Christmas decoration later with this super simple and fun project. You'll need a small artificial Christmas tree, paper tags of your choice, Thanksgiving-themed stickers, a small piece of burlap and some twine, and maybe some white twinkle lights.
Wrap the base of the artificial tree in the burlap and tie it with twine. You can trim the burlap to an even length or leave it uneven.
If you're using white twinkle lights, put those on the tree.
Use the stickers to decorate the front of the paper tags and turn them into ornaments.
Have each person in your family write things they are grateful for on the back of the ornaments. Hang each one on the tree.
Gratitude Tree Decal for the Wall
A tree decal makes an awesome decoration for any season, especially in a child's room. You can swap out different colors of leaves and blossoms for each season. To use this as a gratitude tree activity, you'll need to make paper leaves to stick on the tree.
Apply a large bare tree decal to the wall. You can buy these in home stores or on Etsy.
Use construction paper to cut out leaves. If you're doing this activity in the spring or summer, green leaves are perfect. Use orange or other autumn shades for fall.
On each leaf, write what you're grateful for. Use double-sided tape to stick the leaves to the branches of the tree decal.
Quick Tip
You can go with a general theme for your tree, just writing anything you're grateful for, or you can choose a specific topic. We like doing trees about family or food or pets. This helps narrow the focus and gets everyone inspired.
Real Branch With Leaves You Can Write On
Paper leaves aren't your only option for gratitude trees. Keep an eye out for a branch with the leaves still on it to create a natural display. You'll also need paint markers for writing down what you're grateful for.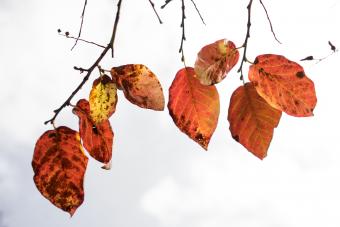 Wait for the leaves to turn brown but not fall off. If they start to fall off, you can use a little hot glue to reattach them.
Place the branch in a weighted vase or attach it to the wall in your home.
Use the paint marker to write things on each leaf.
Photos of Thankfulness Tree
Turn an ordinary branch or artificial tree into a statement of gratitude with photos of the people you love and the things that bring you joy. You can use a pre-made photo ornament frame or just make your own.
Take some photos of the things you're most grateful for and have them printed up.
Insert the photos into pre-made ornaments or make your own by glueing them to cardstock. You can make the ornaments in the shape of leaves or just use squares or circles.
Add some fall-colored ribbons to help you hang each ornament. You can punch a hole in a cardstock ornament and thread the ribbon through that.
Hang the ornaments on a plain branch or mini tree.
Tips to Include a Thanksgiving Tree for Your Holiday
It's actually really easy to incorporate a Thanksgiving tree in your holiday celebration, especially if you keep a few tips in mind:
Make the tree part of dinner by using the leaves as place cards. People can write what they're grateful for and then attach the leaf to the tree.
Ask everyone to add to the tree when they arrive for dinner.
Send the leaves out ahead of time or text everyone that you'll be making a gratitude tree part of your celebration. That way, they can think about what they're grateful for and won't be surprised at Thanksgiving dinner.
If you're not hosting, bring the gratitude tree with you and offer it as a decoration.
Make Your Tree Special and Specific
A gratitude tree is such a fun project for helping your family focus on what matters. Whether you're doing this as a Thanksgiving project or using it at an event like a holiday celebration or even a memorial service, there are tons of ways to make it super special and specific to your family.