How do you make a fall flower arrangement? The key is using the warm, natural colors of fall and various textures to help your autumn flower arrangement stand out. Don't worry, it's easier than it sounds, and we have all the designer tips for creating elegant flower arrangements this fall.
Add Warmth With Bright Dahlias
Dahlias are one of fall's most beautiful and colorful blooms. They're gorgeous in arrangements on their own or alongside other fall plants like asters and chrysanthemums. Vibrant dahlias in the warm shades of autumn — think red, orange, yellow, and purple — bring the shades of the season in a way that brightens your home.
Leaves & Stems Whisper Fall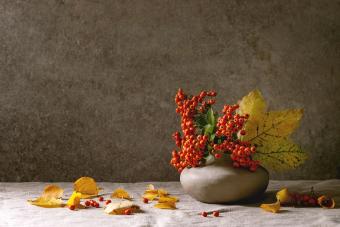 Nothing says fall like warm and crunchy leaves. Add a few (faux or real) to your fall flower arrangements to give a nod to the season, complement the warm tones in your florals, or just make your home feel a little cozier for autumn.
Try Elegant Dried Flowers
If you're looking for a muted or neutral floral arrangement this fall, look no further than elegant dried flowers. No matter the floral, the dried version somehow fits perfectly into this season. They're subtle at first glance, but the details reveal the beauty of the flower frozen in time. Add a few stems to your arrangements or fill an entire vase with dried flowers for a dramatic look.
Need to Know
With dried florals, you can skip the vase altogether. Instead, tie them into a bouquet with twine and hang them somewhere in your home.
Wildflowers Offer Autumn Drama
If you want the organic look this autumn, wildflowers are the way to go. Amp up the drama with tall, voluminous wildflowers in soft neutrals. The muted colors help the size and shape of these arrangements stand out.
Classic Chrysanthemums Always Work for Fall
When in doubt, reach for the classic fall flowers that always look timeless and beautiful. Chrysanthemums are a popular choice in fall because of their stunning colors and volume. Use them indoors or outside for your fall flower arrangements, and your home will have an effortlessly classic look.
Dry Grass Is a Stylish Floral Alternative
Not feeling the florals this fall? You're not alone! Dry grass is trending for fall decor, and it looks splendid in nearly every interior. The slightly warm neutrals of dried grass complement various home color palettes, and their subtle look helps your ceramics and other decor stand out. This floral alternative is so good, you can leave it on display until the end of the year.
Brighten Your Arrangement With Berries
You have tall grass, voluminous florals, and now you need a sweet little addition to help your arrangement stand out. Cue the berries. Bright berries look darling in your fall florals, and they work easily into your winter decor later on. Try berries like viburnum, holly, or peppercorns — all of these come in colorful varieties to suit any fall flower arrangement.
Incorporate Deep Purples
Rich reds, vibrant oranges, and golden yellows are dominating colors during the fall. But the deep purples of the season are often overlooked. Your home will stand out in elegance with moody purple florals mixed into your fall decor. Purple is also a beautiful choice if your home has cooler tones — think grays, blues, blacks, and whites.
Stick With Trusty Sunflowers
You probably already know that sunflowers are a popular choice for fall floral arrangements, especially in the early autumn months. Just because these flowers are trendy doesn't mean you shouldn't give them a try. Sunflowers have tons of personality, and just a one or two will brighten your fall floral arrangement.
Seasonal Fall Fruits Are Fun
You know, flowers and grasses aren't your only options for autumn seasonal decor. The beautiful fruits of fall also pop alongside your florals. Much like the berries we've already mentioned, grapes, apples, and pears look right at home among your fall flower arrangements. Strike a balance between the two, try a subtle approach, or really lean into the fruit decor. Either way, your arrangement will look lovely for the season.
Add Sprigs of Eucalyptus
If you choose only one floral for your fall decor, let it be eucalyptus. It's simple, yet stunning. Eucalyptus is fragrant and lasts quite a long time in your arrangement. It's usually affordable and comes in a wide range of autumn colors: traditional sage green, deep maroon, and muted orange make a charming arrangement on their own.
Think Outside the Vase for Your Fall Florals
Fall floral arrangements are pretty simple once you know the best elements to include. What will really set you apart is presenting your florals in a creative way. Though we love a beautiful vase arrangement, we've included some other ways you can display your autumn flower arrangements this year.
Skip traditional vases in favor of rustic options like metal urns, wooden bowls, and enamel pitchers.
Use small hollowed pumpkins as your vessel for a fun fall statement on your autumn table.
Greet guests with a stunning fall wreath on the front door. You can even hang wreaths over your fireplace mantel.
Use opaque vases in place of clear glass this time of year as you lean into those cozy vibes.
Layer potted plants up and down your exterior staircase for a welcoming fall porch.
Do you have window boxes for flowers? Give them a fall refresh!
If you choose a glass vase, fill the bottom with fall-inspired items like Halloween candy, hay, pinecones, or acorns.
Bring Nature Into Your Home All Year Long
Nature doesn't just inspire our home interiors during the newness of spring. Bringing the outside in is possible in every season, especially autumn. Get inspired by the colors, textures, sights, and sounds of fall, and let them guide you in creating a warm and cozy home during the chilly months.