If you're heading out to a Halloween party with your partner, it's fun to dress up in coordinated outfits. Couples Halloween costumes can range from silly to scary, but there's sure to be something perfect for you and your special someone. Try one of these creative ideas.
Funny Halloween Costumes for Couples
You'll have everyone laughing with these hilarious Halloween costume ideas for couples.
Workout Buddies
Go as workout buddies so everyone can see how you cheer each other on. Dress in the dorkiest workout gear you can find-hit up your local thrift store for some truly ugly options. Don't forget to wear some sweatbands and carry hand weights.
Mind Reader
If it sometimes seems like you can read each other's minds, make a simple couple's Halloween costume that plays with this idea. Craft a "mind reading" device out of a metal bowl or colander and any spare wires you have handy. One person can wear the device, and the other person can dress as a scientist taking notes.
Nerd Love
Get some great laughs with a super nerdy couple's costume. To make this work, you should both dress in the nerdiest clothing you can find. Don't forget accessories like pocket protectors and glasses. Add a lipstick kiss to make it perfect.
Awkward Portrait
You've seen those awkward vintage photos of couples from eras past. You can create your own by wearing the ugliest vintage clothing you can find and styling your hair to match the era. Add hilarious props like stuffed animals and practice your pose in front of the mirror.
80s Prom Date
Even if you weren't alive yet in the 1980s, you can embrace this fun and colorful era by dressing as a prom couple. Everyone will laugh at your dorky puffed sleeves and ruffled tuxedo shirt. It's easy to find the perfect ensemble at thrift stores.
Romantic Raptors
There's something truly hilarious about people dressed in ordinary clothing while wearing raptor masks. Get a mask for each of you and make the rest of your outfit date-worthy. Then show off your raptor romance.
Sunburnt Tourists
Geeky tourists are always funny, and this costume is twice as great when you go as a couple. Use temporary spray tanner to give yourselves awkward tan lines, and wear plenty of silly gear. Think tropical shirts, fanny packs, and sandals with socks.
Cute Halloween Costumes for Couples
Let everyone see what a cute couple you are by choosing a Halloween costume that plays up your adorable style.
20s Gangsters
Dress as 1920s-era gangsters for a fun and stylish couple's costume. Wear a bowler hat and suit and tie or a flapper dress. You can even go as a specific gangster couple like Bonnie and Clyde.
Cute Clown Couple
An adorable option is going as a pair of clowns. You can wear matching red noses and dress in outfits that coordinate. Wear wigs if you want, or keep it more subtle. Either way, your outfits are sure to make everyone smile.
Dating (or Married) Scarecrows
A scarecrow couple is an easy and fun Halloween costume that's super cute too. Simply put on straw hats and old clothes, and tuck some straw into the collar and cuffs of your shirts. You can also make this costume creepy by adding some scary makeup.
King and Queen
Show off with this adorable royal couple's costume. You can rent Renaissance-era costumes or go as modern royals instead. Either way, you should both wear crowns to complete your look.
Easy Costumes for You and Your Partner
If you don't have a ton of time to put into your costumes, you can still create a great look. Try one of these easy costumes for couples.
Pair of Flower Children
Assemble groovy hippie costumes from things you probably already have in your closets. Wear long, flowing shirts or skirts, scarves, and lots of jewelry. Add fake flowers to enhance the look.
Anonymous
Nothing is simpler than drawing a face on a plain brown paper bag, cutting a couple of eye holes, and plopping it on your head. This is the anti-costume costume, and it's perfect if you just need to keep it super simple this year.
Candy Bandits
If you have kids at home, you know how unfair it is that they get loads of candy on Halloween. You can even the score, albeit a little deviously, by dressing as candy bandits. Wear striped black and white shirts and carry buckets for the candy you plan to steal.
Cowboy and Cowgirl
This classic costume is really easy to create at the last minute. Just pick up a pair of cowboy hats and put on your best plaid shirts. Fun accessories can make this even better, so try adding cowboy boots if you have them, or a red bandana around your neck.
Romantic Pirates
A pirate costume doesn't have to be difficult or time-consuming. Make your own with a vest, a great hat, and some embellishments like feathers and lace. Dressing as a pair of romantic pirates is a great Halloween costume idea for couples.
Scary Halloween Costumes for Couples
You can go all out and create a spooky look too. These scary Halloween costumes for couples will terrify everyone you see at your next Halloween party.
Terrifying Zombie Couple
Zombies are always horrifying, but it's super scary to see a couple of them together. Dress in ripped and dirty clothing and then work on creating some great zombie makeup for each other.
Horror Bride and Groom
A creepy bride and groom is a sight that's guaranteed to freak out everyone who sees it. Pick up an old wedding dress or suit at a thrift shop. Add some scary makeup, such as a dark bride look or zombie face paint. You'll be the most terrifying couple at any event.
Creepy Clowns
Sure, clowns can be cute, but they can also be downright scary. The key is adding some super creepy clown makeup to your costumes. If you both dress as creepy clowns, it will be twice as spooky.
Cool Outfits for Couples
There are lots of cool and creative Halloween costumes you can wear as a couple. Try one of these ideas:
Flamenco Dancers
Dress as a ballroom dancing couple or as a pair of flamenco dancers. You can rent costumes from a local dance company, buy them, or simply wear party clothing that has plenty of flair.
Super Couple
You may see one another as superheroes already, so it makes perfect sense to dress as a pair of superheroes for Halloween. You'll need capes, masks, and anything else that makes your look convincing.
Historic Romance
You can go as a romantic couple from history. It can be someone specific, or you can simply wear period clothing from your favorite era. Either way, this makes a beautiful and fun couple's costume that everyone will love.
Combo Costumes for Couples
Some couple's costumes just go together perfectly. If you want a super coordinated combo costume, try one of these:
Cat Burglar
This adorable option has one of your dressing like a cat and the other like a burglar. For the cat, wear all black with cat ears and a tail. For the burglar, go with a black and white striped top and a mask.
Fairy Tale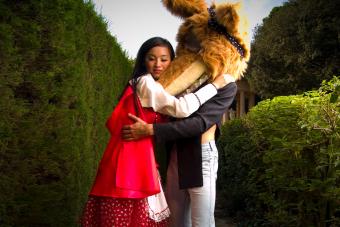 Pick your favorite fairy tale and go as two characters from it. There are lots of options here, but a great idea is for one of you to be Little Red Riding Hood and the other the Big Bad Wolf. You can pick up a red cape and a wolf mask at any costume shop, and you're already there.
Vampire Bat
Go as a vampire bat for Halloween. This couple's costume involves one person dressing as a bat and one person dressing as a vampire. You can pick up everything you need, including a vampire cape and fangs, bat wings, and a black tutu, at any local costume shop.
More Great Ideas
If you still need more ideas, get out a pen and brainstorm. Don't limit yourself by costumes that seem hard to make; there are usually easy ways to create them. Here are a few ideas to get you started:
Spider and fly - Create a spider couples costume with one person dressing as a spider and one as the fly the spider will eat. You'll need eight legs for the spider and a bunch of eyes for the fly. From there, it's all about getting creative.
Artist and art - Go as an artist and the art being produced. You can choose someone specific like Bob Ross or van Gogh, or you can keep it general. One person dresses as the artist, and the other wears a giant print-out of the painting.
Fashion dolls - Go as fashion dolls, such as Barbie or Ken. You'll need your flashiest clothing and fanciest shoes. Style your hair as big as possible and add lots of accessories.
Netflix and chill - The ultimate modern costume for couples is Netflix and chill, and it's also super easy to make. One of you dresses in red and adds a decal to their top that says "Netflix." The other dresses in loungewear.
Get Creative With Your Costumes
Get inspired by lots of wonderful Halloween costume ideas. This holiday is all about using your imagination and getting creative, so have fun putting your own spin on whatever costumes you choose to wear as a couple.