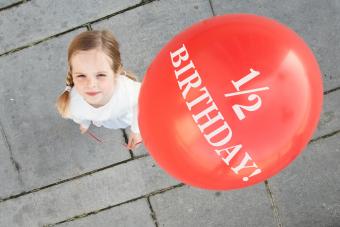 These half birthday ideas will prompt you to start a new tradition and give you an excuse to throw a party to celebrate with family and friends before the official birthday. You can still choose a theme and apply the ½ birthday concept to it. If you decide on a watermelon theme, use ½ watermelon as the birthday cake. And if you settle for a rainbow unicorn party, create delightful birthday treats using donuts cut in half.
Half or ½ Birthday Balloon
Grab a permanent marker and write ½ or half birthday on solid balloons. Another option would be creating the letters or numbers using vinyl in the color of your choice and a cutting machine or purchasing stickers to customize the balloon for an instant decoration idea.
½ Avocado for a Brunch Celebration
If the birthday honoree is an avocado lover, she might not get thrilled about being treated to an ½ avocado only, but it's a great idea to poke fun during a brunch celebration. These brunch breakfast recipes and brunch table decorations can provide you with wonderful ideas to make the occasion extra special, even if you are serving half of a pancake or half of a waffle to each guest.
Dog's Half Birthday
If you have a pet that means so much to you, why not celebrate its ½ birthday? Add ½ using a marker to a party hat and make pet-friendly treats, such as ½ small sandwiches, ½ biscuits for adorable pictures to cherish.
½ Drinks
A ½ birthday celebration calls for ½ drinks. Whether you are serving soda, lemonade, or a great cocktail, use a liquid measuring cup and serve ½ cup only or a cup half full. Guest may or may not like the idea, so let them know it's merely for entertaining purposes and no one is going thirsty during the party.
Half Watermelon Cake
It can't get any easier than that. Simply slice a watermelon in half, insert festive candles, and you have a ½ birthday cake that's fresh and delicious. Perfect idea if the half-birthday occasion falls in the summer.
½ Birthday Candle
Think outside the box and create your own ½ birthday candle. Simply hot glue number 1 candle, a standard birthday candle, and number 2 candle to create a half birthday candle.
Yin Yang Candy Board
Create a yin yang candy board using black and white M&M's arranged on a round board or tray. This is a unique idea for a monochrome, minimalistic party for someone who has a thing for candies and the yin yang symbol.
Rainbow Donut
Cut donut in half and place it on a plate, then decorate it using buttercream in different colors to create a rainbow donut. Using a large round decorating tip, pipe white buttercream onto both ends of the donuts.
Happy ½ Birthday Garland
Finding ½ birthday party decorations is almost an impossible mission. Spruce up your space and add character to your party with party printables. Download this colorful Happy ½ Birthday garland and have it printed on white cardstock. You will need a pair of scissors, hole punch, string and tape to finish the project.
Pizza Night
Pizza is always the answer when it comes to casual celebrations. Host a pizza night with these fun pizza party ideas and display pizzas cut in ½. No worries, your guests can eat more than half of a slice of pizza. Make it a night to remember with these 10 strangest pizza recipes.
Enjoy Your Half Birthday Cake
No matter the theme you select, plan a special cake--half a cake to be more specific. If you are feeling adventurous in the kitchen, bake a cake from scratch and cut in half, decorate it to coordinate with your event and top it with a 1/2 birthday candle or 1/2 cake topper.