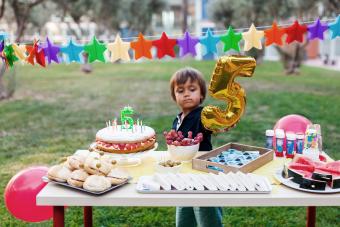 If you are planning on hosting a memorable celebration for your five-year-old, look no further. These birthday party ideas will inspire you and help you decide on a theme in no time.
STEAM
A party focused on hands-on activities is always a winner. If your child enjoys STEAM activities, this is a theme you can consider. Narrowing down to one subject, you will be able to pull it off successfully without feeling overwhelmed by so many creative ideas.
For example, if your child loves science, plan a mad science lab inspired tablescape featuring juice in beakers, petri dishes to display sweets, and test tubes filled with candies. Keep the birthday cake simple yet festive with a personalized topper. Use a science party banner as your focal point as well as DIY molecule balloon decorations hung from the ceiling.
Plan a few science experiments that are age-appropriate for the kids to try, such as making a volcano, exploding baggie, and lava lamp.
Ice Skating
You don't have to live in a state with super cold winters to plan an ice skating party for your child. Consider an indoor ice skating rink for the kids to get active and try some forward swizzles, backward wiggles, marching, and other fun beginner's ice skating techniques if this is their first time on ice. You can either host the party at the ice rink venue or plan to meet the parents at your own place for all the happy birthday fun.
If this is a winter party celebration, serve hot chocolate in custom themed cups and sing happy birthday in style with an adorable ice skating rink birthday cake.
Narwhal
A narwhal birthday theme is a great departure from mermaids, shark, and whale party themes. Whether you decide to throw a beach party or a pool party, this unique theme is perfect for a child who loves spending time in the water.
If you are feeling extra creative, you can create your own narwhal cake and cupcakes. Complete the look of your party with narwhal foil balloons and under the sea party banners and garlands.
Superheroes
Calling all superheroes! Plan a super costume party to celebrate your child turning five years old. Set the tone with a fun invitation and encourage guests to dress up as their favorite superheroes.
Keep the superhero food menu quick and easy by labeling store bought snacks: cat women claws (bugles), kryptonite (green jello cups), the penguin fish food (Swedish fish), and Avengers inspired snacks using simple ingredients.
Transform your space with a colorful city scape printable backdrop and balloon arch kit to create an amazing party scene for your special superhero!
Circus Parade

Come one, come all! A circus-themed party is one of the greatest themes and among kids' favorites due to all the fantastic snacks and games ideas available. If your child owns a few animal figurines, you can easily incorporate them into the party set up to complete the look. A circus party box will instantly transform your tablescape into a festive scene and establish the theme for an exciting celebration.
A circus inspired menu is one of the easiest you will ever plan--cotton candy, animal crackers, peanuts. popcorn, cupcakes, and other treats you can easily find at your local supermarket. And no circus party complete without a variety of carnival games, so plan a few and provide the most spectacular circus experience to your guests.
Disco Party
If you have a dancer at home, turn your backyard into a dance floor complete with a mirror ball to celebrate your child's fifth birthday. Consider hiring a DJ and a photo booth service for the kids to create lifetime memories with friends as they dance, play, and take group pictures.
Allow the kids to immerse themselves into the 70's style by setting up a table with fun props--groovy glasses, wigs, bow ties, mustaches, faux flowers (flower power), lava lamps, and microphones they can use to play pretend and dance the "night" away.
Pirates
Ahoy, Matey! Your little explorer will be thrilled to walk the plank to a fun-filled pirate celebration. Look no further and set the mood with a pirate birthday party package that contains everything you need to pull this fun theme together to celebrate your child's fifth birthday. Decorate your space with skeletons, barrels, treasure chest, balloons, and nets.
Allow the kids to eat like a pirate by planning a fun menu including a variety of pirate inspired food and snacks--cannonballs (meatballs), skeleton bones (white chocolate pretzels), catch of the day (Swedish fish), fish & chips (goldfish and chips mix), walk the plank (KitKat bars), and golden chocolate coins.
Kids can be pirates for a day with games and activities that will keep them active and have them talk like a pirate in no time.
Tropical Luau
For a summer birthday party, a tropical luau offers plenty of wonderful opportunities to get creative and throw the ultimate get-together. Decorate a large table with a grass table skirt and incorporate fresh tropical fruit, such as pineapples, coconut, mangoes, kiwi, and papaya as your table decorations. Complete the look with faux or fresh flowers and tropical palm leaves.
Treat kids to fresh fruit kebabs, coconut pineapple cupcakes, chips with pineapple salsa, and virgin pina coladas or fruit punch. For a fun-filled day, plan luau inspired craft activities, buy faux flower leis in bulk, and offer a dance session with a trained hula dancer to teach your guests how to move and groove Hawaii-style.
Little Chef
Does your child like to volunteer to help in the kitchen? If the answer is yes, a hands-on cooking party for the kids is a great idea to channel their inner chefs. To keep things simple and less chaotic, opt for two easy recipes that don't require too many step-by-steps and ingredients. Main courses such as an easy pasta dish and a no-bake dessert are great options.
Set out recipe cards, required kitchen tools, and ingredients on your kitchen counter or large table so kids can join forces and create dishes they are proud of. Have one or two adults to guide and help them with what they need. Chefs hats and aprons make great additions for a wonderful cooking experience with friends.
Tie Dye
Nothing screams party and fun like a tie dye celebration. It's a great theme option for parents who are looking for an activity-centered party.
Set up a Tie Dye Station
Have this list of supplies on hand to set up your tie dye station:
Tie dye kits
Disposable plastic table covers
Paper towels
White cotton T-shirts
Plastic storage bags (for storing tie-dye projects)
Permanent marker (to label bags)
Bucket or sink (for dampening shirts)
Karate Kids
Invite family and friends to channel their Daniel Larusso with a karate themed party to celebrate your little ninja who loves martial arts.
Build excitement in your guests with a fun party invitation kindly inviting them into your "dojo" and encourage them to dress in their gis, or karate costumes.
Whether you are celebrating at home or booking your child's martial arts venue to host your event, you can bring the karate theme to life through simple details, such as serving pizza, drinks, and snacks on themed partyware and decorating the space with ninja balloon bouquets.
Llamas
A llama party is a unique theme to celebrate a special birthday if your child enjoys the farm life experience. Contacting a farm that can offer a tour to a small group of kids to meet and pet llamas would be a great way to kick off the celebration.
Welcome your guests with a llama inspired tablescape, complete with coordinating llama cookies, cactus pretzels, and a unique birthday cake design.
Taco Fiesta
Calling all taco lovers! If you have a child who was born around Cinco de Mayo, a taco fiesta is a super festive theme to celebrate a fifth birthday complete with a taco bar and tasty kid-friendly drinks , such as a fiesta punch served in plastic margarita cups.
Build an Inviting Taco Bar
Here's a list of what you will need to build a kid-friendly taco bar (besides plates, napkins and serving bowls and spoons):
Taco meat (preferably non-spicy)
Mexican blend shredded cheese
Soft corn, flour, or gluten-free tortillas
Crunchy corn tortillas
Guacamole (storebought or homemade)
Tortilla chips
Salsa (non-spicy or mild)
Shredded lettuce
Sour cream
Mexican street corn
Pinto and black beans
Fresh cilantro
For extra fiesta fun, hang a colorful pinata for the kids to have a blast smashing it and "fighting" for candies.
Berry Sweet Strawberry Picnic
When a child was born during strawberry picking season, a strawberry picnic is a lovely way to make a special birthday extra sweet. Decide on your favorite park, preferably near a picnic table and playground, so parents can supervise their kids more closely while socializing.
Have a few picnic essentials ready--a gingham tablecloth, a picnic basket, and strawberry themed partyware to set up a simple yet beautiful tablescape friends and family can enjoy. Plan an easy picnic menu, including fresh strawberry fruit cups, cold sandwiches, chips, and a refreshing lemonade. To complete such a lovely way of celebrating a birthday, sing happy birthday with a strawberry layer cake for a berry sweet birthday party.
Last Minute Party Ideas
Planning ahead is crucial to host a successful birthday party; however, the best ideas pop up in the very last minute. And those last minute ideas, most of the time, end up adding that extra personal touch you felt it was missing. Successful doesn't always mean perfect. It can translate into if people had fun, then the party was a success.