Prepping a delicious Super Bowl spread doesn't have to be difficult. From no-cook dips and spreads that contain just a few ingredients to recipes you can put into the slow cooker and ignore for several hours, there are a lot of really easy Super Bowl foods to make and enjoy.
Super Easy Slow Cooker Selections
Looking for a simple main dish that'll stay warm throughout the entire game? Put your slow cooker to work with one of these easy yet delicious options. Have more than one slow cooker? Make them all!
Slow Cooker Sloppy Joes
Sloppy Joes are super-easy to make, especially in a slow cooker. Just crumble, brown, and drain some ground beef, then put it in your slow cooker. Dump in one 15-ounce can of store-bought sloppy Joe sauce for every pound of meat. Or, if you don't mind a little more effort, make your own Sloppy Joe sauce by stirring seasonings into plain tomato sauce. Cook on low for four to six hours, then switch your slow cooker to keep warm.
Helpful Hack
While it's true people seldom turn down a tangy sloppy Joe, why not take them to the next level? Mix up a batch of coleslaw and spoon it on top of the filling to add flavor and a nice, crunchy texture, or top with queso (recipe below) for a creamy, spicy addition.
Saucy Cocktail Wieners
Slow cookers were made to simmer tiny sausages in tasty barbecue sauce. Start by purchasing enough cocktail wieners to feed your guests (at least two to four ounces per person). Drain the liquid, then put the wieners in your slow cooker. Generously pour your favorite BBQ sauce over the sausages to cover them. Simmer on low for four to six hours, then turn the temperature knob to keep warm.
Helpful Hack
Sure, the regular little smokies in BBQ sauce are great, but you can also jazz them up with a few easy additions to the slow cooker. Peel, core, and chop one or two sweet-tart apples (such as Granny Smith or Braeburn) and a red onion, and put them in the slow cooker with the sausages and BBQ sauce. Add 2 tablespoons of your favorite bourbon or whiskey, 1 tablespoon of Dijon mustard, 1 teaspoon of garlic powder, and ¼ cup of pure maple syrup, molasses, or dark brown sugar for a sweet and smoky treat. Want 'em hotter? Add a dash of cayenne, to taste.
Slow Cooker BBQ
You don't have to spend hours smoking meat to enjoy tasty barbecue on Super Bowl Sunday. Instead, put water in your slow cooker about an inch deep, then add a pork shoulder or beef chuck roast. Season the meat with salt and pepper, then cook for eight to 10 hours. If you have a six-quart slow cooker, you can cook up to a 4.5-pound roast. Drain the liquid, then shred the meat. Put it back in the slow cooker and stir in your favorite BBQ sauce. Turn the knob to keep warm once the sauce is hot.
Helpful Hack
Looking for a bit more flavor? Instead of water, add beer and a dash of liquid smoke. Create a rub with 1 teaspoon each of salt, smoked paprika, chili powder, garlic powder, and onion powder. Rub it all over the outside of the pork or beef and add the meat to the beer in the slow cooker. Don't forget to drain the liquid before adding your BBQ sauce.
Crunchy and Easy Snacks for Super Bowl
It's always a good idea to set out a few snacky items during football games. That way, there will always be something available to munch on at any stage of the game.
Spicy Popcorn
Popcorn is a great snack for football watching, but Super Bowl Sunday calls for something fancier than just plain old buttered popcorn. Use this recipe for Cajun-spiced popcorn to add some kick (get it?) to ordinary popcorn, or use this sweet chili popcorn recipe for a version that's sweet, salty, and spicy too. Chances are that you already have all the ingredients in your pantry.
Helpful Hack
Still sticking to your New Year's resolutions (yay, you!) and low-carbing it? Replace the popcorn with crispy cauliflower bites, roasted pumpkin seeds, or nuts. You can omit the sugar in the recipes or replace it with a no-carb granulated sweetener like monk fruit.
Sweet and Salty Snack Mix
It's incredibly easy to put together your own version of a sweet and salty snack mix. Simply dump nuts into a bowl and mix in some mini-pretzels and candy-coated chocolate. This is much fancier than nuts alone, and a lot easier to make than party mixes that require seasoning and baking multiple types of cereal.
Helpful Hack
Longing for a beachy vacay while you're mired in the depths of winter? Yeah - we get it. Make an easy sweet and salty tropical snack mix using roasted macadamia nuts, coconut flakes, banana chips, and dried pineapple chunks.
Chocolate Covered Pretzel Rods
Speaking of sweet and salty, chocolate-covered pretzels are surprisingly easy to make. Follow this simple recipe for chocolate-covered pretzel rods, and you'll be surprised at how easy it is to make this tasty treat that candy shops sell with a high price tag. You only need pretzels, chocolate chips, and a microwave oven. Seriously, that's it. You're welcome.
Helpful Hack
Get your kids involved in this super simple snack. Just lay out paper plates laden with things to decorate the pretzels after they're freshly dipped in chocolate (sprinkles in your team's colors, chopped nuts, crushed hard candy, dried fruits - they sky's the limit). Your kiddos can gently (do kids do anything gently?) roll the freshly dipped chocolate end across a plate of goodies to coat it before setting the pretzels to harden).
Mix and Chill Super Bowl Dips
Super Bowl snack prep doesn't get any easier than these mix-and-chill dip recipes. These dips taste best served cold, so you can (and should!) prep them a day or two ahead of time. Yay! This will free up your time on game day to make other items.
Saucy Salsa Dip
For a creamy dip with a bit of kick, stir together equal parts of sour cream and your favorite type of salsa (store bought or homemade). Just mix until well combined and chill for at least an hour before serving (longer is fine). If you want to cut the calorie count a bit, use Greek yogurt instead of sour cream.
Helpful Hack
Give your dip some freshness just before you serve it. Add a squeeze of lime juice and stir in freshly chopped cilantro, thinly sliced green onions, and an ounce or two of shredded cheddar, Jack, or pepper Jack cheese.
Smooth Dill Dip
For a fresh-tasting dip that goes just as great with potato chips as it does with cut-up veggies, crackers, or pita, whip up a batch of dill dip. Mix together ¾ cup of Greek yogurt and ½ cup of sour cream or mayonnaise (or ¼ cup of each). Stir in 1 tablespoon of dried dill weed and a half teaspoon each of garlic powder and onion powder. Add salt to taste. Mix well and let chill in the fridge overnight.
Helpful Hack
Want it even easier? Just add one packet of ranch dressing mix and give it a stir. No measuring necessary.
Creamy Jalapeño Dip
Looking for an extremely easy dip with lots of zip? Make a batch of creamy jalapeño dip! Mix eight ounces of softened cream cheese and a cup of sour cream or Greek yogurt, then stir in ¼ cup (more or less to spice preference) of chopped pickled jalapenos. Season to taste with salt. Make it a day ahead and refrigerate until game time to allow the jalapeno flavor to fully develop.
Helpful Hack
Keep it low carb by serving with pork rinds for dipping.
Superbly Simple No-Cook Spreads
If your idea of an easy dip recipe is one that doesn't even require stirring ingredients together, you'll love these no-cook spreads. Prepping food for Super Bowl Sunday doesn't get any easier than these easy make-ahead snacks.
Pigskin Pepper Jelly Spread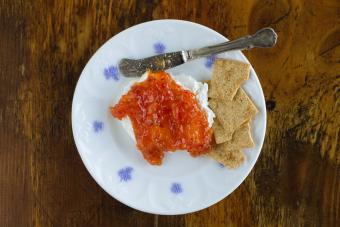 For the ultimate in easy football food, simply place a block of softened cream cheese on a plate. Spoon pepper jelly on top and spread to cover the full block of cheese. Place crackers next to the spicy jelly-covered cream cheese along with a spreader. Voila! A tasty appetizer with as close to zero effort as you can get.
Helpful Hack
If you're feeling artful, then use that cream cheese and pepper jelly on a beautiful butter board. They're easy to make and TikTok trendy.
Protein-Packed Hummus
Spread store-bought hummus on a plate, then lightly drizzle olive oil over the top. Drain a can of cooked chickpeas and generously sprinkle the beans across the top of the hummus. You can stop there, or add some chopped fresh herbs as a finishing touch. Parsley would taste great here, as would mint or oregano.
Helpful Hack
You can also make your own hummus easily and refrigerate it overnight if you've got a blender or food processor. All you need to do is dump your ingredients in the processor or blender and blend until smooth. What are the ingredients? 2 (15-ounce) cans chickpeas (drained), juice of 2 lemons, ½ cup tahini, 2 minced garlic cloves, 2 tablespoons extra-virgin olive oil, and ½ teaspoon of salt. Easy peasy lemon squeezy.
Multi-Layered Tex-Mex Dip
Spread canned refried beans in the bottom of a pie plate in a fairly even layer. Smooth a layer of sour cream over that. If desired, add a layer of salsa. From there, sprinkle on your favorite Tex-Mex toppings one at a time, in layers. Popular options include shredded cheese, diced tomatoes, diced red onions, chopped jalapeños, shredded lettuce, black olives, and chopped avocadoes or guacamole.
Helpful Hack
You can buy most of the toppings either pre-made or pre-chopped at the grocery store to save time. If you can't find chopped tomatoes, onions, jalapeños, and cilantro, grab a carton of pre-made pico di gallo and you've got all the ingredients in a single container.
Fast and Fabulous Hot Dips
It's usually chilly on Super Bowl Sunday, so it's a good idea to serve some hot dips in addition to those intended to be eaten cold. Whether you want to use your microwave, oven, or stove to prep a warm dip recipe, we've got you covered.
Microwave Queso
What's the easiest possible way to make queso for super bowl Sunday? Dump a can of condensed nacho cheese soup into a microwave-safe bowl, then mix in an equal amount of your favorite store-bought salsa. Microwave on high for two minutes, stir, then microwave for another minute. Add more time if needed.
Helpful Hack
Add freshness by stirring in some fresh pico di gallo and chopped fresh cilantro just before serving.
Hot Spinach Dip
There are a lot of different ways to make spinach dip. This recipe for oven-baked spinach dip is one of the easiest - and best-tasting - you'll find. Basically, you'll just need to mix cream cheese, frozen chopped spinach (thawed and drained), sour cream, cheese, and dry vegetable soup mix.
Helpful Hack
Give your dip some beautiful color and flavor by adding jarred roasted red peppers. Drain a 12-ounce jar of roasted red bell peppers, chop them up, and stir them into the dip before baking.
Beer Cheese Dip
It's only fitting to cook at least one recipe that includes beer for the Super Bowl. This stovetop recipe for beer cheese dip is quite easy to make, though you'll want to put it together pretty close to the time you're going to serve it. You'll start by making a base of butter, onion, and flour, then whisk in beer, half-and-half, a few kinds of cheese, and some seasonings. The result? Maximum yum with minimal effort.
Helpful Hack
Keep your beer cheese dip warm throughout the game with almost no effort at all. Spoon the hot cooked dip into your slow cooker and set it on keep warm.
No-Cook Super Bowl Snack Boards
For the ultimate no-cook solution, put together a snack board or two for Super Bowl Sunday. The only thing that could be easier would be buying snack boards already put together (we won't judge if you do), but it's more fun (and cheaper!) to create your own.
Pigskin Charcuterie
If there was a Super Bowl of simple snacks, charcuterie boards would win hands-down. For Super Bowl Sunday, fill a tray with hearty selections suitable for a football crowd. Include several kinds of cured meats (pork, in honor of the pigskin theme), and chunks of cheese, along with crackers, dried fruit, and nuts.
Helpful Hack
Offer extra flavor by putting out a few different flavored mustards or spreads so everyone can make cracker and charcuterie sandwiches.
Deconstructed Nachos
For this extremely easy non-nacho but nacho-like dish, you'll need to cook a batch of taco meat. Then, simply spread a half-inch (or so) layer of sour cream on a plate, leaving room at the edges for chips. Spread cooked taco meat on top of the sour cream, then sprinkle cheese, diced tomatoes (fresh or canned), and olives on top. Place tortilla chips around the edges for easy scooping.
Helpful Hack
Take it to the next level by serving it alongside queso for a super cheesy nacho experience.
Fresh Fruit Tray
While you're putting together snack boards, fill one up with a variety of fresh fruit. Slice fruits like cantaloupe and honeydew and arrange them with foods that guests can just pop in their mouths whole, such as grapes, strawberries, raspberries, and blackberries. If any of the fruit goes uneaten, you can freeze it for smoothies or repurpose it in other recipes after the game.
Helpful Hack
Take it to the next level with an easy fruit dip. Combine 2 cups of Greek yogurt, 3 tablespoons of honey or pure maple syrup, ½ teaspoon of apricot jam, and ½ teaspoon of cinnamon. Mix well.
Don't Forget Bread, Chips, and Crackers
You'll need to provide plenty of ways for your guests to enjoy the delicious dishes above, so don't forget to put out a variety of dippable delights they can dunk into dips, slather with sauce, or use to make sandwiches.
Enjoy Making and Eating Easy Super Bowl Recipes
No matter what easy recipes you decide to put together for Super Bowl Sunday, you're sure to have a great time eating them while you watch the game. The options provided here taste as great as they are simple to make, so no one will even know that you chose the menu based on how easy the selections are to prepare. They''ll just know that you throw a mean Super Bowl party with great food, and they'll hope to be invited back next year.