Planning a birthday party for a two-year-old can be a challenging task, but if you focus on what your little one enjoys the most rather than picking a theme that you personally like, it will help you make the best theme choice and throw a more intentional and meaningful celebration.
Milk and Cookies
Milk and cookies is "two" sweet of a theme to pass. Celebrate your little one with this adorable theme by incorporating simple yet sweet party ideas for a fun-filled day! To keep things stress-free (because chasing a toddler is tiring enough), set up a cookie bar and opt for store-bought cookies to neatly display in labeled glass jars so guests know exactly what type of cookies you're serving. Set out glass milk carafes with options of whole, low fat, and plant-based milk. Finish the look by decorating your bar with a cookie themed felt party garland and balloons in the colors of your choice.
Jungle Safari
If you have "two" wild of a child at home, a safari themed party is a perfect fit. Establish the theme of your event with unique safari animal party decorations and tableware. For a safari theme for little ones, have wild animals figurines or plush toys in a basket and play soft music in the background to keep them entertained while parents socialize. In addition to a safari birthday cake, opt for easy snacks that are age appropriate, such as cut up fruit, veggies, cheese puffs, and yogurt bites. Keep in mind to make it all about your little one who is turning two!
Cotton Candy
Cotton candy is fascinating for little ones to look at. It also provides great inspiration to keep party ideas sweet to celebrate a special 2nd birthday. You can use a cotton candy cart as your focal point and spruce it up with a sweet fabric banner and balloons to match your color scheme. Assign an adult to make cotton candy for the little ones, or hire a professional spinner to help keep the event run smoothly. Invite parents to help the little ones with a sensory cotton candy craft using homemade puffy paint.
Tutti Frutti
Watermelons, oranges, grapes, kiwi...oh my! Tutti frutti is a cheerful theme fit for a toddler who loves munching on all kinds of fruit all day. Consider setting up a delightful fruit salad bar and give the guests the opportunity to customize their own fruit cups. Set out chopped fruit of your choice in individual bowls and fun toppings, such as shredded coconut, nuts, juice boba, chocolate chips, and oats in mini bowls. Whipped cream, orange juice, condensed milk, and maple syrup are wonderful choices to complement your fruit salad bar. For your guest's convenience, have cups, napkins, and spoons readily available. Make a statement and dress up your fruit salad bar with a festive tutti frutti balloon arch.
Ice Cream Social
Ice cream is always a good idea and if ice cream puts a big smile on your little one's face, this theme will bring joy and happiness into your household. In addition to an ice cream birthday cake, serving ice cream in waffle cups complete with birthday sprinkles will make your child the happiest birthday child alive. Bring the theme to life with wonderful ice cream party decorations.
Lollipop
Lollipops might be one of the first candies a toddler might try, so why not celebrate a special birthday with a darling lollipop theme? Keep it short and sweet with a dessert table featuring cute cupcakes decorated with lollipops, homemade cake pops, and extra lollipops in every flavor and color of the rainbow. Complete your party set up with giant lollipop decorations and balloons to coordinate.
Play Dough Fun
A hands-on birthday party theme is perfect to keep little ones entertained. For a safe experience, make non-toxic play dough ahead of time and store it in small containers. The exciting thing about making play dough is that you can customize it by adding scent and different natural color dyes. And if a little one happens to eat some of the play dough, there's nothing to worry about as it's completely safe to swallow. Plan yummy finger foods, snacks, and fruit pouches to avoid big messes and minimize cleaning time.
Pancake and Pajamas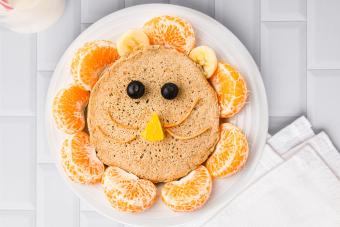 When there are pancakes involved, the party is bound to be amazing. Throw an intimate pancake party for your child to celebrate his second birthday with family and friends. Save yourself time and make pancakes in advance and freeze them until the special day so you are not flipping pancakes during the party. A kid-friendly pancake station complete with fun toppings and syrup is a great idea to keep things fun and interactive. Keep the decor simple with a themed items such as a happy birthday banner and a pancake bar sign. Encourage guests to come dressed in their pajamas for a fun and relaxing celebration.
Throw the Best Birthday Party Yet
When throwing a special celebration like a birthday party for a two-year-old, keep in mind your child is too little to even care if something didn't go as planned. Focus on the memories you will create with family and friends rather than hosting a flawless event, because when you are not worrying at all, you are already throwing the best party yet.