If your birthday is approaching and you are still undecided about what you would like to do on your special day, this great selection of birthday ideas will inspire you to start planning. Whether you are looking for thrilling outdoor activities or low-key yet meaningful experiences to kick off your birthday celebration, opt for an idea that will bring you joy and fulfillment.
Plan a Trip to Disney World
If visiting Disney World is on your bucket list, make it happen by planning ahead to celebrate big on your upcoming birthday. If budget and time permit, you can treat yourself to all four parks in two days. Make sure to stop by the Guest Services office to pick up your personalized birthday button and take advantage of the birthday perks throughout the parks, such as a free dessert or champagne toast with your dining reservation. Or you can add a little extra magic to your birthday lunch or dinner celebration and pre-order a Mickey Mouse celebration cake that can be added to your restaurant bill.
Take a Skydiving Class
Ready, set, go! Planning to do something thrilling to face your fear of heights? Make a skydiving class the highlight of your birthday! If this is your first time taking a skydiving class, you can opt for tandem skydiving which means you are harnessed to a certified sky dive instructor and you jump together, if you think you are not ready to practice belly flying, free flying, and sky boarding just yet.
Go on a Shopping Spree
If giving your wardrobe an update has been long overdue, your birthday is the perfect excuse to go on a shopping spree and splurge a little. Whether you are planning on purchasing pieces from designer or sustainable brands, be sure to invest in a few staple pieces and at least in one statement piece you can mix and match with any outfit to level up a look. If you have been meaning to add new vintage pieces to your wardrobe, you will be surprised about the unique pieces you might find at thrift stores.
Rent a Fancy Car and Go on a Road Trip
Renting that fancy car you have been daydreaming about is a great opportunity to take it for a test drive. Plan a road trip itinerary for your birthday and have a blast exploring new places you never thought existed. Whether you are thinking about visiting national parks or hitting the beaches, make sure you don't leave your house without a plan. It's important to take breaks and drive for no longer than eight hours a day to ensure you can stay alert and safely arrive at your destination.
Go on a Helicopter Ride
If enjoying breathtaking scenery as you fly over your own town has been on your list, a helicopter ride to celebrate your birthday would be an epic choice to kick off the special occasion. If you opt for an evening ride, you can get stunning views of your city lights from the air, so climb in and buckle up for the ultimate scenic flight.
Make Reservations at an Underwater Restaurant
Imagine enjoying your birthday dinner while experiencing exciting floor-to-ceiling panoramic views of the ocean. If you are traveling to a different city or country for your birthday, an underwater restaurant can offer a unique dining experience with fascinating sea creatures swimming right by your table for your special day.
Volunteer at an Animal Shelter
Volunteering at an animal shelter is a rewarding and selfless way to donate your time, especially if it's on your birthday. Shelters are always relying on volunteers to help care for the animals, clean cages, fill water or food bowls, walk the dogs, and play with the cats. Make sure you do your research before picking a shelter you want to volunteer for. Remember to call ahead to obtain all the necessary information in order to find a volunteer position that fits your capabilities and the shelter's requirements.
Take a Photography Course
If learning how to master your camera and take better professional-looking pictures has been one of your life goals, treat yourself to a digital photography course for your birthday. There is a wide array of photography online courses but nothing like a real hands-on experience to take your photography to the next level. You can have fun learning the magic of telling stories with pictures while sharpening your technical skills surrounded by like-minded people, such as yourself.
Learn a New Language
Learning a new language is one of the best gifts you can give yourself. Whether you choose a widely spoken language or one that can be useful on your next vacation abroad, learning a foreign language has amazing benefits. It helps understanding other cultures and gives you the ability to communicate and connect with people from all over the world in a more meaningful way. Not to mention you can stand out from the rest of the candidates when applying for your dream job.
Adopt a Pet
If you have been considering adopting a pet, it's time to make it happen if you think you are ready to take on the responsibility of owning a pet. Adopting a pet is not only the sweetest gift you can get yourself for your birthday, but you are also giving a loving animal a home and opening up shelter space for another animal who desperately needs it. Be sure to contact your local animal shelters to learn about availability, adoption process and fees.
Refresh Your Favorite Room in the House
Giving your favorite room in the house a new, fresh look sounds like the perfect project to tackle in preparation for your birthday. Replacing throw pillows with new ones in different colors, experimenting with a new paint color or wallpaper, and rearranging your furniture are easy and quick ways to refresh a room on a budget.
Become a Plant Person
Tired of having artificial plants only around your house and contemplating becoming the next plant person? The good news is you don't need to have a green thumb in order to have real plants in your home. You can start small and add plants that don't demand too much of your time and attention. Opt for houseplants that thrive indoors and prefer dry soil (which means frequent watering), but they can still add visual interest to your rooms.
Host a Creative Workshop
Do you have an amazing skill you have been meaning to share with others? Consider hosting your own creative workshop. Invite your friends over to your house or a studio space for a fun-filled day of learning, getting creative, and connecting with other like-minded people. Whether you are teaching watercolor or terrarium-making, hosting a creative workshop can be very rewarding and empowering to people who enjoy sharing their expertise with others.
Swim With Wild Pigs
Looking for a tropical paradise to spend your birthday in style? Consider going to the Bahamas. And if you decide to stay either in Nassau or The Exumas, you can book a day trip to see the famous swimming pigs. Swimming with wild pigs at the Pig Beach in Big Major Cay sounds like a unique and exciting idea if you are looking into taking your birthday adventure up a notch.
Take a Private Ski Lesson
Skiing is a great winter sport to take up, no matter the age. As a matter of fact, adults tend to do better at first than youngsters. Whether you are beginner or intermediate but haven't skied in a while, consider taking a private ski lesson if you don't feel confident about getting on a chair lift and hitting the slopes on your own.
Go on a Drive-Through Safari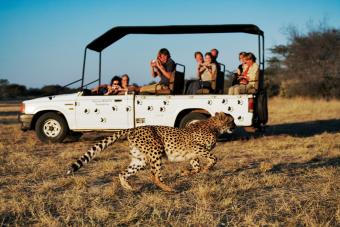 You don't need to go overseas to go on a fantastic drive-through safari; immerse yourself into the wildlife and experience majestic animals coming up to your car to nibble on feed (park-approved) from the palm of your hands. Whether you are driving your own car or joining a group of other people by taking the park's safari tour vehicle, this experience will be one to remember.
Start an Herb Garden
If you enjoy getting creative in the kitchen and growing your own fresh herbs to add to your dishes, starting an herb garden can be a great way to find something fulfilling to do on your birthday. Whether you are planning on an indoor or outdoor garden, be sure to do your research on which ones can tolerate direct sunlight (such as rosemary and basil) or herbs that enjoy cool, moist conditions (such as cilantro, parsley, and mint).) so you can provide your herbs the right conditions.
Get a New Hairstyle
If you are bored with your hair and craving a fresh new look, treating yourself to a new hairstyle for your birthday can be transformative and liberating. If you consider changing your hairstyle one of the wildest things you are about to do, make sure you pick a hairstylist you trust 100% and bring a picture of the exact style you are looking for to avoid unpleasant surprises.
Go Zip Lining
Looking for a thrilling activity to celebrate your birthday? An outdoor adventure park that offers an unmatched zipline experience, complete with scenic views that you can zip across canyons, trees or lakes, is the perfect idea to celebrate a birthday in the most exciting way.
Buy Tickets for a Broadway Show
If a Broadway show is coming to your town, it's your chance to experience a Broadway production without having to fly to the Big Apple and deal with all the costs involved with accommodations and transportation. Be sure to read the critics' reviews before purchasing tickets. You want to make sure it is the right show for you.
Have Fun in a Waterfall
You don't need to fly to a different country to see the tallest waterfall, unless you really want to. There might be plenty of choices near you that are fun and safe for any age. Since most waterfalls require a hike, be sure to do a little research so you can find a waterfall that you can access by an easy trek and are safe to splash in.
Catch Up on Your Reading Listing
If allocating 30 minutes to an hour in your daily schedule for reading has been an impossible task, take the day off on your birthday to relax and catch up with your reading listing. This is the perfect way to spend your special day if you are always on-the go and looking forward to a low-key celebration away from all the distractions.
Take an Art Class
Taking an art class can be intimidating to those who think they can't draw a straight line. The good news is you don't need to have amazing art skills to take an art class. Most art studios offer personalized instruction and you can work on a project that matches your own level. From traditional drawing and painting using acrylic paints to learning how to master the most important oil painting techniques, find a class that best suits your interests.
Go Fishing
Hooked on an idea to celebrate your birthday in a tranquil way? Find a public location that has a dock or pier access, if this is your first time fishing or you haven't done it in years. Gather your essential gear, such as a fishing rod, reel, line, baits, lures, and hooks. Be sure to fish at the right time of the year and the day. Whether you catch a fish or two, your experience is bound to be amazing.
Visit a Museum
If you are looking for something inspiring and educational to do on your special day, plan to visit a museum near you. A visit to one of your local museums is a great way to support your community as they are nonprofit entities that rely on the support of their visitors, members, and donors in order to keep educating and inspiring audiences.
Get Out of Your Comfort Zone
If you tend to do the same usual things every year, it's time to challenge yourself and try something new on your birthday. Getting out of your comfort zone from time to time can be a transformative experience you will never forget. Give it a try!