Turning 75 years old is a big deal. It is definitely a milestone birthday that deserves special treatment. Whether you are honoring your parents, grandparents, spouse, or a special friend, these 75th birthday ideas will provide you with creative yet doable ideas for a low-key celebration everyone will be thrilled to be part of.
Create a Family Photo Book
A family photo book is a meaningful and thoughtful gift you can create for someone who is turning 75 years old. Consider contacting family members and friends to collect as many photographs as you can to put together a wonderful photo book filled with sweet memories. Digital photos have become increasingly popular, but nothing can beat an old-fashioned photo book.
Spend Time Doing Crossword Puzzles
Crossword puzzles are not only a fun stress-relief but they also provide an excellent way for adults to strengthen their brain function. Another positive benefit is that they give the opportunity to strengthen bonds between people. If you have a senior in your life who loves to spend time doing crossword puzzles, join in on the fun for some special birthday bonding time.
Get an Audiobook Subscription
If you have a book lover in your life who loves the convenience of listening to audiobooks wherever they go, consider getting an audiobook subscription as a birthday gift. Who wouldn't be thrilled about being able to access unlimited audiobooks and podcasts?
Organize a Music Playlist
Listening to music promotes overall mental and physical health, and it can also trigger long forgotten memories through the enjoyment of listening, dancing, and singing. Organizing a music playlist for someone can be a wonderful birthday gift as it requires a lot of time and effort to search and gather their favorite hits in one place.
Order a Family Photo Jigsaw Puzzle
Jigsaw puzzles have proven to exercise the left and right brain simultaneously and improve short-term memory in older adults. Surprise your loved one with a custom jigsaw puzzle you can order online using a great family picture that will not only provide entertainment, but it can also be a keepsake to treasure.
Customize a Coffee Mug
If you have a coffee lover in your life who loves collecting fun mugs, you can help expand the collection with a new fun mug and it doesn't hurt if it provides some humor either. You can search online for mugs that fit your loved one's personality or you can customize your own with your own text.
Purchase a Birthstone Jewelry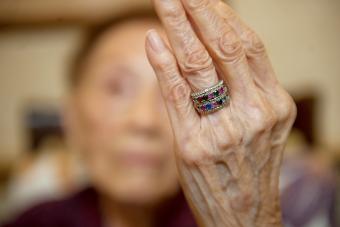 Birthstone jewelry is a delightful gift to give to someone on their special birthday. Before you make that decision, refer to the birthstone chart by month and jewelry suggestions to help you purchase the right piece for your loved one.
Craft the Sweetest Birthday Card
Seniors truly enjoy when their kids or grandkids make them something special for their birthday. Get your craft on and create a sweet birthday card. It's a sweet gesture they will appreciate and treasure for years to come.
Host a Vintage Tea Party
Senior adults absolutely treasure time spent with family and friends, so make the birthday occasion a memorable one by organizing a vintage tea party where everyone can socialize, play a card game while sipping their favorite tea, and nibble on delightful finger foods.
Play Bocce Together
Playing bocce ball is perfect for the competitive at heart. If your loved one enjoys venturing outdoors and getting active, bocce ball is an excellent and safe activity for seniors. The balls have a foam core, making bocce the ideal light cardio sport for senior adults who are just looking for a fun yet competitive way of getting their exercise in while socializing with others. Gather a small group of friends and enjoy playing bocce together for a one of a kind 75th birthday celebration.
Plan a Mahjong Session
Mahjong is a brain game that has proven to keep senior adults' memory-preserving neurons in a healthy state as they have to remember the other players' cards and stay focused to win the game. Plan a game of mahjong to celebrate a special occasion, as the game is a low-cost entertainment activity that provides great health benefits too older people and gives everyone the opportunity to socialize and get into a healthy competition.
Plan a Serenade
If your loved one is not able to venture out for fun, bring the entertainment to them. If there are family members who can sing and play a musical instrument, plan a lovely serenade that will warm their hearts and make the birthday occasion extra special.
Host a Pool Party
A pool party is the perfect idea for someone who is turning 75 years old. Playing in the water boosts mental health and improves flexibility and muscle strength. Be sure to have fun pool floats available for guests who enjoy relaxing in the pool while sipping delicious refreshments.
Sign Up for Water Aerobics
Any physical activity is wonderful for overall mental and physical health, but if you are looking for the perfect low impact exercise, water aerobics is a great option for getting the heart pumping and blood flowing without possible injuries. Not to mention, it is a joint-friendly activity that gives the opportunity for social interaction through movements. A month or two of paid water aerobics classes can be truly beneficial to your loved one.
Have Fun Knitting Together
As seniors knit, the heart rate slows down and blood pressure lowers, inducing a state of relaxation. When they are knitting, they are using many parts of the brain at the same time, which can help with hand-eye coordination and keeping the brain sharp to delay cognitive impairment. If knitting is not something you are familiar with, it is a great opportunity to learn something new from an expert and perhaps start a new hobby.
Start a Keepsake Quilt
If your loved one who is turning 75 years old loves to quilt, suggesting to start a new quilt project together will make their day. Quilting together will give the both of you a creative outlet and provide relaxation and an opportunity to strengthen your bond with your loved one. Craft a special quilt such as a keepsake quilt in which you can incorporate family photos, scraps of fabrics from old clothes and blankets.
Have Fun Watercolor Painting
Watercolor painting is a wonderful art therapy no matter the age. It boosts the mood, encourages socializing, and increases motor skills and coordination. Plan a watercolor painting session to celebrate a special birthday. Everybody can join in on the fun and express themselves through painting while spending quality time with family and friends.
Get Your Planning On
Planning ahead is key for a successful celebration. Keeping your loved one's hobbies and preferences in mind is a great way to narrow down your ideas before deciding on the perfect gift you are hoping to be useful or hosting a party you know for sure the birthday honoree will truly enjoy.