Plan a Baby Shark birthday party that will have your young child singing for joy. With bright colors, ocean-themed decor, and fun Baby Shark-themed party food, your birthday bash will be a hit. You might have the catchy song stuck in your head for a few days, but the smile on your child's face with be totally worth it.
Plan a Baby Shark Pool Party
The only thing better than a pool party is a Baby Shark pool party. Give your child an unforgettable celebration by inviting all their friends over for a birthday splash featuring their favorite cartoon shark.
Host a Baby Shark Party on the Beach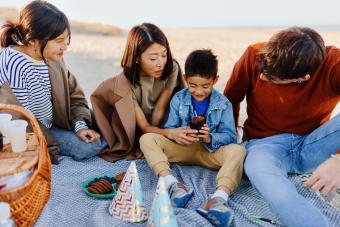 A birthday bash by the ocean is the perfect setting for a fun Baby Shark party. Bring picnic party food, encourage guests to arrive with towels and sunscreen, and have plenty of beach toys packed for entertainment. Hopefully, the only sharks at this party will be the ones on the cupcake toppers.
Bust Out the Bubble Machine
Make your Baby Shark party feel like it's actually happening under water. With a few bubble machines in your backyard, your child and all their friends will feel like they are swimming with the fishes.
Use Blue Streamers to Create an Ocean Setting
Set the ocean stage for your party with dark blue, shiny streamers. Hang them for a fun backdrop so kids can snap a photo, or line your dessert table with streamers to create a floating food spread. Add a few strands of green for just a touch of seaweed.
Decorate With Seashells
Colorful seashells placed among your party decor will level up your Baby Shark theme. Use small shells in place of confetti on a table or use them to decorate place settings in a fun ocean theme.
Include Shark Inflatables
Whether you're by the pool or celebrating in a decorated dining room, a few inflatable sharks will bring tons of fun to the party. Find sharks in various colors to represent all the beloved characters in the famous Baby Shark song.
Add Other Sea Creature Details
Remember, Baby Shark has plenty of sea creature friends! Include a few in the decorations and details of your celebration. Starfish, crabs, sea turtles, and octopuses all appear in the Baby Shark world.
Serve Tropical Snacks
Keep little partygoers happy and nourished with a tropical fruit spread for grazing. Serve pineapple, mango, and orange for a sweet and seashore-themed party snack.
Offer Goldfish Crackers
Serve up a bit of "shark food" with plenty of goldfish cracker snacks. Try a large grazing board featuring all the fun fish cracker flavors you can find, or try individually portioned cups that little guests can grab.
Prepare Blue Jello Cups
There aren't many foods that look as bright and blue as the ocean, but a vibrant blue jello cup is definitely a great option. You can fill the jello with shark-shaped fruit snacks or even an assortment of tropical fruits. Add a little whipped cream on top of each serving to mimic the look of sea foam.
Serve Shark Bait
If you want sharks to show up to your party, you must have the right bait. A selection of colorful and tasty gummy worms will attract all the cutest sharks to your celebration.
Make Blue Ocean Punch
For a group of partying sharks, only the best ocean-blue punch will do. Blue raspberry fruit drink packets mixed with sugar, ginger ale, and topped with sherbert will produce a vibrant and foamy blue punch that looks exactly like ocean water. You can add little umbrellas to each drink for an extra tropical detail.
Offer Ocean-Inspired Desserts
There are countless treats to offer on your Baby Shark dessert table. Octopus cake pops, starfish cookies, and Baby Shark cupcakes will be a hit with all your young guests. You can even include a bowl of colorful candies or fruit cups with plenty of whipped cream on top. A platter of seashell meringues or macarons would be a hit with kids and adults.
Present a Colorful Baby Shark Cake
A Baby Shark-themed cake can be simple and fun. Use your Baby Shark cake topper on a vibrant rainbow cake. With all the colorful characters in the Baby Shark world, a rainbow cake will perfectly match any cake topper you choose.
Play Pin the Fin
A fun twist on a classic party game, pin the fin on baby shark will get all the giggles from your little party guests. Print the classic Baby Shark character on photo paper or cardstock and cut fins from the edges of paper plates. You can paint them in many colors, but make sure you include the signature yellow fins of the famous Baby Shark.
Send Guests Home With Sea Creature Treats
A cute and delicious gourmet cookie that looks exactly like a sea creature is the perfect parting gift for your little party goers. You can even send them home with their very own Baby Shark cookie for a tasty memory of their day at sea.
Host the Birthday Splash of the Year
The best birthday part ever, doo doo doo! Your child will never forget the Baby Shark-themed party that you lovingly planned. With tons of ocean and sea creature details and maybe an appearance or two from the famous Baby Shark, this will be the splash of the season.