From Soul Train to Studio 54, disco still has its glitter-covered claws deep in American pop culture. They might've tried to kill it in 1979, but disco will never die, and you can revive it in your own way with a disco party. With a whole decade to gather inspiration from, there's an endless supply of things to look at for disco party ideas, but we've pulled together all of our favorites just for you.
Decorations Made for a '70s Discotheque
Studio 54 was the place to be in the 1970s. Blasting disco music, mixing famous people from all industries, and exploring ecstasy through non-sober ways, discotheques like Studio 54 were all the rage. You only need to look at how they outfitted their large and bright dance floors to get an idea of the best ways to decorate your own disco party.
No matter what your budget is, we've got some disco decoration ideas for you to turn your living room or rented club into a disco paradise.
Colored floor lights - Lighting was the most important decoration for discotheques. You can set up lights on the floors, string lights, or even put up fairy lights and shine them against your walls to create a colorful, whimsical space.
Mirror balls - The mirror ball (aka disco ball) is a must-have for any disco party. Keep in mind that disco balls have to be mounted to the ceiling or hung from a special stand, so don't forget to order every piece you need to spread the mirror ball shine around the room.
Light-up dance floor - If you're really dedicated to making this an authentic disco and you've got cash to burn, you can buy a light-up dance floor. These dance floors made of light-up tiles are pretty costly, so keep that in mind.
Studio lights - Classic studio lights are a must for a disco party. These are circular lights you've probably seen lighting up a theater stage were everywhere in the '70s.
Balloons - Even in the '70s, people loved having some balloons around. The more you can pump up and add to the room, the better.
Lounge couches - Dancing can take a whole lot out of you, so you want to give your guests somewhere to rest. Set up a few couches or low cushions on the edges of your dance area for guests to sit, mingle, and rest their feet for the next round of "The Hustle."
Confetti - Shiny confetti is a great way to electrify your dancing crowd. Just remember that your confetti needs to be in bright colors and as shiny as can be.
You Can't Have a Disco Without the Music
At the heart of the discotheque experience is bopping along to infectious music with some great choreographed '70s moves. From heart-stopping beats to airy vocals, 1970s disco artists pumped out hit after hit. These songs were so pervasive that, by the end of the decade, people were willing to burn their disco records in a desperate call for something new.
Thankfully, these songs still hold up after 40+ years, and they'll have you and your friends boogying the night away in no-time.
Bee Gees "Stayin' Alive"
Bee Gees "Night Fever"
Bee Gees "Jive Talkin'"
Kool & The Gang "Celebration"
Donna Summer "Hot Stuff"
Donna Summer "Last Dance"
Donna Summer "Bad Girls"
KC & The Sunshine Band "Boogie Shoes"
KC & The Sunshine Band "Get Down Tonight"
KC & The Sunshine Band "That's the Way (I Like It)"
The Trammps "Disco Inferno"
Chic "Le Freak"
Chic "Dance, Dance, Dance (Yowsah, Yowsah, Yowsah)"
Sister Sledge "We Are Family"
Diana Ross "Love Hangover"
Gloria Gaynor "I Will Survive"
Anita Ward "Ring My Bell"
The Village People "YMCA"
Earth Wind & Fire "Boogie Wonderland"
Van McCoy "The Hustle"
Vicki Sue Robinson "Turn the Beat Around"
Peaches & Herb "Shake Your Groove Thing"
The Jacksons "Blame It on the Boogie"
Fashion Ideas to Dance the Night Away With Ease
Disco spanned an entire decade, and countless fashion trends came and went. But if you want your guests to really feel like they stepped through the doors of Studio 54, then you can suggest these '70s disco staples. The best part? You don't have to stick to straight vintage. Incorporate pieces from your closet with thrifted items to make an outfit with the perfect carefree energy.
Loose, chiffon dresses - Loose dresses - often with an off-the-shoulder neckline made in airy fabrics like chiffon - were incredibly popular for more traditional disco goers.
Leisure suits - The 1970s was the home of the leisure suit. Just make sure your pants reach all the way above the hips, and your shirt is unbuttoned at least to the mid-chest for the ultimate effect.
Wide collars - Really wide collars were hugely popular in the '70s. But, if you can't find wide collars, you can turn to layering a vest or sheer top over a collared button-down, and just pull the collar over top.
Platforms - You'll probably end up taking these off at some point during the night, but platform shoes are so connected to the '70s that they instantly give off that aesthetic.
Metallics - Clothes in shiny metallics were popular for some club goers in the '70s.
Halter neck - Whether it's dresses or tops, halter necks had a grip on disco queens.
Strappy shoes - If you don't want to break your neck in a pair of platforms, try on a pair of strappy sandal heels instead.
Satin shorts - For all the vintage fashion that's made a comeback, satin shorts haven't just yet, but if you show up to your disco wearing them, you might spark a new-old social media trend.
Animal prints - You can experiment with all kinds of animal prints thanks to the variety of them you could find in discos across the world in the '70s.
Roller skates - If you're feeling adventurous, bring a pair of roller skates to the disco party. People did disco in roller skates back in the day, and with a little practice, you can too.
Disco Drinks and Eats
To keep your guests from getting exhausted with all the dancing, prepare them a retro spread full of the best snacks and drinks the 1970s had to offer.
Cocktails
With dirty names and dirtier ingredients, drinks from the 1970s are pretty easy to prepare at home. Made out of bold flavors paired with creams and juices, there's a 1970s cocktail for every kind of palette.
Food and Desserts
If you've ever cracked open a recipe book from the mid-century, then you know how unhinged some of the popular potluck dishes were. From questionable meat spreads to centerpieces that have no business being preserved in gelatin, the 1970s had its fair share of bad trends. Thankfully, we've curated the easiest and tastiest appetizers and desserts from the decade for you to choose from.
Try some of the best finger foods for dancing the night away.
Finish the party with delicious desserts.
Movies to Set the Mood
Take the experimental art-house idea of projecting images onto the background of a party and mix it up by putting on any of these disco-tastic films from the 1970s featuring lots of dancing, questionable fashion choices, and delicious drama.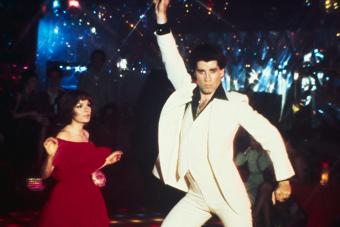 Saturday Night Fever - This classic Travolta filmwas a love letter to disco.
Car Wash - Spend a day in the life of a group of 70s car wash employees.
Xanadu - Olivia Newton John's turn as a dream girl will make you want to put on your skates and disco in them.
Thank God It's Friday - Take a peek into the lives of the patrons at a 70s disco. With performances by Donna Summer & The Commodores, it's a can't-miss disco flick.
Can't Stop the Music - If you're a fan of The Village People, then you're going to love this pseudo-bio with its fun disco beats.
Skatetown, U.S.A. - Strap on your skates and head to the roller disco with the likes of Patrick Swayze, Scott Baio, Flip Wilson, and Maureen McCormick.
Hustle on Down to Your Next Disco Party
Disco, at its core, is all about good times and good vibes, which makes it the perfect party theme. You can dress up a disco for a lavish event or dress it down for a simple get-together among friends. Either way, your guests will feel like they time-traveled into Studio 54 thanks to all your hard work at putting together the greatest dance party possible.