Give your next gathering a decorative upgrade with beautiful floral displays. Whether you're planning a bridal shower, a birthday bash, or a celebratory brunch, a few floral party decorations can take your soiree from simple to stunning. Use creative styling and plenty of gorgeous blooms to plan a party with floral flair.
Use Modern Whimsy at a Brunch Party
A sophisticated brunch gathering calls for floral party decor that feels modern and fun. Use a combination of elegant blooms and wild greenery for a whimsical centerpiece that feels high end. Display your flower arrangements in contemporary vessels like bamboo bud vases, black ceramics, or smooth concrete containers.
Arrange Traditional Greenery for a Sophisticated Bridal Shower
If you're planning a bridal shower, florals are a must. Look for ways to use greenery in traditional fashions for an elegant display. Tall flower arrangements, floral arches, and vine runners will give your bridal shower a neutral backdrop so the bride-to-be takes center-stage.
Choose Feminine Florals for a Stylish Birthday Dinner
For a 30th birthday bash or just a fun celebration with the girls, stylish florals with plenty of feminine details will instantly elevate your gathering. Use vibrant pinks, creamy whites, and rich reds to create a sweet backdrop for all the celebratory selfies. Look for structured, yet soft, floral displays to create a delicate atmosphere that feels cosmopolitan.
Go Big & Bold for an Engagement Party
Throw a party in honor of the happy couple with blooms as big and bold as their love. Look for opportunities to use over-the-top displays and try to select flowers that are classy but styled interestingly. Striking floral party decor will give any gathering an exciting twist that wows the guests.
Dress Up a Girl's Birthday Party With Bright & Colorful Blooms
For girls of nearly any age, a bright and colorful display of flowers will add a bit of elegance to a birthday party. Whether it's a spa party, tea party, or just a lunch party for girlfriends, a few vases of flowers in fun colors will dress up every table. You can even send small arrangements home as party favors.
Plan an Elegant Baby Shower With Ornate Floral Displays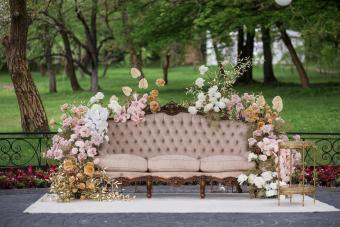 Baby showers don't have to be cutesy or specific to a single theme. You can plan a baby shower that is upscale, regal, and truly unique. Large floral displays alongside vintage furniture will instantly elevate this type of celebration. Look for muted, neutral, or pastel blooms to add even more elegance.
Use Richly Colored Flowers for an Understated Celebration
Deep jewel tones, dark reds, and shades of golden yellow will bring effortless style to your family reunion or anniversary party. Use florals in understated ways to keep the setting casual. Try displaying flowers and greenery in small vases or beakers for a laid-back vibe that is still thoughtfully executed.
Bring Rustic Charm to a Mother's Day Cookout
Celebrate the moms in your life with a fun family gathering. Bring style to a laid-back cookout or an afternoon potluck by adding floral centerpieces to picnic or folding tables. With coordinating runners, place settings, and creative uses of display, your casual get together will feel like a party planned by a pro. You can even send all the mothers home with their own centerpiece to keep.
Get Creative With Wildflowers
Whether it's an impromptu gathering among friends or a fun dinner party with loved ones, a few displays of wildflowers will show guests you know how to throw the best celebrations. Dress up your outdoor dining table with large colored vases full of flowers from your own local area or impress guests with wildflower bunches at each table setting.
Choose Moody Nature Details for an Intimate Gathering
For a small gathering of friends or an intimate celebration among family, look for nature details that are dark and moody. Use plenty of rich greenery alongside twinkle lights or candles to create an otherworldly atmosphere or even a romantic setting for a small anniversary or engagement party.
Wow Your Party Guests With Florals
You can elevate any gathering with a few floral displays. If you're looking to throw a whimsical birthday party, a feminine soiree, or even a casual get-together, floral party decor can help set the right mood. Whether subtle and simple or bold and over-the-top, choosing the right flowers for your next celebration will have guests gushing over your party planning skills.