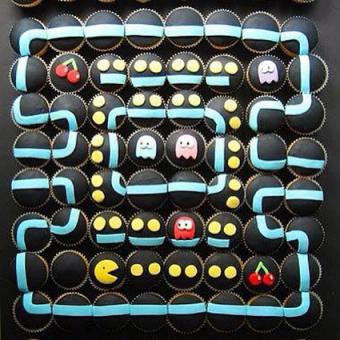 Throwing a party with an 1980s theme is fun for people of all ages. With a variety of food options and menu ideas that are reminiscent of that decade, you can easily transport your guests back in time as you give them a delicious meal.
Casual Party Menu Ideas
A fun and informal menu is perfect for a casual party with an 80s theme. This type of menu will work well for anything from a get-together with friends to a summer party. You can set up food on a buffet and guests can just help themselves.
Some great items to serve include:
Appetizers: Potato skins, spinach dip in a bread bowl, jelly-glazed meatballs served in a Crock-Pot, and nachos with cheese and jalapeno peppers
Salads: Seven layer salad, ranch pasta salad
Main dishes: Mexican entrees such as burritos and tacos; offer toppings such as shredded cheese, lettuce, salsa and sour cream
Dessert: Cookies with neon-colored icing, dirt cake or Jell-O poke cake
Serve wine coolers, soda and seltzer water as beverage options. If you want to go a step further, make colored ice cubes to add to your drinks. To do this, mix food coloring and water or your favorite drink mix and water, and freeze the liquid in ice cube trays. Drop the cubes into clear seltzer for a special touch.
Formal Dinner Party Menu Ideas
Surprise your guests at your next dinner party with a menu taken right from the 1980s. You can serve this menu as a sit-down dinner.
Consider serving:
Appetizers: Assorted cheese and Ritz crackers, bread, and fresh fruit
Salad: Caesar salad or garden salad with raspberry vinaigrette
Main dish: Blackened chicken or fish
Side dishes: Fresh green beans with sliced almonds, baked potatoes with butter and sour cream
Dessert: Turtle Cheesecake
Serve sparkling wine, seltzer water, and flavored coffee as beverage choices.
Menu Ideas for the Kids
Kids can enjoy an 80s theme just as much as the adults. Whether it is a back-to-school party, a birthday or just a day with friends, this type of menu is ideal. Favorites among kids have not changed much over the years.
Some kid-friendly menu options to consider include:
Main dish: Make your own pizzas with a variety of toppings such as cheese, pepperoni, mushrooms, and pineapple
Side: Kraft Macaroni and Cheese
Snacks: Combos, Fruit roll-ups, and popular 80s candies such as ring pops and Nerds
Dessert: Pac-Man cupcakes, cookies decorated with unicorns and rainbows, homemade frozen pudding pops
Serve juice boxes and Capri Sun as beverage options.
1980s Birthday Celebration Menu Ideas
An 80s theme birthday party is a fun option for a guest of honor who grew up in that decade, as well as anyone who appreciates the unique culture of the 80s. The birthday cake may be the star of the menu, but be sure to include some other fun options as well.
Birthday party menu ideas include:
Appetizers: Cool Ranch Doritos, chicken wings, and cheese sticks
Main dishes: French bread pizzas, mini steak and cheese sandwiches, or sandwiches cut into fun shapes such as Pac-Man
Dessert: Birthday cake decorated in neon-colored icing with a saying written on it such as "I Love the 80s!" and decorations like a Rubik's Cube or a cassette tape made from fondant
Serve soda and Hawaiian Punch as beverage options. You can also make a fun cocktail for the adults such as a Miami Vice.
1980s Party Menu Fun
Parties with an 80s theme are always a lot of fun. Be sure to include a variety of food items that were popular during that time to make your guests feel as if they were reliving that decade. You may be surprised by how many foods that were first introduced in the 80s are still popular today.