Finding the perfect party ideas for teens can be a daunting task, but with a little strategic planning, you can host a successful party your guests will always remember. From epic outdoor adventures to low-key get-togethers out in the backyard or at the beach, select teen party ideas that will keep them engaged so they can have the best time celebrating a special day among friends.
Funtastic Party Ideas for Teens
Parties are meant to be fun, and these party ideas for teens are designed for exactly that--having a good time. So bring fun to your teen's life with these funtastic teen parties.
Glow-in-the-Dark Bowling
Gather a group of teenagers for a fun celebration at a bowling alley that offers a glow-in-the-dark bowling (also known as Moonlight bowling) experience with great music, glowing pins, and black light effects. Moonlight bowling gives the kids loads of fun and chances to win cash and prizes! Whether you are hosting a bowling party for a small or large group, be sure to reserve your spot in advance to secure your lanes.
Luau
If hitting the beach with a group of teenagers is not in the plans, transform your backyard into a tropical paradise and host the ultimate luau party for the teens. Set up a kid-friendly tiki bar to serve nonalcoholic tropical drinks and fresh coconut water, set the mood by playing luau music in the background, and keep the menu simple with delicious luau inspired foods. Consider assigning an adult to grill pineapple chicken kebabs for the kids or have Hawaiian pizza delivered to your party. To keep the party going, plan a few luau party games and activities that may appeal to a group of teens.
Color Powder Fun
This is messy but such fun. Your teen will be delighted to invite friends over for a color powder fun for an epic colorful celebration. You can purchase color powder online or make your own. When sending out invitations, ask guests not to wear their fanciest clothes, but comfortable pieces they don't mind if they get stained. Remind all guests to bring swim goggles and a change of clothes for when the color powder fight is over.
Karaoke
Break out the karaoke machine and host a memorable karaoke party to encourage teenagers to get their groove on and feel like a pop star for a day. If you don't own a karaoke machine, you can either rent one or download a karaoke app for your computer or tablet that you can provide the most authentic karaoke experience to your guests, an experience almost comparable to a real karaoke machine.
Disco Dance
It's time to put that disco ball that has been sitting in the garage to great use. Hosting a disco dance party for teenagers is a wonderful theme to keep them off the screens and encourage them to socialize while having a blast showing off their dance moves. Have guests wear 70s inspired outfits and make fun photo props available for those who enjoy taking selfies with a group of friends.
Outdoor Teen Party Ideas
If your teen likes to spend time in the great outdoors, these seasonal party ideas for teens are a fun way to celebrate.
Bonfire
Time to turn up the heat and host a memorable bonfire party because there's nothing more special and fun than gathering around a fire to enjoy a fantastic night with friends. For a fun and safe experience for all your guests, opt for a fire pit rather than digging a hole in your backyard. Plan finger foods and drinks the guests can enjoy before all the fun of roasting marshmallows for s'mores making starts. Set up a table for s'more kits and hot cocoa where guests can easily help themselves.
Pool Float Party
Add a fun and unique spin to the usual pool party and ask guests to bring their own cool float to share with friends. If your pool is not large enough to easily accommodate various pool floats, assign only a few guests to bring their favorites. Serve up cold sub sandwiches, such as ham or turkey and cheese, individual bags of potato chips, and fruit cups to minimize clean up after the party. If you have a slushie machine, you can set up a small station where the kids can have a blast making their own refreshing slushies.
Snow Tubing
If your child's birthday is in the winter time and you would like to venture out with a group of teenagers, snow tubing offers loads of fun. Purchase tickets in advance to secure spots for all guests and remind them to wear waterproof pants, jackets, and boots to ensure a comfortable experience for everyone. After all the snow tubing fun, you can plan to bring the kids back to your house for pizza, drinks, and birthday cake. If time allows, add a movie to mix.
Cabin Fun
Looking for epic adventures to celebrate your teen's birthday? Renting a cabin in the woods or near the water for the weekend can be a ton of fun for a group of teenagers who enjoy the outdoors. Whether you are planning to invite a large group of kids or keeping it intimate with a few close friends only, make sure to book a cabin that can comfortably accommodate your party. The teens can go on a hike, swim in the lake, and sing happy birthday under the stars.
Outdoor Movie Night
Transform your backyard into an epic outdoor movie theater to host a memorable birthday celebration for your teen. Set up your movie projector in advance to make sure everything works properly the day of the party. Arrange comfortable seating have guests bring their own blankets and pillows. Assign an adult to be in charge of a popcorn machine and set up a table with movie theater inspired snacks and drinks. If you are hosting your party by the pool, have pool floats available. The teens can have fun swimming, playing pool games, and even enjoy the movie while in the water.
Beach Soiree
If you are looking for a more elegant way to celebrate a teen who loves the beach and enjoys soaking up the sun with friends, plan a beach soiree to celebrate in style among family and friends. You can host your event at a restaurant with a large patio for entertaining overlooking the beach. You and special guests can enjoy a fancy dinner while watching the sunset.
The Biggest Inflatable Lake Park
Gather a group of teens for a fun filled day of massive obstacle courses, climbing towers, free-fall slides, balance beams, and trampolines at an epic inflatable water park on the lake. You can plan a picnic style menu for when the teens decide to take a break from all the fun. Adults can relax in hammocks while sipping libations.
Al Fresco Dining
If your teen enjoys more intimate and low-key celebrations, an al fresco dining experience can be a unique way to get together with friends for a birthday party. You can take the stress away from cooking and hire a catering company to ensure dinner is served promptly. If you are hosting the party in your backyard, decorate it with string lights and candles to set the mood for an exciting dinner.
Teen Parties for the Creative Soul
For teens seeking self-expression, these creative teen party ideas are bound to be a hit.
Tie-Dye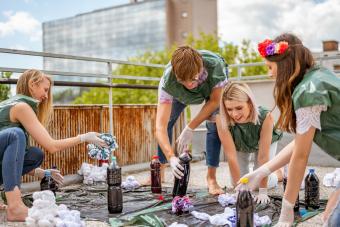 A tie-dye party can be a messy theme option, but it's fun guaranteed. Guests can bring their own white pieces, such as shirts, socks, and even shoes, to the party while you supply tie-dye kits that come with everything the teens will need to tie dye their hearts out. Host your party outdoors by setting up a large table covered in plastic tablecloth, buckets to tie dye in, and plastic bags for the kids to take their tie-dye creations home.
Pizza Making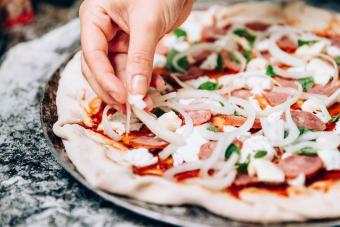 Pizza is definitely a favorite among teens. Make pizza the focal point of your teen's birthday party by setting up the ultimate pizza making station. To keep things quick and easy, opt for store bought pizza crust to minimize prepping and baking time. Set out jars of tomato sauce, condiments, and popular toppings such as shredded cheese, fresh mozzarella, pepperoni, and crispy bacon bits.
Bake Off
Host a teens bake off party in which the guests can get creative with designing their own masterpieces, learn a new delicious recipe, and see for themselves what goes into their favorite treats. The teens can work in teams to bake and decorate based on the concept they have come up with together. Be sure all guests have access to an oven and have a large countertop to work on.
Party Ideas for Connected Teens
If your teen always has a device in their hand, then these party ideas are perfect!
Video Games
Hosting a video games party doesn't necessarily mean the kids should be glued to their electronics playing video games. Host a video game party by narrowing down to a theme your teenager absolutely loves so you can easily plan party decorations, food, and activities inspired by the theme. If your teen is into Fortnite, you can incorporate a Llama piñata and have a Fortnite basket filled with goodies for the kids, such as slurp juice and V-bucks chocolate candies.
TikTok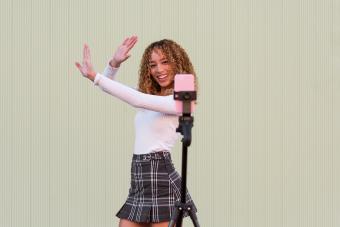 If your teen loves TikTok, a party around this trendy theme can be a great idea to invite a group of teenagers for a cool birthday celebration. You and teen can come up with a fun new challenge and encourage the guests to create their videos using a branded hashtag. To create your custom TikTok challenge, you need to come up with a creative idea, set your main objective and clear rules, then publish your TikTok challenge video. Be sure to create a challenge that's fun and safe for the teens. A dance or singing challenge would be a great option to keep the party going. A Tik Tok party package will help you establish the theme and add more character to your party.
Just Add Food and Activities
Whether you are planning a big epic celebration or keeping it intimate among family members and close friends, remember to cater to your teen's needs by planning a wonderful menu consisted of tasty party food and activities to keep the celebration going.