Black History Month celebration ideas offer everyone an opportunity to delve into the lives of important African Americans as well as understand more about African American history and culture. Use activities and events to really push understanding of the African American culture, inclusion and equality at school, work and home.
Celebration Ideas for Kids and Schools for Black History Month
Black History Month is an important time in schools to look at historical achievements, movements and culture of black Americans in the U.S. Try to get your classroom involved in the celebration of the history through a few ideas.
Artistic Movement
Harlem Renaissance was an important cultural and artistic movement of African American culture that included prominent writings and works of arts. Allow students to explore the Harlem Renaissance by emulating the works of some of the most prominent figures like Langston Hughes, Zora Neale Hurston, Aaron Douglas, Lois Mailou Jones, etc. Depending on the work, you could:
Use their works to decorate your room
Create a mural project honoring the month
Have a poetry reading or slam
Not only does it allow them to explore the movements of culture at the time, but it can give them a deep appreciation for African American arts.
Celebrate With Music
Allow students to create a playlist of famous and inspirational African American music artists. Each student or group of students could create a playlist for a specific genre like gospel, R&B, jazz, pop, blues, etc. Explore and celebrate artists like Aretha Franklin, Louis Armstrong, Duke Ellington, James Brown, Prince, and more. They might even give a little speech on why they created their playlists. Play the songs throughout the month to allow students to celebrate and appreciate these great artists.
Dramatic Reenactments
A series of dramatic reenactments can be held each week during the month of February. Reenactments could include one-person monologues or short skits. Common topics could include Martin Luther King Jr.'s "I Have a Dream" speech, Rosa Park's bus incident, or Olaudah Equiano's narrative on transatlantic slavery. Not only do the actors get to enjoy the history but the spectators do as well.
Scavenger Hunt
Organize a scavenger hunt. This works great in a classroom. Create a series of questions that pertain to famous African Americans and instruct students to find the person that matches the question by looking through books, websites, and informational posters. This is both an educational and fun activity that students of all ages can enjoy.
Ideas for Celebrating Black History Month at Work
Getting into the spirit and celebrating Black History Month doesn't have to stop at school. There are several ways that you might choose to celebrate the month at work too.
Celebrate With Social Media
Use your work social media site to post facts, quizzes or artwork about famous black Americans, historical sites or businesses in your area. Post quotes from famous African American leaders like Martin Luther King Jr. and Maya Angelou. Get your whole office involved on the fun by having online quizzes and giving gifts. It honors the month by spreading awareness, enforces business culture and its fun for workers.
Hold an Event Celebrating a Historical Black Figure
Have a luncheon honoring famous or influential African American individual in history. Invite an influential or prominent African American senior, leader or worker as a guest speaker to come in and discuss the impact or influence that person or their contributions have made on them. Not only does this work to celebrate African American history month, but it also celebrates diversity and inclusion within the workplace.
Poster Up the Place
Allow workers to create or bring in their favorite or uplifting Black History Month posters to be placed in the reception area, their cubicles or lunch areas of the workplace. These could be quotes from famous African American figures, like W.E.B. DuBois or Oprah Winfrey, or highlighting famous African American leaders and their achievements. Allow your workers to get creative with their posters to add their own personal touch. Create a Black History Month wall in your reception area to let your clients get in on the celebration.
Support Historical Nonprofits That Serve the African American Community
Encourage your company to host a service day where workers volunteer, donate or in some way help historical nonprofits that serve or are designed for African Americans within the community. The availability of nonprofits within your area might vary but can include National Urban League, NAACP, to name a few. Working together to help the African American community while celebrating Black History Month is a great way to build connections while honoring great historical foundations.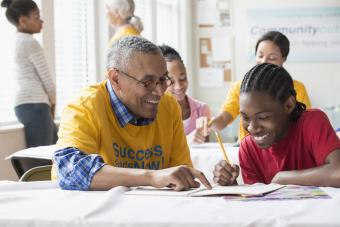 Ways to Celebrate Black History at Home
Celebrating Black History Month at home doesn't need to be a party. Rather it is the little things that you do to recognize and appreciate African American history.
Have a Historical Movie Night
Learning and entertaining! It doesn't get much better than that. Rather than a family movie night, have a historical movie night with a video that is devoted to honoring black culture. You might choose movies like Selma, Malcolm X, Glory, A Raisin in the Sun, Jackie Robinson Story, or Harriet. It's not only important to watch it together, but to discuss it as a family. Talk about the different African American heroes and their role in shaping America along with the importance of inclusion and equal rights. You might turn this into a community affair by using a projector and watching the movie outside together.
African American History Book Club
Read an influential African American piece of literature like Their Eyes Were Watching God, The Bluest Eyes or I Know Why the Cage Bird Sings with your family and friends. Reading the work together and discussing it can open conversation about civil rights and black history and get your family and friends interested in amazing literature. This allows your family to explore the meaning of the month through a different lens.
Support Local or Historical Black-Owned or Operated Businesses
Have an outing at least once a week. Choose to shop at a local business or explore different businesses in your community owned by African American entrepreneurs or that have historical importance. Not only does this build a relationship with your local businesses but it is empowering your community. Look for businesses that have a history of giving back to the African American community. Not only are you learning about your local African American history but you are building up the leaders of the future.
Celebrate Famous African American People
Each day of Black History Month celebrate a different famous African American person with your family. You might have a poetry reading of Gwendolyn Brooks, a trivia night all about Booker T. Washington, listen to music from Micheal Jackson, create stories or have discussions about famous African American people like:
Learning about different famous leaders can push understanding of why the month is important and celebrate civil rights history. It can also shine light on the prejudices that are still found in society today.
Background of Black History Month
February is the United States' designated Black History Month and has been so since Gerald Ford officially recognized this specific time in 1976. However, special recognition of the events and historical figures in African American culture can be found as far back as the 1920s with the advent of Negro History Week, introduced by Carter G. Woodson. Today, schools and communities seek to educate others about the history and achievements of African Americans through a variety of Black History Month celebration ideas.
Fun and Educational Black History Month Celebration Ideas
Communities and schools celebrate this very special time in America's history by hosting educational lectures, dramatic and musical performances, festivals, and other organized activities. Schools often design their curriculum around the study of African American history during the month of February as well. Try out some of the ideas listed to celebrate Black History Month.