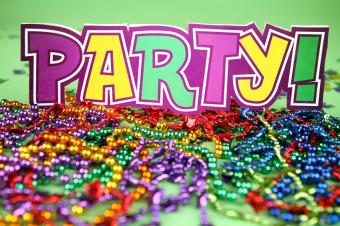 If you're hosting a party this Mardi Gras season, send out a fun invitation to spread the word to your guests. Whether you live along a parade route and want to invite friends to a viewing party or you simply want to host a get-together with a Mardi Gras theme, these free printable invitations offer a great way to spread the word.
3 Free Printable Mardi Gras Invitation Templates
The invitations provided here are easy to customize with your own wording. Simply click the image that you would like to use, and then click anywhere in the text area to change the text. When you're finished, just save and print as needed. Two invitations will print on each page. Use a paper cutter to separate them, and you'll have super-inexpensive custom invitations for your Mardi Gras party! If you need help, check out these helpful tips.
Mardi Gras Party for Adults
No matter where you live, Mardi Gras is a great excuse for a party! Use this catchy invitation template to invite your circle of friends to share an evening of Carnival festivities and flavors at your home.
Mardi Gras Party for Children
Mardi Gras isn't just for grown-ups. If you're allowing your child to throw a Mardi Gras party for his or her friends, this eye-catching invitation that promotes a fun, pre-party activity is sure to appeal to the invitees! Please note that you'll either need to use two sided printing or give each invite two slips of paper because of the activity.
Parade Route Mardi Gras Party
Parade viewing parties are a lot of fun! If you live or have rented a hotel room along the parade route, you might want to invite friends and family to a parade-viewing open house. This printable invitation template will work perfectly for that purpose.
Additional Mardi Gras Invitation Ideas
While the printable invitations above provide an affordable and easy invitation option for Mardi Gras parties, they're not the only solution. Consider one of the options below if you're looking for other Mardi Gras invitation ideas.
Mardi Gras mask invitations: Use one of these Mardi Gras mask templates to make creative invitations. Include details about the party on the back of the mask or attach one of the printable designs to the handmade mask by tying it to the elastic band or eye-hole with festive ribbons in Mardi Gras colors. Postage is an important consideration with this option; you may want to use this kind of invitation only if you'll be handing out invitations in person.
Coloring page invitations: For a more personalized touch than a printable template, use one of these Mardi Gras coloring pages to form the basis of your invitation design. Print the basic invitation wording on the back, and either have your child color the image or leave it blank and ask party guests to color it in and bring it to the event to receive a prize or goodie bag!
Email invitations: If you don't want to have to worry about printing, postage, or delivery, an email invitation is a great way to let your guests know about your upcoming Mardi Gras party. Evite and Paperless Post are examples of resources where you can find several pre-designed email invitations for various types of Mardi Gras gatherings.
Mardi Gras Invitation Wording Tips
In addition to the party invitation basics (location, host, date, time, etc.), there are a few other considerations to keep in mind when deciding what to say on a Mardi Gras party invitation. You may want to mention things like:
Whether guests should wear a Mardi Gras costume to the festivities
If there are any special parking considerations (especially if the party is near the parade route)
Whether the party is BYOB or if the host will be providing Mardi Gras drinks
What types of Mardi Gras food will be provided and if guests should bring a dish
Let the Good Times Roll
Let the good times roll this year, and throw an awesome Mardi Gras party. Just set the date, and let everyone know with the invitation of your choice. You'll be on your way to hosting an event to remember!