Mardi Gras centerpieces can be as wild and outrageous as any Mardi Gras party. Centerpieces can include glittering beads, bright bold colors, and unique symbolism.
Louisiana Celebration Centerpiece
If your Mardi Gras party will focus on the festivities held in New Orleans, Louisiana, add that to your table. Purchase a white serving dish or jewelry dish shaped like the state. Fill it with small trinkets like crawfish and fleur-de-lis symbols and surround it with beads. If you don't have a jewelry dish, cut the state shape out of white card stock and laminate it before placing items on top. Use white to make the colorful tokens stand out.
Wine Bottle Centerpiece Craft
A DIY Mardis Gras centerpiece using a wine bottle is easy and fun.
Supplies
Empty wine bottle
Purple adhesive paper
Mardi Gras eye mask
Sequins
Beads
Glue gun
Faux flowers, optional
Instructions
Cover the wine bottle with purple adhesive paper.
Glue the mask to the front of the bottle, adding sequins for an outline.
Dot glue around the bottle for adding more sequins.
Add glue to the wine bottle stem and wrap beads around it.
Optional - Put a few long-stemmed flowers in the bottle before putting it on the table.
Tall Feather Centerpieces
Put together a tall feathered centerpiece using ostrich feathers featuring Mardi Gras colors. Purchase tall, thin vases. Add purple, yellow, and green feathers in layers, starting with a different color for each row. Add fewer as you get closer to the top.
Jazzy Animal Centerpieces
From alligators to crayfish, a few animals are front and center when it comes to Mardi Gras. Look for a centerpiece that features these local favorites playing the saxophone, trumpet, or piano to celebrate the jazz history of New Orleans. Small ornaments can be spread across a table running with confetti, feathers, and jewels to create a festive tablescape.
Balloon Centerpieces
Balloons take center stage as they are gathered into a large column perfect for placing in the middle of a large round table. Feather boas and masks elevate this option to the next level.
Vase of Beads
Place colorful beads into a large clear glass vase or cocktail glass. This is a simple yet fun centerpiece that has many possibilities. You could also use a clear glass bowl if you do not have a vase. Look for both plain beads and ones with other symbols, like king's crowns and jesters, that add a little extra flair to the centerpiece. Make sure you have enough each vase is overflowing.
Colorful French Quarter Mardis Gras Flowers
Make your own floral centerpiece following crafting instructions that use colorful silk flowers and lamp post. It offers the feel of the French Quarter in New Orleans while adding a more nuanced touch to your decorations rather than the bold purple, gold, and green glittering options favored by many for Mardi Gras.
Fleur-de-Lis Centerpiece
The fleur-de-lis is seen throughout New Orleans and it only makes sense to add it to your table. Look for a large symbol, perhaps in a bookmark or stand-alone figure, that can be draped with beads or accented with feathers. Antique gold or silver are good colors for the symbol.
King Cake Centerpieces
Because Fat Tuesday celebrates excess with rich, delicious foods and decadent desserts, an edible centerpiece is the perfect choice for a Mardi Gras party. Cookie bouquets, cupcake towers, or dishes of colored candies are all tasty options. You can also opt for a crazy colored, tilted tiered cake for a more elaborate edible treat. To keep with tradition, consider ordering an authentic King Cake to serve as your centerpiece and dessert. Scatter a few beads around the cake to make it more festive.
Carnival Candle Centerpieces
Make a candle centerpiece perfect for any carnival party for Mardi Gras. Lay down a long table running or cloth. Place feathers in the middle. Add votive candle holders in varying heights. Scatter a few masks throughout.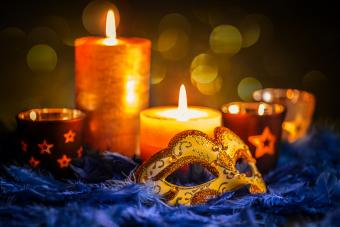 Metallic Mask Display
A bouquet could be made of multiple Mardi Gras masks that may double as party favors, or a single, more elaborate painted or jeweled mask could be surrounded by colorful beads or feather boas to serve as the highlight of the table. There are also pre-made spray centerpieces that can be found at party supply stores. These consist of small colorful foil masks displayed on a foil spray. Look for traditional purple, orange, and green options or go with gold and black for a sophisticated take on the day.
Jester Hat Centerpieces
A jester is a common figure seen throughout Mardi Gras celebrations. Place a festive and colorful hat from a Mardi Gras costume in the center of your table to add a little height while making decorating easy. A few feathers, beads, bells, or confetti can provide the finishing touches.
Centerpieces Add a Finishing Touch
From simple, classic looks to elaborately themed creations, there are many Mardi Gras centerpiece ideas to choose from when planning a party for this wildly festive occasion. Some centerpieces may be purely decorative while others double as party favors or even additional snacks, but all of them will enhance the beauty and fun of a Fat Tuesday party and add the finishing decorative touch to your table décor.