As you grab your best green garb and jig your way into this jolly green holiday, you may be looking for some fun St. Patrick's Day crafts to enjoy with family and friends. You're in luck! We have some clover and fun ideas for both kids and adults that are as good as gold.
Cute St. Patrick's Day Crafts for Toddlers & Preschoolers
Let your little ones get creative this St. Patrick's Day with these fun DIY craft ideas! They're simple to do with younger kids, so you can get your family into the spirit of St. Patrick's Day with ease.
Leprechaun Hunt Binoculars
Most kids love a good leprechaun hunt! Of course, those sneaky little fairies can be hard to spot, so your kids will need the right equipment to find them. Leprechaun binoculars are easy to make. Just grab:
Two toilet paper tubes
Green construction paper
Kid-safe scissors
Glue
First, cut out two rectangular sheets of construction paper to wrap around each tube and adhere them to the surfaces with your glue. Then, glue the two tubes together. Finally, let your toddler decorate these lenses so that they can get searching!
Rainbow Rain Sticks
St. Patrick's Day celebrations wouldn't be complete without some Irish music to enjoy! If you have a little rockstar in the family, then this is a great St. Patrick's Day craft idea. The final result will be a pot of gold at the base of the rain stick, a rainbow throughout the center, and clouds at the top of the stick.
For the exterior, you'll need:
For the interior, grab:
Rice or beans (make sure they are not a choking hazard size)
Aluminum foil
Masking tape
Make the Rain Stick (For Parents):
Cover the base of the paper towel tube with aluminum foil and tape it securely in place).
Fill one third of the tube with rice or beans.
Repeat step one for the other end of the tube.
Decorate Your Rain Stick (For Kids):
For best results, parents should pre-cut the foam sheets into one-inch strips to fit around the tube. Provide one strip in each color of the rainbow as well as one black strip and one black circle for the pot of gold.
Create your pot at the base of your stick by adhering the black circle around the previously open end of the tube and the black strip along the bottom side of the tube.
Apply the colored strips along the side of the paper towel tube to make your rainbow.
Help your child glue cotton balls around the top of the tube to create their cloud.
Take three gold pipe cleaners and string three bells onto each. Wrap these around the paper towel tube in the space between the top of the pot of gold and the rainbow.
Now it is time to get sham-rocking!
Fun St. Patrick's Day Crafts for Kids
As your kids grow a bit craftier, they'll require a bit more of a challenge. Don't worry; these St. Patrick's Day craft ideas for kids are still easy enough for stress-free fun when March 17th rolls around.
Shamrock Slime
Slime is always a fan favorite with kids, and Elmer's has made this fun project easy for parents. All you need for supplies are:
A cheap plastic bowl
Contact lens solution
Green Elmer's Glitter Glue,
Baking soda
For a little extra sparkle, you can always add in some extra shamrock glitter pieces after following the basic slime-making instructions.
Parents can also pick up one of Elmer's slime kits. They come with all the ingredients your kids will need to make their slime and they even offer color changing and glow in the dark options.
Pinch Protectors
Kids might want to wear green on St. Patrick's Day to make sure they don't get pinched! Pinch protector pins are a great way to accessorize for this fun holiday and make sure that everyone in the family has a bit of green attached to their garb. For this craft, you'll need:
Brooch pins
Glue
Paint and brushes
Glitter (optional)
To make your pins, simply roll out the dough and let your kids cut out their shapes. Follow the baking instructions and then allow your pieces to cool. Next, let your kids get decorating. Paint the pieces and sprinkle on some glitter for a little extra flare if your kids want. Once the paint and glitter have dried, glue on your pin and your pinch protector is ready.
Rainbow Tutus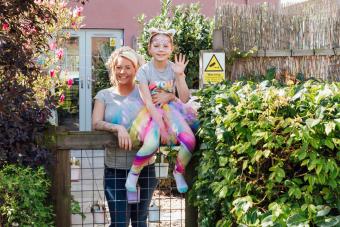 If your kids love to play dress up, then this is a fantastic St. Patrick's Day craft idea! Best of all, there's no sewing required. The only supplies you will need are:
Elastic ribbon
Spools of tulle in rainbow colors
Scissors
Apiece of cardboard
To create your tutu, first decide how long you want the skirt to be in length. For instance, if you want a cute little skirt to go over your child's clothes, then eight inches will likely be long enough. Whatever length you choose, you will want to double this measurement for your strips of tulle. These will be folded in half to create your no-sew skirt.
Once you've prepared the fabric, your kids can follow these simple steps to make this adorable accessory for their school party, the local parade, or just for fun at home!
Paint Your Own Leprechaun Garden Gnome
Gnomes are whimsical little creatures that grace our gardens and bring good luck. Why not let your kids make their own little leprechaun gnome and then have it guard over your greens? Simply head over to your local craft store and grab a little Irish gnome, paint, and some brushes. Then, line a table with some butcher paper, have your kids throw on some old clothes, and watch their creative juices flow!
Kindness Rocks
The premise is simple: you paint a rock and leave it somewhere anonymously to bring another person some joy. Kindness rocks are a great craft for kids and adults alike. Grab some flat rocks from your garden or buy some online, purchase some waterproof paint, and snag some brushes. Then, let your kids decorate their rocks with clovers, rainbows, leprechauns, fairies, or whatever other symbols of this magical holiday they see fit.
Shamrock Coasters
In the 1980s and 1990s, Perler beads and pegboards became quite popular. Kids could craft all kinds of figures using these plastic, fusible beads. Turn back time and introduce your kids to this fun fad! Did we also mention that they have Celtic knots and lucky shamrock designs your kids can create?
Once they're done aligning their piece, parents can fuse the beads together using a household iron, ironing paper, and a piece of cardboard. These can make great coasters or you can attach a magnet to make fun decor for the fridge.
Easy St. Patrick's Day Crafts for Adults
Crafts aren't only for kids! Adults can also have some fun with these artsy activities.
Luck of the Irish Flower Vases
Mason jars and paint - that's all you need to make this fun and useful craft. We recommend grabbing green, orange, and white paint so that you can create an Irish flag. Once the paint dries, grab some white flowers and green food coloring. Fill up your Irish vase with water, add in 10 to 15 drops of the food coloring, stir, and put in your flowers.
After an hour, your plain white blossoms will have transformed into exquisite emerald flowers, perfect for this green-themed holiday!
Leprechaun Wreaths
The front porch will look even more festive this St. Patrick's Day with a beautiful wreath adorning the door! This craft requires:
A metal wreath frame
Popsicle sticks
Zip ties
Two buttons
Plastic canvas
Green fabric
Orange poly burlap
Foam board
Orange felt
Gold and black ribbon
For the full tutorial, check out these simple step-by-step instructions from Julie's Wreath Boutique!
St. Patrick's Day Shirts
For the folks who own a Cricut or Sihouette, this can be an easy craft and a great way to make the whole family St. Patrick's themed apparel. Simply create your design, print it onto iron-on paper, and apply!
Pot of Gold Centerpieces
Who doesn't love a good floral centerpiece? This project requires a plastic pot of gold, floral foam, and an array of yellow and gold flowers. To arrange your bouquet, soak the floral foam in water and then transfer it to the pot. Next, insert your flowers as you see fit. For an extra touch, print out an image of leprechaun shoes, glue them to a wooden kabob stick facing upside down, and add it to your pot of gold!
Choose Dual Purpose St. Patrick's Day Crafts
Creating works of art is always fun, but some the best crafts are ones that serve a purpose on top of being entertaining. These St. Patrick's Day crafts are the perfect way to decorate your home, get ready for a party, or even spruce up your garden.