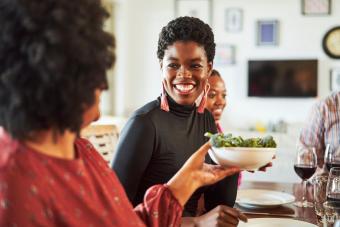 When you gather with your BFFs for your Friendsgiving feast, part of the fun is having everyone pitch in with their favorite dish. And while pumpkin pie and cocktails are a fabulous part of any Friendsgiving celebration, you probably don't want everyone bringing them (or maybe you do). This is where a Thanksgiving potluck sign-up sheet comes in handy. Whether it's a shared digital doc or a free printable hard copy, a potluck sign up is a valuable organizational tool for your Friendsgiving party. Let the feasting begin.
Digital Friendsgiving Sign-Up Spreadsheet Templates
You've sent out Friendsgiving invites, and it's time to start figuring out who brings what. As the host, you get to choose how much you'll provide and what to ask your guests to bring. Maybe you want to provide the turkey or tofurkey, mashed potatoes, and stuffing, and then have your friends help out with the rest. Managing your sign-up sheet online makes it super easy for everyone to access the sign-up sheet, see what's needed, and see what everyone else is bringing.
Digital Friendsgiving Sign-Up Sheet With Categories
This sheet provides the food category without listing specific foods. That means your friends can use their imaginations and bring whatever foods, treats, or drinks they want. It's also perfect if you're planning a non-traditional meal, like a brunch theme or a meatless spread.
Digital Sheet With Must-Have Foods
Try a sheet that includes particular food items to be more specific with your requests. This sheet is fully customizable, so you can edit, add, or remove foods that you want or don't want on the list.
How to Share Digital Sign-up Sheets
These free digital sign-up sheets are simple to use and will be familiar to most people who have used Google Docs or Google Sheets. Once you've saved and shared, be sure to bookmark so you can return to see how sign-ups are going.
Printable Sign-up Sheets
If you're planning to see each of your pals in person or a hand-written list is more your speed, these cute printables will make you super excited for your Friendsgiving party! If you need help downloading, check out the Guide for Adobe Printables.
Blank Printable List With Food Categories
Let your friends decide what they'll bring with this open-ended list. The food categories will ensure you don't end up with ten pies and a tray of mac and cheese for dinner. Then again, that sounds like a pretty delicious spread.
Printable List With Specific Foods
Make sure all the essential foods are covered with this printable list. Similar to our digital sheet, you can tailor it to your crowd by downloading the PDF and making your edits before printing.
Make Your Own Sign-up Sheet (for Free)
If you'd rather start from scratch and design your own sign-up sheet, there are several sites that can help you do so.
Google Docs or Sheets
Keep things simple and familiar by creating your own Google Doc or Google Sheet that you can share with your friends. It may not have a bunch of bells and whistles, but most people have used the platform. It's quick and easy for you to set up and customize as much as you want.
SignUpGenius
SignUpGenius is a free website that allows you to design your own virtual sign-up sheet for different types of events. You decide how many people you need to sign up for each food or category, and it creates an interactive module you can easily share with your friends. It has space for comments and notifies you via email when someone RSVPs to your event.
Signup.com
Signup.com is another free site where you can make virtual sign-up sheets. Create as many categories as you need or request specific foods. You can allow multiple people to sign up to bring a certain type of food category (such as the main dish or dessert), or you can request somebody to bring specific food items. It's not always the most intuitive platform, but once you get the hang of it, it's easy as pie.
What to Include on Your Friendsgiving Potluck Sign-up Sheet
Make your sign-up sheet as user friendly as possible by providing all the information your guests need in a single place. When designing it, be sure to include critical information.
Event Details
Your sign-up sheet should include details about the event, like the host's name and contact information, and the address, date, and time of the event. It will need to have a space for your guests to write their names and what they're bringing.
Food Categories or Specific Items
Break your sheet up into categories such as appetizers, sides, main dishes, desserts, beverages, or other. With so many possible foods to bring and tasty drinks to try, the categories will make sure you have a well-rounded spread. And, if there are any must-have items, write them on the sheet ahead of time to make sure they're covered.
Notes Section
Add a notes section near the top to include any other important information, comments, or requests, including any known food allergies in the group.
Make Friendsgiving Easier With a Potluck
Friendsgiving is a super fun tradition that more and more people are celebrating, but it's even more fun when everyone participates by bringing a tasty dish. Get everyone in the mood for food-making and cocktail-shaking with one of these helpful sign-up sheets.