Gurley Thanksgiving candles are highly collectible items. These intricate candles were handcrafted using a variety of techniques, featuring whimsical designs to represent holiday icons for Thanksgiving until the company closed down.
About Gurley Candle's History
Franklin Gurley was the founder of the Gurley Candle Company, originally called W&F Manufacturing, which opened in 1927. For many years they focused on confections, including a variety of candies and chocolates. Several lines of these treats were created with edible paraffin, a by-product of oil refining. One of the most popular was a wax tube filled with a sugary colored liquid, called Nickel Nips.
Gurley and Tavern Novelty Candles
In 1939, Gurley started making novelty candles with paraffin wax under the Gurley Candle Company. Since paraffin was an oil refinery byproduct, the Socony-Vacuum Oil Company (later changed to ExxonMobil) sought to reuse the waste product and contracted Gurley to make candles. Some of the candles were also sold under the name Tavern Novelty Candles.
Holiday Novelty Candles
These candles were exquisitely detailed and tailored for a number of holidays, including Halloween, Christmas, Easter, and Thanksgiving. Each candle was made by hand, using a number of different molds to create just one item.
Company Closed and Candles Became Collectibles
Even though the candles were handmade and carefully crafted, they sold for anywhere from 10 cents to a dollar at the time. Most people found the candles too pretty to burn and therefore saved them to display. When the Gurley company closed, the candles immediately became sought-after collectors items. Of course, this drove the price up. Today, people are willing to pay much more than the original prices for vintage Gurley candles.
Examples of Gurley Thanksgiving Candles
Candles from the Gurley Thanksgiving line incorporate recognizable symbols of the holiday in fine detail. From pilgrims to turkeys, there are many varieties in a wide range of shapes and sizes.
Turkey Candles
The turkey designs were popular Thanksgiving candles. The Gurley Thanksgiving candles that are shaped like turkeys came in different sizes. After all these years, the colors are still vibrant, and the attention to detail is apparent. Many other turkey designs were created as well.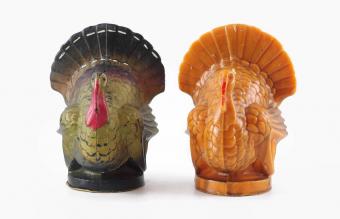 Mayflower
The Mayflower candle was actually solid wax candle holders in the shape of the famous ship which held a green taper candle. The ship was a wood brown color with bright orange and yellow sails. The green taper candle towered above the ship and was affixed to the holder to avoid separation.
Candle Choices for Pilgrim Boy
The pilgrim boy candles was available in several colors. These include, Gray with a brown musket, gray with a black hat, and the boy in solid green or solid orange. In addition, the pilgrim boy had different colors for his suit that included, maroon, blue, gray, and brown.
Pilgram Girl
The pilgrim girl was often paired with the pilgrim boy to create a pilgrim couple in candle arrangements for Thanksgiving centerpieces. The pilgrim girl was also available in various colors, such as a gray, green, blue, or brown dress. Like the boy pilgrim, she was available in a solid green or orange color. Her gray, brown, purple, blue, or peach dress gave buyers a wide choice.
Indian Chief or Brave
An Indian Chief wearing a red feather headdress was also available in red fringed buckskin pants, wearing brown moccasins. A brave was featured with green, orange or brown buckskins.
Indian Maiden
The Indian maiden candle was available in sleeve and sleeveless dresses. The sleeveless dress was either tan or orange. The dress with black sleeves was available in red or tan. Another design featured the Indian maiden dressed in tan/gold robe.
Pinecones or Acorns and Fall Leaves
The pinecone candles were available in red and orange or orange and brown, with the pinecone supported a twisted brown taper candle. Another candle featured and acorn and gold/orange leaf base that supported a dark brown, light brown, light green, or dark green twisted taper candle.
Thanksgiving Church
The Thanksgiving church was slightly taller than the girl and boy pilgrim candles. It featured gold arched windows, and a stylized steeple made of a red or purple taper candle.
Reproductions
The original Gurley factor closed in 1994, and there were a few attempts to revive the classic candles. Eventually, The Vermont Country Store purchased the Gurley® candle molds and currently reproduces these popular candles. Gurley® remains a registered trademark of Jeffrey Viggiano.
Where to Buy Gurley Candles for Thanksgiving
Since the original Gurley Thanksgiving candles are no longer being made, you may have to do some detective work to find them. Here are some places you can try:
Flea markets can often be a treasure trove of Gurley candle finds.
Antiques dealers and shops are good resources.
Ruby Lane features good quality Gurley Thanksgiving candles; some are still sealed in their original boxes!
Garage and estate sales
Online auction sites, such as eBay offer an assortment of Gurley Thanksgiving candles.
Etsy is a good resource for vintage Gurley Thanksgiving candles.
Tips for Buying Vintage Gurley Thanksgiving Candles
Buying antiques and collectibles like Gurley candles online can be tricky, since you can't actually see the product before purchase. Make sure that the seller sends you a photo of the bottom of the candle which should include a sticker with either the Gurley or Tavern name on it.
The Tradition of Gurley Candles
The Tavern and Gurley candle companies sold millions of Thanksgiving themed candles over the years. These little pieces of art have become traditional decorations for many families. Next time you see a pretty holiday candle in the shape of a Thanksgiving icon, check the bottom for the Gurley sticker.