If you've been anointed as the Thanksgiving Day chef before, then you know there's nothing that keeps you away from gathered friends and family more than cooking for hours before sitting down. Bring back your zest for the celebration by finding good Thanksgiving dishes to make ahead of time. From cornbread dressing to sweet potato pie, we've got a few make-ahead staples that'll allow you more time to visit with your loved ones before dinner.
Cornbread Dressing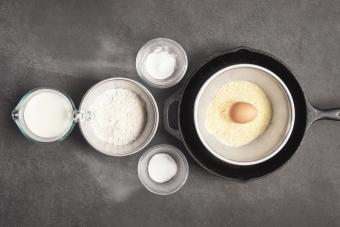 While a lot of people gravitate towards stuffing (and the stove-top bags work super well in a pinch), southern households are known for their cornbread dressing. From my own maw-maw's talented hands to your mouths, here's her delicious cornbread dressing recipe,
Ingredients
2 cups cornmeal
¼ cup vegetable oil or fat drippings, to taste
1-1½ cups of buttermilk (or 1-1⅓ cups of milk)
5 large eggs
8-10 slices of white bread
2 cups chicken stock
Preferred seasonings
Instructions
Preheat your oven to 350°F. Set a 12-inch cast-iron skillet in the oven to preheat with the oven.
In a mixing bowl, combine the cornmeal, vegetable oil or fat drippings, buttermilk, and one of the eggs.
Pour the mixture into a pre-heated cast-iron skillet and cook in the oven until golden brown and a knife cleanly cuts through.
Remove and let cool. Once cool, crumble it into a fresh mixing bowl.
Crumble the white bread into the mixing bowl.
Add the seasonings you like. We like 1 teaspoon each of onion powder, garlic powder, and celery salt, ½ teaspoon of black pepper, and salt to taste.
Mix in the remaining 4 beaten eggs.
Add chicken stock to the mixture and stir until it resembles a loose cake batter.
Pour it into a greased 8x8 pan.
Bake on 350°F in the oven for 1 hour until it sets. A knife should cut through it without anything sticking.
Make-Ahead & Reheating Instructions
Cook this a day ahead of time and leave it in the fridge to overnight.
Just before dinner, pull out the pan and cut out a few squares at a time.
Wrap them in a damp paper towel and reheat in the microwave on high in 10-second intervals until hot.
Alternatively, cover the stuffing with aluminum foil and pop in the oven on 350°F for about 20 minutes. Uncover and cook 20 minutes more.
Slow Cooker Creamed Corn
Every Thanksgiving, the dish I claim from the jump is creamed corn because of Tasty's unbelievably delicious slow cooker creamed corn recipe. All you need is a few cans of whole-kernel corn, milk, sugar, pepper, cream cheese, unsalted butter, and garnish (if you want). Pop those ingredients in a slow cooker for a few hours, and you'll have creamed corn for days.
The best part is you can cook it three or four days before Thanksgiving, and it'll keep in the fridge. On the day of, you can re-heat the whole thing in a saucepan on the stovetop or put it back in the slow cooker on low for about an hour.
Southern Baked Macaroni & Cheese
Another standard in my Thanksgiving spread growing up was baked macaroni & cheese. You can master this easy recipe in an afternoon and cook it the day before Thanksgiving.
Ingredients
Boiling water
1 cup elbow macaroni
16 ounces of sharp cheddar cheese, shredded
2 eggs
2-3 tablespoons cream or milk (or to taste)
Instructions
Preheat your oven to 350°F.
Cook the elbow mac according to package instructions.
While the macaroni cooks, spray or coat a medium-sized baking dish with oil and add the grated cheese to it.
Drain the cooked noodles of almost all the pasta water (leave about ¼ to ½ cup).
Add the pasta and a small amount of pasta water to the cheese, stirring until melted. Add more pasta water as needed to adjust the consistency.
In a separate bowl, beat the eggs with the milk or cream.
Dump in the eggs and cream mixture into the cheese and noodles and mix well. Add a little more cream if it thickens too much for your liking.
Bake at 350°F for 45 minutes to 1 hour until fully set.
Make-Ahead and Reheating Instructions
Make this 1-2 days before Thanksgiving.
Once fully cooked, pull the casserole out of the oven and let it cool completely before storing in the fridge.
When you're ready to reheat, pour about ¼ cup milk over the top of your dish.
Cover with foil and pop it into a cold oven set to 350°F for about 30 minutes.
Check after 15 minutes to see if it's sufficiently heated through, and if not stir the mixture and put it back in to continue warming up.
Quick Tip
To check that your mac & cheese is heated all the way through, stick a butter knife in the middle to the bottom of the dish. Press your index finger and thumb to where you inserted the knife to gauge how well it's heating through.
Green Bean Casserole
When you've got friends and family piling into your house for Thanksgiving, you've got to make your ingredients spread as far as possible. This is where casseroles become your new best friend. The most iconic casserole to feature on nearly every Thanksgiving table is the green bean casserole. Look no further than French's own green bean casserole recipe.
Make-Ahead & Reheating Instructions
Green bean casserole is another great side dish you can cook the day before Thanksgiving.
Leave off the French fried onions and bake as indicated in the recipe.
Allow the casserole to cool completely before covering it and storing it in the fridge for up to three days.
On the day, warm the green bean casserole, covered in foil, in the oven at 350°F for 20 minutes.
Remove the foil and top with French fried onions.
Return to the oven and cook, uncovered, until the onions crisp, 5-10 minutes more.
Chicken or Turkey Broth
Homemade broths add tons of flavor to Thanksgiving staples like gravy and stuffing, and they tend to be a lot less salty than canned broths. It's super easy to make broth ahead of time — you can even make it weeks ahead and freeze it until you're ready to use. You can make chicken or turkey broth using this simple broth recipe from Culinary Hill. Broth will keep in the fridge for up to five days or in the freezer for up to six months. Reheat stovetop.
Cranberry Sauce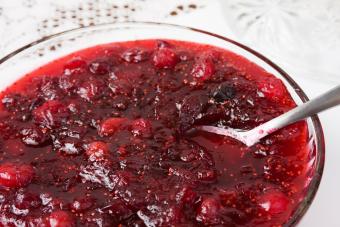 Cranberry sauce is super easy to make ahead — you can even make it weeks ahead of time and freeze it. If you freeze it, thaw in the fridge. Otherwise, store it in the fridge for up to three days, and serve it chilled. This cranberry sauce recipe from Sugar Spun Run is perfect for Thanksgiving.
Cherry Pineapple Ambrosia Salad
If you're like me and wet pie filling in a flaky crust sounds about as appealing as dog food, then something sweet and cool like this cherry pineapple ambrosia salad courtesy of Allrecipes will do the trick. After packing in those heavy carbs and mouth-watering meats, you could do with a lighter post-meal treat.
Since you can eat this fruity salad straight from the fridge, it's an absolute day-before-Thanksgiving must-make. It will keep in the fridge for about three days.
Quick Tip
Balance the smooth textures with some nutty crunch. You can add pecans or walnuts to the recipe for a nice contrasting texture.
Sweet Potato Pie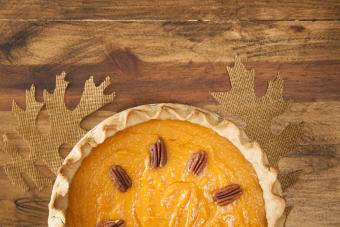 Turkeys might be the face of Thanksgiving, but sweet potatoes are a close runner-up. Chase down your sweet potato souffle with a perfectly seasoned sweet potato pie ala Family Fresh Meal's recipe. If you've been tasked with bringing dessert to the feast, pies are the way to go.
On Thanksgiving, just pull them out of the fridge and served chilled or at room temperature.
Other Things You Can Make Ahead (& a Few You Shouldn't)
There's lots you can do ahead of Thanksgiving, so you only have a few tasks on the day. Other dishes you can easily make-ahead include:
Gravy
Sweet potatoes
Pies & other desserts
Cut veggies & dips
But on turkey day, it's always best to make these foods hot and fresh:
Your turkey or main protein
Rolls
Mashed potatoes
Learn to Love Thanksgiving Again
When people love to eat your food, Thanksgiving turns into a marathon. But that culinary gift can feel like a curse when late-November rolls around. Instead of breaking out the orthopedic shoes Thursday morning, do yourself a favor and try a few of these make-ahead Thanksgiving dishes. How easy it is to reheat them on the day will totally change your life — or at least make Thanksgiving a little less hectic.