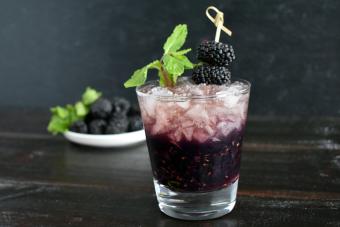 Ingredients
4-6 fresh blackberries
5-7 fresh mint leaves
2 ounces bourbon
¾ ounce simple syrup
½ freshly squeezed lime juice
Club soda to top off
Mint sprig and blackberries for garnish
Instructions
In a cocktail shaker, muddle blackberries and mint leaves with a splash of simple syrup.
Add ice, bourbon, lime juice, and remaining simple syrup.
Pour into a rocks glass; do not strain.
Top off with club soda.
Garnish with mint sprig and blackberries.
Variations of the Blackberry Bourbon Smash
Just like there's more than one way to muddle and shake a mojito, there are plenty of unique and easy ways to make a smash.
Swap the mint leaves for fresh basil or rosemary to change up the herbaceous flavors.
Bourbon and rye have distinct profiles. Bourbon will create a softer blackberry smash, but rye will craft a smash with a firmer, sharper bite.
Use a flavored simple syrup, such as lemon, vanilla, cinnamon, or honey.
Skip the club soda for a more concentrated flavor of bourbon and blackberry.
A jammy blackberry-infused bourbon creates an even more intense and refreshing flavor and is something you can easily make at home.
Build your drink in a rocks glass to make it quick and easy.
Put it in the blender with some ice and make a summertime bourbon slush.
Garnishes for the Blackberry Smash
The blackberry smash is already quite colorful and abundant with ingredients, so you can always allow the drink itself to be the garnish or consider a few of these ideas as you complete the look of your perfect smash.
If you opt for basil or rosemary instead of mint, add a fresh sprig of either as a garnish.
Add a citrus touch with a lime wheel, wedge, or slice.
Give it a funky look by using a dehydrated lime wheel. You can also use a lemon or orange, as well.
A lime ribbon or peel adds a pop of color without any added citrus flavors.
A Look at the Blackberry Bourbon Smash
Whiskey smashes have been around for several hundred years in some way or another. At its most basic, a smash is a combination of muddled herbs (smashed), base spirit, and soda. From the inception of the julep in the 18th century to the 19th-century classic and original whiskey smash, they're not new to the world, just new to those who haven't yet had the chance to enjoy one. Even the whiskey sour, although not as it's known today, was a staple among whiskey drinkers by then. Flavorful spins on whiskey or bourbon smashes are a great way to add a little extra flavor, especially for those who aren't yet ready to jump into the bold flavors of an old-fashioned or classic Manhattan.
If you want to push your blackberry smash a little further, you can muddle in different fruits to create the perfect jammy cocktail. Fruit flavors include blueberries, lemons, peaches, raspberries, or strawberries.
Muddling Your Way to Goodness
Don't fall prey to the idea that a muddled cocktail takes up a ton of time and effort when, in truth, you can even make it all in one glass. Indulge yourself in a juicy blackberry cocktail and watch your worries melt away.