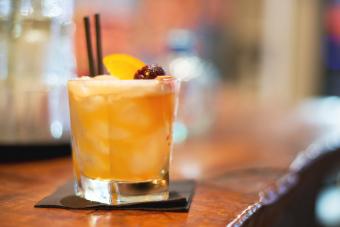 Instructions
In a cocktail shaker, add whiskey, lemon juice, simple syrup, and egg white .
Dry shake for approximately 45 seconds to mix ingredients and create a froth.
Add ice to shaker.
Shake to chill.
Strain into rocks glass over fresh ice.
Garnish with cocktail cherry and orange peel.
Variations and Substitutions
If you want to skip the egg white, you'd prefer to use bourbon, or you want yours to be puckeringly sour, there are variations and swaps for any combination you'd like in your whiskey sour.
Use bourbon for a slightly sweeter whiskey sour. Rye whiskey will give your whiskey sour a firmer bite.
Skip the egg white and instead use aquafaba. You most likely have this ingredient on hand without knowing it: it's the liquid found in canned chickpeas.
You can omit the egg white and aquafaba entirely. The resulting whiskey sour won't have the foam but it'll be just as delicious.
Muddle the garnish just prior to adding ice and shaking.
Serve in a coupe or martini glass instead of on the rocks.
Substitute an infused whiskey for additional flavor.
Garnishes
If the traditional whiskey sour garnish isn't for you, or you want something flashier, consider a few of these.
If you have a thick foam, use drops of bitters to create a design. You can also run a cocktail skewer through the drops to elongate the shape.
Use a lemon wheel or twist. You can use an orange wheel as well.
A dehydrated citrus wheel makes the whiskey sour stand out.
Use an orange slice instead of peel.
About the Whiskey Sour
One of the oldest recorded cocktails, the whiskey sour has been gracing bars and homes since the late 1870s, just around the time Ulysses S. Grant took office. While the exact location of its invention is lost to history, with accounts citing Wisconsin and others saying Chile, it wouldn't have withstood the test of time and global enjoyment if it wasn't a unique yet enticing cocktail. The whiskey sour escapes the history books, its singular original recipe remaining relatively unchanged since its creation. Giving rise to the pisco sour and amaretto sour, the classic and well-known whiskey sour is possibly the most famous of sour egg white cocktails today.
A Deliciously Bitter Whiskey Sour
The word sour can be offputting, but there's more to it than a pucker sip after sip. This well-balanced cocktail is truly an art form, proving that the whiskey sour has rightfully been a star all these centuries.