Tequila is much bigger and broader than just a base spirit in margaritas to pair with bbq. Although, if that's your jam, there's nothing wrong with that joy. Explore a world of tequila and food flavors you couldn't have imagined in your wildest dreams.
Pairing Different Styles of Tequila With Food
There are several distinct styles of tequila to keep in mind when pairing with food, as one style may not necessarily match the same food as another. The three most popular styles of tequila are blanco, reposado, and añejo. When pairing your tequila with foods or snacks, you can enjoy your it on its own or in a cocktail.
Blanco tequila, also known as silver, has a crisp and familiar palette, often with just a touch of sweetness.
Reposado is aged tequila that's aged anywhere from two months to a year in oak barrels. It's often smoother than silver tequila and has notes of oak or caramel.
Añejo tequila is also aged, but for a longer period. Añejo will age anywhere from a year to approximately four years. This tequila is typically the most flavorful, with notes similar to that of reposado but a bit sweeter and even easier to enjoy on the rocks.
Blanco Tequila Food Pairing
Thanks to its soft notes and neutral-tequila palette, blanco tequila pairs well with foods from sweet to spicy to savory. Start by pairing your silver tequila with lighter flavors or fares. If you aren't drinking the tequila on its own, consider a classic or flavored margarita, a mule riff, or a simple tequila highball.
Fish dishes, such as fried fish with a side of fries, grilled with vegetables, or raw fish such as sushi, are excellent.
Tacos, with any style of protein or heat, are a great match. Consider adding cilantro, ginger, sage, or chile pepper flavors. A steak taco with cilantro, a chicken taco with sage, or a tofu taco with chile peppers make for great pairings.
Silver tequila brings an excellent balance to citrus dishes with lemon, orange, or limes. Consider a citrus salad or preparing a citrus-marinated chicken or steak and then grilling. For a sweeter dish, consider key lime pie or lemon meringue.
Pairing Reposado Tequila With Food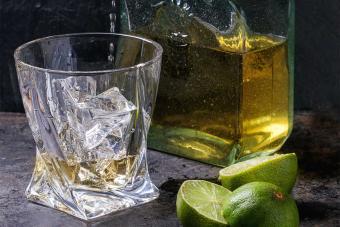 A reposado tequila has soft notes of oak and vanilla, making it a little sweeter than silver tequila. However, it stands up well to spicy or intense flavors such as paprika or garlic in addition to savory or nutty flavors. You can enjoy your reposado on the rocks, in a Mexican martini, or in drinks that are dark spirit-forward such as a Manhattan riff.
Highlight the sweet notes of reposado by pairing a chocolate snack or dish. Consider something as simple as chocolate chip cookies, or go grander with chocolate mousse utilizing dark or milk chocolate flavors. Alternatively, a fruity dessert such as sherbet goes well with reposado. You can use tropical flavors such as pineapple, coconut, mango, or lemon.
A garlicky pulled pork dish served as an entree or in a taco is a great option. Alternatively, make simple roast pork with a paprika rub.
Roasted or charred vegetables, including cauliflower, onions, or broccoli, go well with sweet flavors. You can even pair it with grilled fruit, including peaches.
Añejo Tequila
You can seamlessly pair an añejo tequila with desserts or sweeter drinks, as they'll both amplify the sweet flavors. But don't skip over those salty or spiced dishes, either. Enjoy your añejo on the rocks or in a cocktail, such as an añejo old-fashioned or drinks you typically find with a bourbon base.
Kick off your añejo paring with rich, savory dishes. Pair it with an herb-rubbed grilled steak -- any cut will fare well as añejo can handle rich cuts of filet or a heartier flank steak cut.
Offset the sweet flavors by incorporating charred flavors. Like reposado, añejo brings a balance to what can sometimes be an overwhelming flavor. Likewise, you can smoke foods such as brisket, bacon, or even macaroni and cheese to pair with añejo.
Highlight the luscious flavors of añejo with dark chocolate. You can keep it simple or craft a chocolate ganache, chocolate cinnamon cake, or a simple chocolate chip banana bread.
Guiding Your Tequila and Flavor Pairings
Tequila is a bold spirit that can stand up to and complement many dishes. As you decide which style of tequila to pair with your dish or dishes, consider a few of the following questions.
Do you want the tequila to serve as a contrast to the flavors? If so, consider pairing a silver tequila with an agave dressing, lime-marinated shrimp, or citrus salsa.
Do you want the tequila to mirror the flavors of the food? Then pair a reposado or añejo tequila with a chocolate custard, brownies, or berries--with or without a chocolate drizzle.
Effortlessly Crafting Tequila Food Pairings
Don't skip over the idea of tequila if you're looking to pair flavorful dishes. This spirit is more than just a match for Taco Tuesday or a hastily ordered burrito. Allow the complex flavors of tequila to blossom as you pair it with delectable appetizers, steaks that melt in your mouth, or a frozen treat. Next, treat yourself to some tequila and soda cocktails that are simply perfect when you just want a refreshing drink.