Sandwiches are always a solid choice for a midday meal, but for many folks, they aren't a menu option. This can be because you're limiting your sugars and carbs or that you have a gluten intolerance. There is also the unfortunate incident where you are just out of this staple pantry item.
The good news is that there are an abundance of bread alternatives for sandwiches that will not only work just as well as the wheat, but they can actually elevate your eating experience. If you are wondering what to use instead of bread for sandwiches, we have the details that you knead to know.
Chaffles
If you have never heard of this revolutionary bread substitute for sandwiches, you've been missing out! Chaffles are crispy, delicious, and best of all, they only require two ingredients and they take mere minutes to make. They look like a traditional waffle, but are a simple mixture of whisked eggs and cheese cooked on a mini waffle iron.
This packs in the protein and removes carbs and gluten from your sandwich. Folks on keto rave about this bread alternative, making it a top choice on our list. Chaffles pair perfectly with an array of sandwich ingredients as well, especially if you take the time to customize your cheese selection.
Quick Tip
Did we also mention that you can make these sweet, sour, or savory? Add in ingredients like pumpkin puree for some fall flavor, pickles for a tangy twist, or cocoa powder for a dash of sweetness.
Lettuce
This is probably the most classic bread alternative for sandwiches. Romaine and iceberg are both light and crunchy options that many folks already include on their sub, making them an easy solution to your bread problems.
However, for the folks looking for a bit more flavor, consider choosing cabbage instead. This can be a sweet and even tangy partner for meals that already include coleslaw!
Bell Peppers
Who doesn't love a good stuffed pepper? Ever wonder why this dish is so dang good? It's all thanks to that subtle, earthy sweetness and signature crunch of those bright bells, of course! These are a spectacular choice for mini burgers, turkey sandwiches, and steak subs!
Corn Tortillas
Corn tortillas are another traditional choice that are gluten-free and absolutely delicious! These are great for a quick, cold wrap, or you can fry them up so that they have a sturdy shape. We won't burrito around the bush — you maize well try them with an array of ingredient combinations.
Portobello Mushrooms
Stuffed mushrooms are another savory choice that are served on most menus for a reason! We all know that mushrooms are delectable, but they also provide a solid base for a hearty helping of ingredients.
This makes this fungi a fantastic replacement for that whole-wheat bun. Craft an Italian sub, a crab stuffed club, or the ultimate mushroom burger with this go to garnish! There really is no cap to your ingredient options!
Seaweed
Sushi is essentially a mini sandwich, so why not try this algae on for size as a bread alternative for sandwiches? Pair this with fish, shrimp, or tofu, or go the veggie route. If you have found the ingredient you are considering on a sushi menu, it is guaranteed to go well on this type of sandwich.
Rice Paper
For those folks who prefer a little less of the sea in their sandwich, rice paper is your answer. It has a neutral flavor, which means that it can go with virtually anything. Wrap up your burgers, chicken sandwiches, or veggies and hummus. The world is your oyster with this bread substitute for sandwiches, and most importantly, rice paper will ensure it doesn't taste like one.
Cloud Bread
Egg whites, cream cheese or mascarpone, and cream of tarter. That is all it takes to make cloud bread. And as the name implies, it is light and fluffy, and it looks similar to your regular loaf. This makes it a wonderful base to top with chicken salad, tuna fish, or barbecue, or you can make a classic BLT, rueben, or French dip!
Tomatoes
Speaking of a BLT, have you ever noticed that bread is not a part of the acronym? Hasselback BLTs are one of my favorite recipes, partially because they simply look beautiful!
All you have to do is snag some firm roma tomatoes, cut off a paper-thin slice from the longer side so that it can sit up straight, and then cut this fruit crosswise, leaving half an inch of space uncut at the bottom.
Finally, you can choose to stuff them with your typical BLT ingredients, fresh mozzarella and basil, your favorite turkey sandwich fixings, or whatever else your heart desires.
Need to Know
Did you know that you can also make hasselback potatoes? Spud subs are an enticing way to make that a loaded baked potato travel ready.
Sweet Potato Toast
Yes, you read that right! Thinly slice up some sweet potatoes, toss them in the toaster until they are crispy on the outside and soft on the inside, and then slather on your favorite toppings.
This bread alternative for sandwiches is quite versatile because you can pair it with turkey and cranberry sauce, or you can make an array of breakfast sandwiches that use eggs and cheese, cream cheese topped with fresh fruit, or make a brighter and healthier version of avocado toast!
Cucumber
We have all heard of cucumber sandwiches, but I bet you never thought to use the cucumber as the outer layer! You can make tiny tea-style sandwiches with this fruit, or you can slice it long-ways to make a sub-like sandwich.
Keep things traditional with cream cheese and dill, or make a more filling tuna or chicken salad sandwich. All are refreshing options!
Apple Slices
Can you think of a better way to have a peanut butter sandwich? Personally, I have always hated regular peanut butter sandwiches because the combo of peanut butter and white bread can get a bit dry.
Apples are the perfect solution to this problem. They also add a nice bit of texture, and when you cut the apple horizontally, you avoid the sticky mess that can come with apple wedges.
Quick Tip
If you don't have apples on hand, pears are another sturdy and subtly sweet choice to consider!
Almond Flour Everything
Many people don't know that almond flour can be a simple alternative to wheat that brings an amazing health boost! You see, it is brimming with vitamin E, magnesium, manganese, and fiber, and you can swap it out at a 1:1 ratio.
Make breads, muffins, waffles, and pancakes with this baking ingredient, and then slice them up and make any kind of sandwich you like! Just know that it will have a slightly sweet and earthy flavor.
Rice Cakes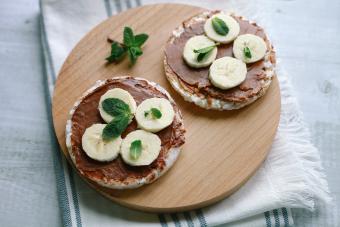 A plain brown rice cake may seem a bit dull, but that is what makes it so perfect for a sub! It saves the focus for what matters most — what's on the inside. This makes it another very versatile bread alternative for sandwiches. Pair them with peanut butter and jelly, egg salad, or roast beef.
Eggplant Slices
Ever wonder what would happen if eggplant parm and a meatball sub had a baby? It sounds like a pretty spectacular sandwich to us!
To achieve this stellar sub, fry up your eggplant just like you would when making eggplant parm, but save the sauce and cheese for the inside. Stuff in some meatballs and then get ready to say bon appetit! Just remember to make sure you have a bit of an appetite, because this double-decker Italian dish is guaranteed to fill you up!
Fried Cheese Bread
Can we all agree that the best part of a grilled cheese is the crispy sides where the cheese spilled over? Why not make the most of this happy accident and create "bread" made exclusively from this delicious dairy product.
All you have to do is sprinkle cheese onto parchment paper-lined baking sheets, bake, and allow it to melt and turn golden brown. Then, either let them cool as is or make cheesy taco shells!
You can do this easily by grabbing a wooden spoon, wrapping it in aluminum foil, and balancing it between two cans. Then, place a plate underneath the utensil and use tongs to transfer and drape the hot, melted cheese onto the spoon! Fried cheese bread can compliment virtually any dish, and it can give you some added crunch to your meal!
Bread Alternatives for Sandwiches Can be a Tastier Choice
When you think about it, if you have a really good sandwich, the bread is typically the most boring part of the bunch. When you take the time to get creative with the borders of your meal, you may find that it becomes even more mouthwatering! So get in the habit of always asking yourself, 'what can I use instead of bread for sandwiches?' You'll be surprised at the selection of scrumptious culinary creations that you can come up with!