Out of This World Weekend Breakfast Ideas
Weekends are for relaxing, spending time with the family, and doing all the things you never have time for during the week. It's a great opportunity to try a fun new recipe rather than having your usual bagel and coffee. We've compiled a list of mouthwatering breakfast recipes that you've probably never heard of, from the puffin to French toast crème brûlée. Let the drooling begin.
Hash Brown Casserole
When in doubt, make a casserole. Yes, we said it-a casserole for breakfast. With the appropriate ingredients, you can whip up a casserole for breakfast, lunch, dinner, and even dessert. You'd be surprised what you can do with hash browns, sausage, cheese, and a few eggs.
Red Velvet Pancakes
If you're a red velvet fanatic, we have good news for you. You can turn this mouth-watering dessert into a yummy breakfast option. This recipe takes nearly the same amount of preparation as traditional pancakes, but it's nice to mix it up every now and then. And you don't want to forget about the cream cheese topping.
Coconut Waffles
We're sure you've heard of blueberry waffles and even strawberry waffles, but have you ever thought to try a coconut version? This recipe is pretty straightforward and very easy to make. Just follow your normal waffle recipe and add one cup of shredded coconut. If you're adventurous enough, top with pineapples for a piña colada flavor.
Puffins
What do you get when a pancake and muffin make love? If you're thinking of a puffin, you're absolutely right. This five-ingredient recipe is great when you need to whip something up quickly and eat on the go. Never mind the fact that you'll blow everyone's minds when you tell them you're eating a puffin.
Quinoa Pancakes
These pancakes will fill you up after just a few bites, and they contain a boatload of nutrients. The quinoa flour makes all the difference, and this delicious alternative is just as tasty as a traditional pancake.
Breakfast Pizza
Pizza for breakfast is even crazier than having a casserole for breakfast, but like we said, all you need are the right ingredients. This simple recipe calls for only five ingredients and is very kid friendly. Pack it up with lots of fruit, and you have an easy brunch recipe.
Breakfast Egg Nest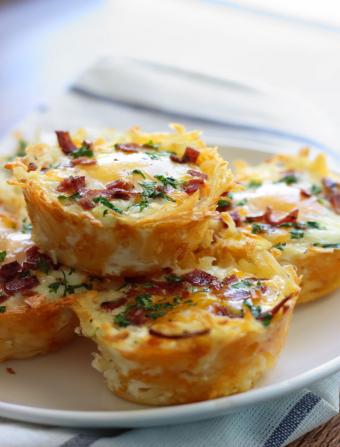 Picture a bed of hash browns topped with bacon, egg, and cheese and baked to perfection. If you have a little extra time on a Saturday morning, this egg nest recipe is worth the preparation. It's easy, and the end result will leave your family begging for more.
Bacon and Egg Muffins
There's no need to use multiple pans when you want a simple breakfast like bacon and eggs. Layer a muffin pan with bacon, crack an egg in the middle, and add the toppings you desire. You use one pot, the oven does the cooking for you, and the cleanup is a breeze.
Sweet Potato Toast
Ditch your average wheat toast and pick up a pack of sweet potatoes instead. Just pop your sweet potato slice in the toaster until browned and add your topping. Top it off with avocado, cinnamon and honey, peanut butter and banana-whatever you're in the mood for. This is a great alternative if you're trying to reduce your bread intake but enjoy the convenience of grabbing a piece of toast and taking it on the go.
California Breakfast Sushi
Calling all sushi lovers! Turn the popular California roll into a breakfast delight with just a few substitutions. The recipe allows you to keep the avocado, but you have to ditch the seaweed and rice for eggs and bacon. It only takes 20 minutes to create, so you can spend less time in the kitchen and more time around the table.
Breakfast Banana Split
This recipe will make you the coolest mom on the block. Use yogurt, fruit, and granola in place of ice cream and chocolate chips for a scrumptious birthday breakfast. A banana split bar is also a very nice touch to add to your brunch set-up.
Have some fun with breakfast when you have the time to really enjoy it. The weekend is the perfect time to think outside the cereal box!