You know those weekdays when you shut down your laptop or take that first step of relief into your home and make a beeline for the bedroom to shed the uncomfortable clothes for the cozy ones? And then, there's dinner to be made. Soothe that tension and hunger with Costco dinner ideas that come together in a snap.
Buffalo Rotisserie Chicken Salad
Grab a bag of salad, your favorite salad toppings, and a Costco rotisserie chicken. Oh, and some buffalo sauce. Once you get home, cut up, shred up, or otherwise poorly butcher the rotisserie chicken. In a bowl, add the amount of chicken you'd like with the amount of buffalo sauce that speaks to your soul. Toss and coat the chicken thoroughly.
Sprinkle your spicy chicken over your prepared salad. Consider ranch or blue cheese dressing, but, tbh, green goddess is a solid choice, too.
Ham and Cheese Sliders
Not only do these ham and cheese sliders make for the quickest, easiest dinner, but you can also consider this meal prep because the leftovers are incredible. Personally, I toss these in the toaster oven to warm them up for the perfect snack between meals, too.
They're easy to make.
Slice some Hawaiian rolls in half lengthwise and put the bottom halves in a 9-inch square baking dish.
Take some Costco deli ham and Costco deli Swiss and put them on the bottom of the rolls.
Then, add the tops of the rolls.
Brush with melted butter and sprinkle with poppy or sesame seeds.
Bake in a preheated 350°F oven for 25 minutes.
If you're feeling fancy, spread the bottom rolls with dijon mustard before adding the ham and cheese. Yum.
Birria Tacos
Snag a package of Costco's prepared birria, your preferred taco shells (because that's a personal choice), and a few taco toppings. We suggest some white onion and cilantro. If you think cilantro tastes like soap, there's something about the magic of birria that cancels out the suds flavor. You're going to want to grab some shredded cheese from the dairy aisle, too.
Heat up the birria according to directions, then load up your warmed tortillas with the birria and toppings. Your Costco weeknight dinner is complete with a scoop of rice.
Quick Tip
Corn tortillas are the best choice for birria tacos. Just give it a try, you won't go back.
Quick Gyros
Open up some Costco prepared gyro, naan, and tzatziki. Shred some lettuce, and chop some onion, and you have a tasty dinner in minutes. Warm up the gyro according to the package and then chomp away. Skip the bread and make yourself a gyro bowl by using extra lettuce, adding rice, and giving yourself an extra drizzle of tzatziki.
Naan Flatbread Pizza
With your package of Costco naan, build yourself a pizza. Slather on prepared pizza sauce, sprinkle on Costco grated cheese of your choice. If you're feeling up to it, you can add your favorite toppings. Pop it into a 350° oven until the cheese is gooey (8-10 minutes) and perfect. Don't burn your mouth on that first bite.
Costo Stuffed Chicken Breast Weeknight Dinner
Your protein will be ready with no prep from you thanks to Costco stuffed chicken breasts. Take that time to cook up some veggies, maybe some rice, or whatever you're feeling in your soul that night.
And clean up? If you put some foil under the chicken and microwave the vegetables in a bag, you'll have only your plate and silverware to wash.
Costco Weeknight Brinner
Have some breakfast for dinner but make it bougie. Fry up an egg and add your favorite breakfast protein to a Costco croissant to make a breakfast sandwich. Take it even easier on yourself by scrambling eggs instead of fighting a sunny side-up egg. Don't forget to stir in some cheese.
Weeknight Spaghetti and Meatballs
Meander to Costco's pasta aisle for spaghetti and jarred sauce, and don't forget to head to the frozen section to grab yourself some Costco meatballs. Cook all according to the package instructions and then stir together to have a cozy meal without doing much work.
Of course, you can doctor your pasta sauce with some extra spices, maybe some garlic. Perhaps a side of garlic bread, too.
Minutes Until Meatloaf Dinner
A loaf that's meaty enough to feed a family of four, although serving sizes are debatable, a Costco meatloaf will likely leave you with plenty of leftovers. Pair it with a salad, maybe some mashed potatoes, and your dinner is served.
Pestro Caprese Grilled Cheese
For one of the easiest and most satisfying Costco weeknight dinners, make up a Caprese grilled cheese. Grab a loaf of Costco bread. Any bread will do. Swing by the Costco cheese section to grab a log of mozzarella, and don't forget some balsamic glaze, prepared pesto, and fresh tomatoes.
Pile your supplies between the bread, and then toast until your sandwich is nice and melty.
Shrimp Bowl
Costco offers plenty of precooked shrimp, and those are excellent for easy weeknight dinners. Add your warmed shrimp to a rice bowl with with greens, avocado, mango, and rice. Toss your shrimp into salad or into a garlicky pasta dish. The hardest part is not relying on this every night for a quick dinner.
Load Up Your Frozen Pizza
Don't take too long to browse for a Costco frozen pizza - start off with a simple frozen cheese pizza. Once you get home, you can load that pie up with your favorite toppings. Better yet, keep one on hand in your freezer, and you can have a loaded topping pizza whenever you need to clear out your fridge.
Chicken Apple Sausages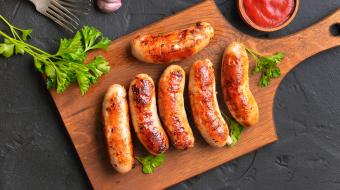 I'll be honest, Costco sausages are my number one item that I always keep on hand. And I mean always. Cooked up whole, you can enjoy this on a roll with some peppers and onions. Or eat them with a fork and knife next to some veggies and a baked potato. Slice these up and cook them, and they go beautifully with pasta. Oven, stovetop, or grill, these sausages mean your weeknight dinner is ready in no time.
Weeknight Dinners That Won't Take All Night
You have better things to do after a long day of work and everything else. Cut down the time from cooking to eating so you have more time for things that matter. Like that new tv show or some much-needed you time.