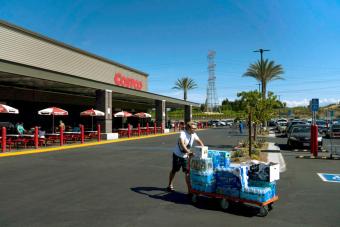 Costco offers an array of amazing deals, but there are few products that tend to be a bit overpriced. In fact, you may lose money by purchasing these items at this big box store. If you're wondering what products you should shop around for, here's a list of the items that you may actually pay more for at Costco.
Dog Beds
For the pet owners who have chewers in their family, dog beds are regular purchase. While Costco appears to have a good deal on these items, you can actually get them for a cheaper price on Chewy.com. Not only does the site offer sales, but they also have a wide selection of styles, unlike Costco, who just has one to two large beds for customers to choose from.
Holiday Decor
For those jolly shoppers who are hoping to celebrate the Christmas holiday a little earlier than December 1st, pre-lit Christmas trees are available at Costco, but for a very un-merry cost. Cheaper and larger options are available at stores like Home Depot and Hobby Lobby, especially when you decide to purchase after the holiday is through. These stores slash their prices even more, making it worth your while to wait until after Santa has parked his sleigh for the season.
Kirkland Organic Milk
Kirkland brand milk is a great option. As a Costco super fan, I can attest that I splurge on this item every single week. Not only is it organic, which means it has an extended shelf life, but customers can also buy their milk in gallon containers or in packs of three half gallons.
Sadly though, when you actually look at the cost of this dairy staple, you end up paying a lot more by purchasing it at Costco. This is especially true when you run through it quickly.
Atlantic Salmon
For those hoping to eat healthy, salmon is an enticing menu choice. Unfortunately, Costco charges customers an average of $2-$5 extra per pound for this Atlantic catch. Stores like H-E-B and Kroger offer lower prices and even have regular sales on their salmon selection.
Deli Turkey Meat
Packing lunches? You may have a problem if you are perusing the refridgerator section at Costco. You see, while they do have certain meats like ham and roast beef that are a steal, you are going to be forking over a lot more feathers if you buy their turkey.
Competitors offer an array of turkey brands for up to $6 less per pound! If you have the time, you're better off flying over to another store to gobble up their deals.
Toothpaste
Getting your pearly whites clean is a must, but you may not be smiling when you find out how much you're losing when you buy toothpaste at Costco. Customers may spend $2-$5 less at competitor locations, specifically Sam's Club.
However, they do redeem themselves in the tooth department with their stellar toothbrush and mouthwash prices.
Pistachios
It's too bad that you have to hand over some extra green to get your hands on this healthy nut! Pistachios are a spectacular snack, and at grocery stores they can cost you a pretty penny, but when you compare prices at Sam's Club, you are going to pay over $2 less per pound! Talk about being green with envy.
Chips
Of course compared to grocery store prices, Costco still has the best deal, but when compared to Sam's Club, those individual bags of chips are going to cost you six cents more per bag. For families with kids, this can add up quickly.
Compared to the convenience and deals on other items at Costco though, the extra pennies might be worth it if you want to stick to this super store for your shopping.
Outdoor Furniture
When customers see the words "$800 Off" you assume you are getting a good deal. Regrettably, if you took the time to shop around, you could find a wide selection of outdoor furniture for a fraction of the cost. Not only that, but just like the holiday decor, if you wait until the weather turns colder, most regular stores drop their prices on these products.
Certain Fruits
Sometimes fruit at Costco is quite the deal, but other times, your local grocery store or farmer's market is going to get you the best bang for your buck. Customers specifically note that bananas and avocados are better bought somewhere else.
Laundry Detergents
From Arm & Hammer to Tide, if you buy laundry detergent at Costco, you might scrub away your potential savings. These products are generally cheaper at other stores, especially the washing pods. These can run $5-$6 cheaper per box when purchased at Sam's Club.
Medications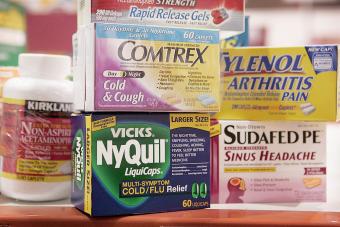 You may never find a better deal on generic Zyrtec than at Costco. However, if you are shopping for generic Claritin or Advil, you are out of luck. These medications can be much more expensive. For those folks who take these pills regularly, shopping around can equal big savings.
Shopping Around Can be Easier Than You Think
Costco has spectacular deals on so many bulk products, but there are products that might not always have the lowest price. Even if you stick to Costco for many of your purchases, there are other ways you can save too.
Unlike days past where you had to drive from store to store to peruse the daily deals, there is now an app for that! For the individuals and families who don't have a lot of time to shop around, consider downloading your local grocery store apps.This can allow you to price check and even set up a delivery or curbside pickup orders for the items you can snag for a lower price.
You can also use coupons at other stores, which isn't an option at Costco.
While delivery options can cost a bit extra, they do help you to avoid impulse buying and if you can get a better deal on an array of products, then it is well worth the cost, especially for busy parents.
You can use Costco to save big on lots of items, but shop smart and shop around for some items to get the best deals.