You had chicken last night, and you didn't finish it. Now you're staring with your eyes glazed over into your fridge, wondering how to make it something other than what it is. Thankfully, you have these leftover chicken recipes in your corner.
Leftover Chicken and a House Salad
Hold on, hold on, hold on. There's something beautiful about leftover grilled chicken and an easy, quick dinner. Oh, and this isn't a boring salad, either. Boring salads need not apply in the LoveToKnow house.
Ingredients
2 cups kale or mixed greens
1 avocado half, sliced
¼ cup pomegranate seeds
½ apple, cored and sliced
1 leftover chicken breast, sliced
Preferred salad dressing - although this one works great with anything creamy such as green goddess, poppyseed, or even a vinaigrette
Instructions
In a large bowl, add kale, avocado, pomegranate seeds, apple slices, and grilled chicken.
Add dressing.
Toss to mix.
Helpful Hack
No pomegranate seeds? Don't skip the crunch. Use sunflower seeds, croutons, or even chia seeds. Not an apple person? A clementine, orange, or pear will also work wonderfully.
Leftover Chicken Quesadilla
Quesadillas are the perfect way to put your leftover chicken to work, and without having to go all out with toppings or fillings either.
Ingredients
1 cup leftover chicken, cubed
½ cup shredded cheese, cheddar, pepper jack, or American (or a mix!)
4 tablespoons salsa
4 tablespoons guacamole
1 tablespoon chopped white or red onion
¼-½ tablespoon butter
Tortilla wrap
Sour cream and salsa on the side
Instructions
In a nonstick pan over medium heat, add butter until melted.
Place tortilla flat in pan.
On half of the tortilla, add all the fillings.
Fold tortilla.
Once bottom is browned, carefully flip over.
Cook until browned and cheesy.
Serve with a side of sour cream and salsa.
Buffalo Chicken Dip With Leftover Chicken
Few things in this world are more personal than Buffalo chicken dip preference. However, this method is a favorite among the experts in Western New York. And they know their Buffalo chicken.
Ingredients
1½ cups leftover chicken, shredded or finely chopped
12 ounces Buffalo sauce
8-12 ounces blue cheese dressing, to taste
¼ cup crumbled blue cheese
Instructions
Preheat oven to 350°F.
In an oven-safe bowl, add chicken, Buffalo sauce, blue cheese, and crumbled blue cheese.
Stir to mix, adding more Buffalo sauce or blue cheese dressing to taste.
Place in oven.
Bake until the dip begins to bubble.
Enjoy as a dip or on a sandwich.
Quick Tip
Do you want to make your Buffalo chicken into a full meal? The Girl Who Ate Everything has a boss recipe.
Pasta With Leftover Chicken
Dinner, lunch, heck, even a snack will be on the table in just the time it takes to cook the pasta. This recipe is a bit of a choose-your-own adventure, so you can tailor this to your perfect protein-packed pasta dish.
Ingredients
1 cup leftover chicken, shredded, cubed, or sliced
2 cups cooked pasta
¾ cup favorite pasta sauce
½ cup vegetable (tomato, kale, spinach, mushrooms, etc)
Instructions
Cook pasta according to instructions.
In a saucepan, warm the sauce.
Add chicken and vegetables.
Before draining the pasta, add a quarter to half cup of pasta water.
Stir in drained pasta.
Quick Nachos With Leftover Chicken
Tortilla chips? Check. Cheese? Check. Leftover chicken? Uh-huh. Plus a few other nacho necessities and guess what? You can go plop on the couch while this tasty nom does its thing in the oven. You cannot beat Little Sunny Kitchen's nachos.
Leftover Chicken Wrap
Be it with ranch dressing, Caesar dressing, Buffalo sauce, bbq, or whatever makes your mouth water, make yourself a grab and go meal with your leftover chicken in the form of a wrap. No one will set you on that path better than Gimme Delicious.
Leftover Chicken With Rice
Put that leftover grilled chicken to work with some rice. Yes, it is that easy. Once you've mixed it together, you can dress it up or down as much as your hungry heart desires.
Ingredients
1½ cups leftover chicken, shredded or cubed
2 cups rice, brown or white
Instructions
Prepare rice according to instructions.
In a bowl, add rice then chicken.
Stop there or consider adding a few toppings.
Quick Tip
Need some inspiration? Beans, salsa, corn, artichoke hearts, seaweed, onions, or whatever suits your mood can be mixed in or drizzled on top.
BBQ Chicken Pizza
Take it easy on yourself by using pre-made dough. If you're ambitious, definitely make your own by scratch. Might make a good date night.
Ingredients
1 tablespoon olive oil
1 onion, chopped
Pre-made pizza dough
1 cup pizza sauce
1 cup shredded cheddar cheese
1 cup shredded American cheese
1½ cups leftover chicken, shredded or cubed
½ cup BBQ sauce
Instructions
Preheat the oven according to pizza dough package.
In a small pan over medium heat, saute onions with olive oil until fragrant.
On pizza dough, add sauce then cheese.
In a bowl, toss chicken with BBQ sauce until well coated.
Add BBQ chicken to pizza.
Bake in the oven until the cheese is melted and bubbly.
Add a swirl of BBQ sauce over the top before serving.
Easy Chicken Tacos
Taco Tuesday! Except, you never did defrost or buy that ground meat you needed. Whoops. Grab that leftover chicken, taco is saved. Don't forget a margarita.
Ingredients
2 cups leftover chicken, shredded, cubed, or sliced
3-4 taco tortillas, flour or corn
2 tablespoons refried beans
1 tablespoon diced tomatoes
1 tablespoon shredded cheese
2 pinches shredded lettuce
Instructions
On a taco shell, smear refried beans.
Add chicken, tomatoes, and lettuce.
Quick Tip
Don't hold back, live your best life, and don't forget the salsa, onions, taco sauce, and sour cream.
Leftover Chicken Burrito Bowl
Skip the wraps and the tortilla and head straight to the silverware drawer for a fork - you're making a chicken burrito bowl.
Ingredients
2 cups white or brown rice, cooked
1½ cups leftover chicken, shredded or cubed
¼ cup beans
¼ cup corn
½ cup shredded cheese
Sour cream, guacamole, and salsa to taste
Instructions
In a bowl, add rice.
Add toppings, as artistically or chaotically as you wish.
Quick, Easy, and Delicious Chicken Salad
Eat your leftover chicken by the forkful in the form of chicken salad. Slather it onto a bun for a sub, or wrap it up with some lettuce in a tortilla. Suddenly, that leftover chicken is a five-star ingredient.
Warm Up With Leftover Chicken Chili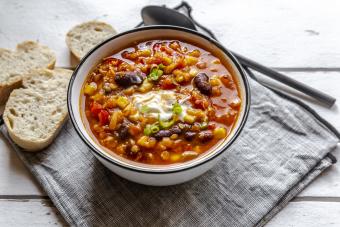 Out-of-This World Chicken Casserole
Chicken casseroles get a bad name as being dull, gray, and generally the worst. Guess what? They don't need to be. Tackle the highbrow chicken cordon bleu in the form of a delicious and mouthwatering chicken cordon bleu stuffing casserole from The Chunky Chef.
Quick Tip
Leftover biscuits or not, you can turn your chicken into another casserole-style dish: chicken pot pie.
Protein-Packed Chicken Grilled Cheese
The problem with grilled cheese is that so often, you're left a bit hollow or hungry not too long after. The solution? Fill 'er up with that leftover chicken. Dairy, carbs, protein - it's a complete meal.
Ingredients
2 slices preferred bread
2-3 slices American or cheddar cheese
½ cup leftover chicken - shredded or cubed (alternatively, you can leave the boneless leftover chicken whole and slap right onto the cheese as is)
½ tablespoon butter
Instructions
In a shallow pan over medium heat, melt the better.
Add bread, cheese, chicken, and a second piece of bread.
Cook until the bottom slice is toasty.
Carefully flip sandwich until other side is toasty and cheese is gooey.
Make Leftover Chicken Exciting
It might seem impossible, but that couldn't be further from the truth. Leftover chicken is the vodka of the food world - it's the perfect base for mixing flavors together and creating a masterpiece. Dread that leftover container of chicken in your fridge no longer. In fact, a few of these recipes might just have you planning for leftover grilled chicken.